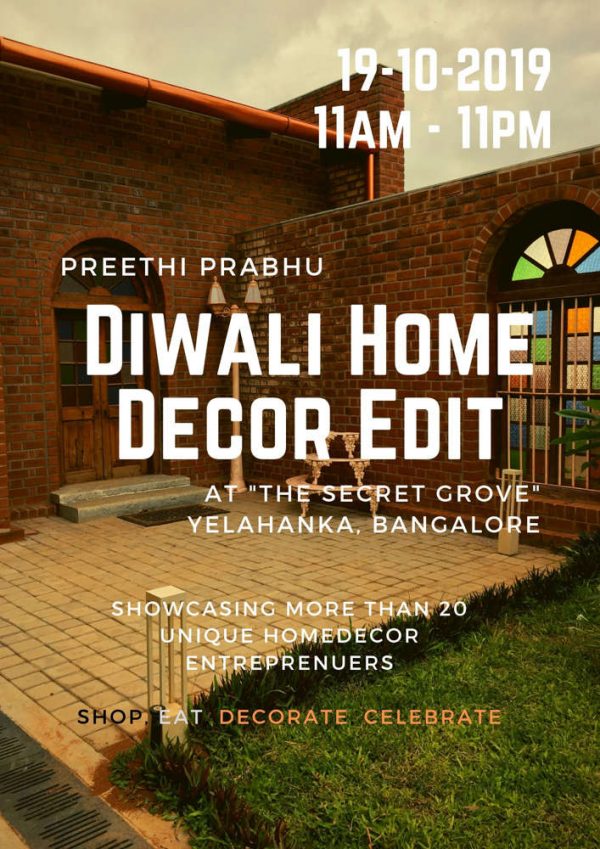 The upcoming Diwali Home Decor Edit 2019 has been a dream come true in so many ways. I can't recall any other exclusive home decor fair organized for small businesses alone. I have been wanting to build a community of small business owners that will support and nurture each other. Being passionate about home decor myself, I know a lot of people out there, who do what they do, for the sake of passion, willing to sacrifice and do whatever it takes to live their passion. And if only we could weave a web where each one supports and pushes and motivates the other, the passion can be kept alive and the struggle becomes a less of a burden.
About the Event: The Diwali Home Decor Edit 2019, brings twenty plus passionate entrepreneurs in the Home Decor domain together under one roof. Every stall will showcase a unique set of home ware ranging from furniture, soft furnishings, art, plants, planters, decoratives, etc.  Customers can shop for their homes as well as gifting needs and the presence of a shipping partner at the venue ensures that long distance gifts are shipped right away. As a run up to this Diwali, the Diwali Home Decor Edit 2019 aims to be an exclusive one stop shopping destination for Diwali home shopping needs.
Date & Time : 19th October 2019 11 AM to 11 PM
Venue: #The Secret Grove, Yelahanka Bangalore.
Fantastic Opportunity to get your Brand Name out there:
Limited Sponsorship Opportunities are available. If you are a brand and would like to sponsor the event, please write to preethi(at)preethiprabhu(dot)com  or WhatsApp # +91 97429 49370 , at the earliest
If you are a home decor small business and would like to be a part of this community, please email, WhatsApp or leave a comment below.
If you are a home chef and would like a food stall, please get in touch.
We are also looking for volunteers to be part of the Organising, facilitation and logistics at the venue. Please feel free to reach out.