This post is a mini-tour of my home and an introduction to the stories associated with different things. Also, in the end, introducing you to a new series that I have started on Pinterest that is all things Indian Home Decor elements.
Let me tell you an ancient story. Back in 2009 blogging was a very simple affair. You added text and images just like this one with very few outbound links and said whatever that you wanted to say in the blog post. It was as simple as that. People would read and sometimes leave a comment, if they wanted to say something more privately, they would email. When you had to post a home tour, you would announce in one of your previous blog posts and people would wait for you to publish. Sometimes, sneak peeks were blog posts because there was no social media or stories to announce. Life was simple until Zuckie decided to launch Facebook and buy Instagram.
So I thought let me do a good old-fashioned home tour post and tell stories. My home is a celebration of color and pattern and texture. I love raw tribal faces, handloom textiles, products made with love, traditional paintings, art made by me.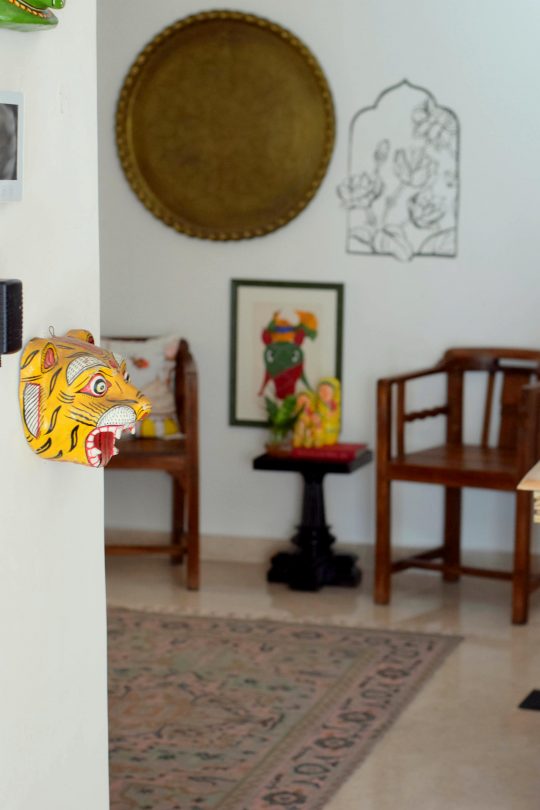 The main door opens up directly into the living room so I don't have much of an entryway. I've divided the living room into two by having a console table in between to demarcate the entryway and the living. I have a pair of chairs to sit down and wear shoes and my prized possession, my vintage biryani plate hangs on the wall. As I write this blog, this space has already changed.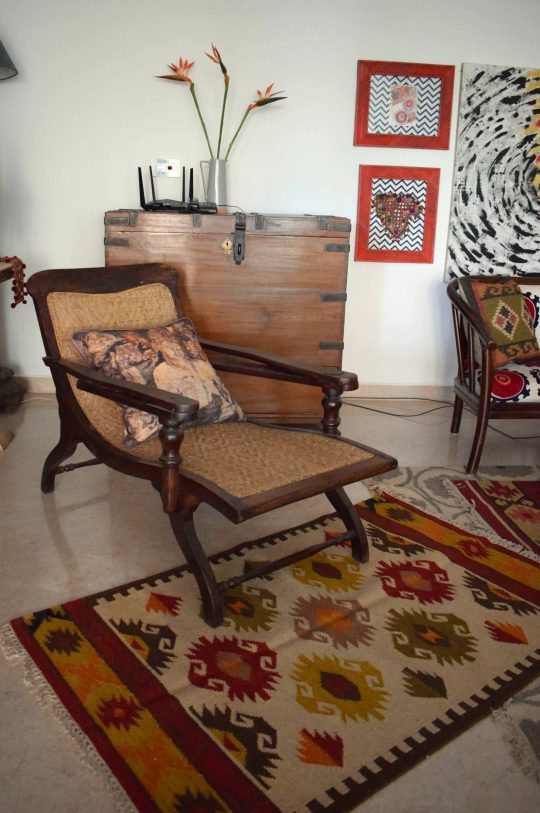 The planter's chair is one of the first pieces of antique furniture that I purchased. It's probably a hundred years old and has been with me for about ten. The big wooden chest is from Meenu Khanolkar (you can click the name to go to her Instagram profile) I have quite a few pieces from Meenu that I collected one by one by keeping a few hundred aside.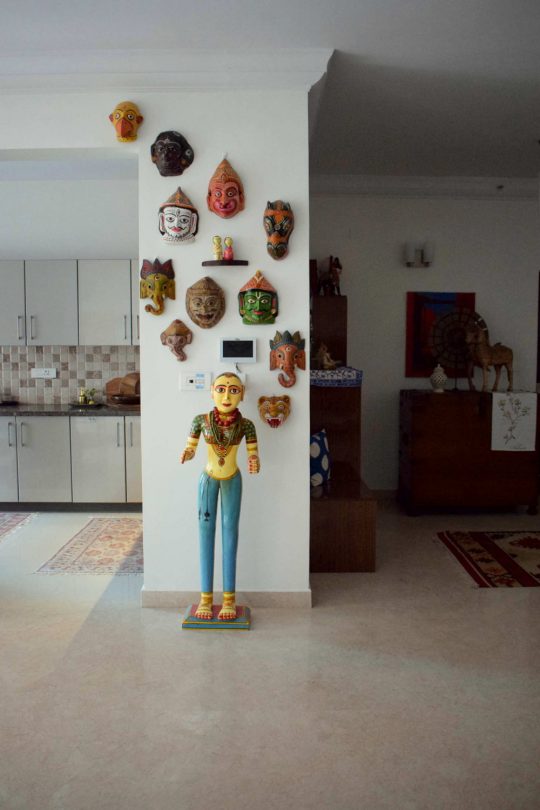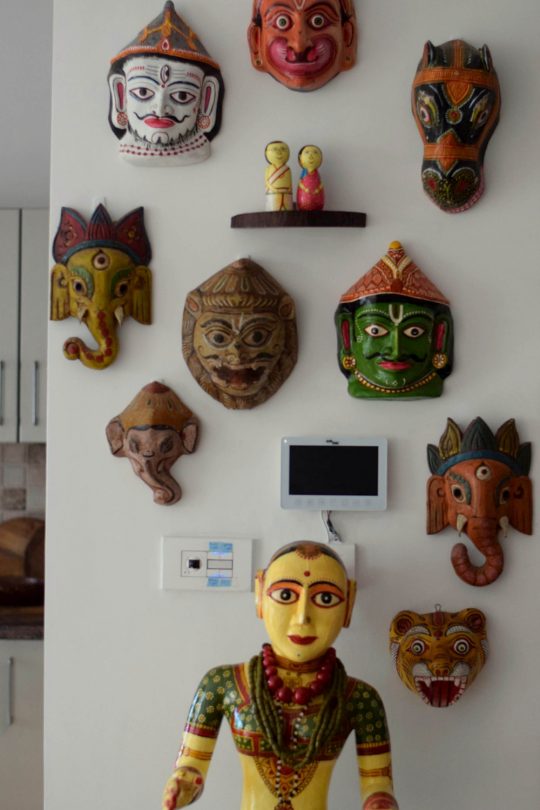 The two tiny dolls that you see on the shelf are the visual representation of the hubs and me in our wedding day attire. A memorable doll made by Maavni Designs. 
Almost every other thing in my home has a story, and I can go on and on. Hundreds of stories to be told. In fact, that's how it should be, a home should be filled with memories and stories, not just things.
Dining!
My favorite place to work from is the Dining table. It is probably one of the most frequently asked questions on my Instagram. Where did you buy the dining table set? Well, it was a second-hand buy from OLX! Seriously! It is the very first dining table of my adult life and I have been holding on to it for sentimental reasons even though it's too small when I have guests over. The original chairs that came with it, I gave to the truck driver coz they were horribly ugly. The current chair frames I got from Meenu and got the seats and upholstery done. I change my upholstery every two years and this is probably their third or fourth avatar.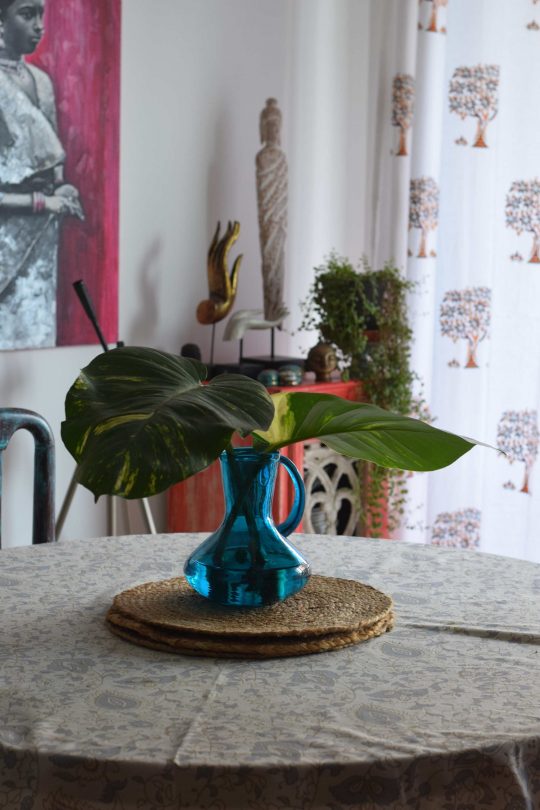 The hand-blown glass vase is from Rajee Sood boutique store, an old blogging buddy. When I was supposed to make a trip to Delhi, my first to do on the trip was to visit her and her lovely store.  The pink Srilankan Lady portrait, I bought from my friend Girija Hariharan, my first piece of large art.  When I said there are stories and stories in my home, I wasn't kidding at all. Was I?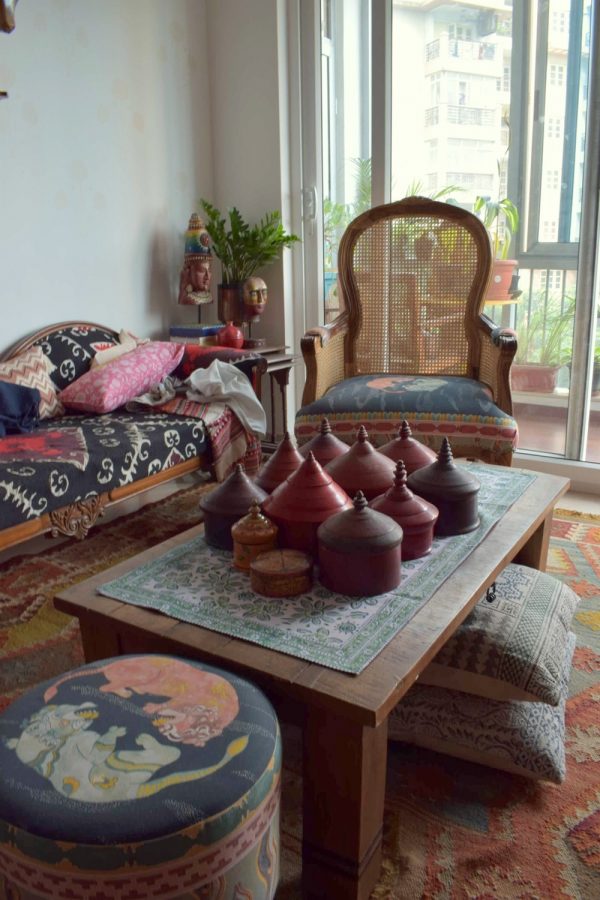 See the messed-up cushion clutter on the chaise lounge? That's a part of a lived-in home. I don't live in a perfectly decorated home, because I do all the cleaning, and some days I would rather ignore the clutter than do the work!
My job as a decor stylist needs me to quickly style and photograph as and when the requirement comes in. And natural light is the most important aspect of photography, so I created another lounging area towards the balcony area which is supposed to be dining, but I have a tiny dining table that fits right next to it, so right now, it seems to work well. The coffee table is a gift from my little sister and is another piece of furniture that I have been holding on to for a long time. The large 8x 10 hand-knotted dhurrie is a gift to self. Your girl works hard and needs to treat herself from time to time. And collecting rugs is an absolutely harmless hobby I tell you! Doesnt kill anyone!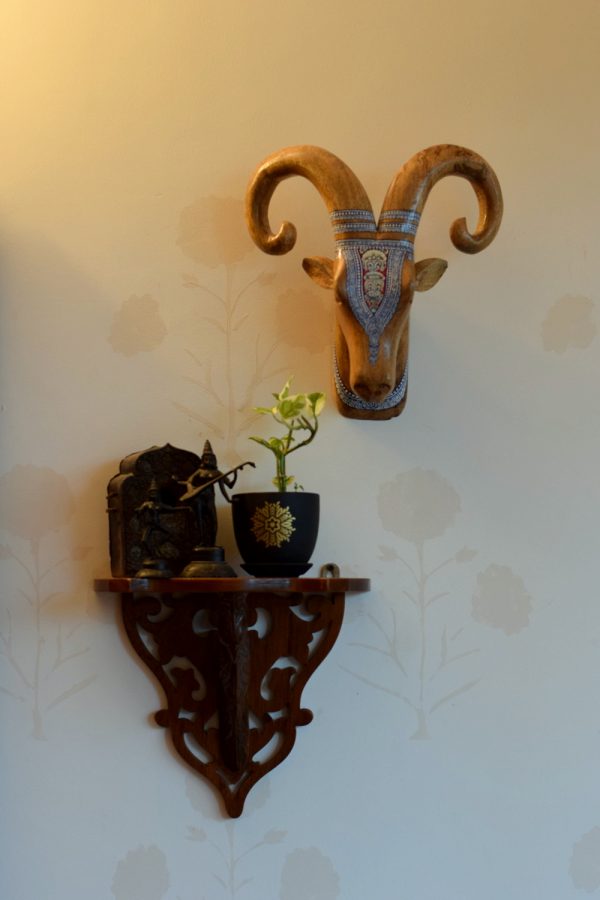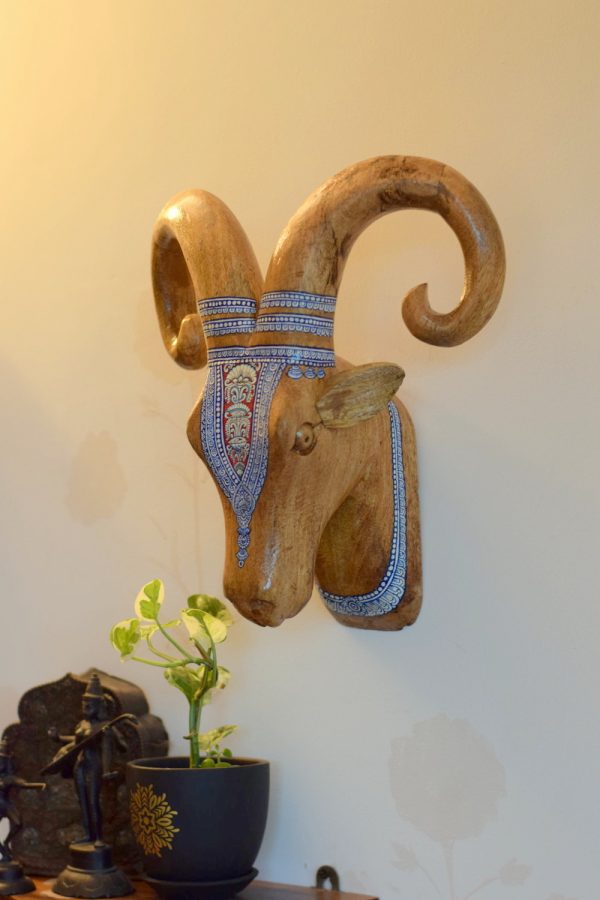 I always tell people, if you want to make a huge style statement use decor elements that are elegant but also have drama. This Pattachitra Ram head from HasthKala Curators (Click on the name to go to their Instagram profile) fits the bill perfectly. I placed it here temporarily, and it hasn't moved for weeks. Things of beauty are truly a joy forever.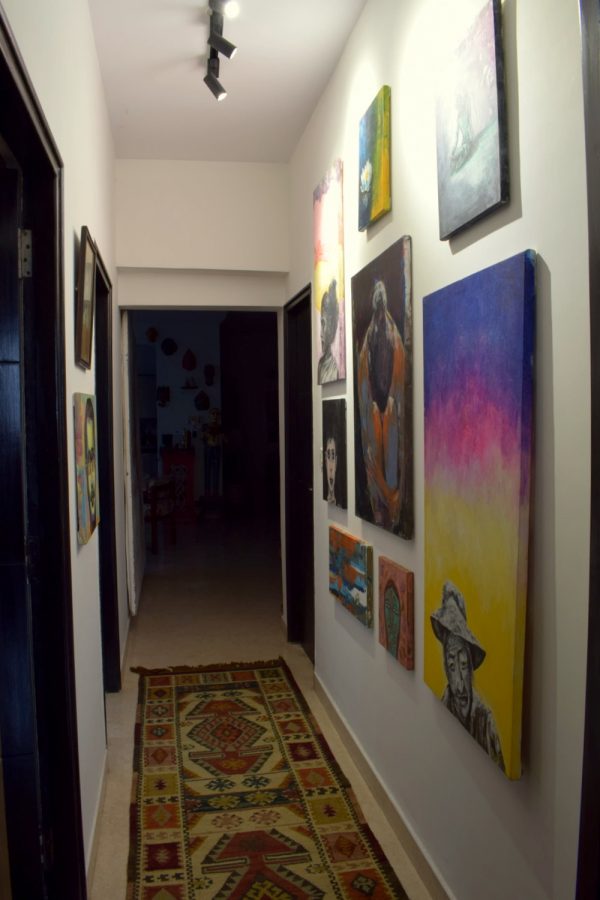 The passage to the bedrooms is an art gallery complete with focus lights. We also have the two dads portraits on the wall in between the two bedrooms. Little things that make life bearable. ART!
The Office!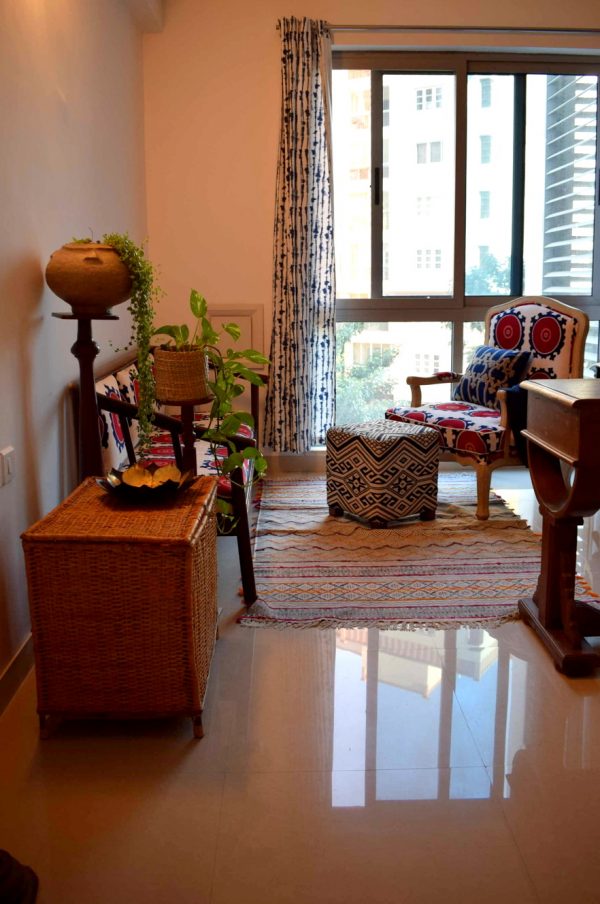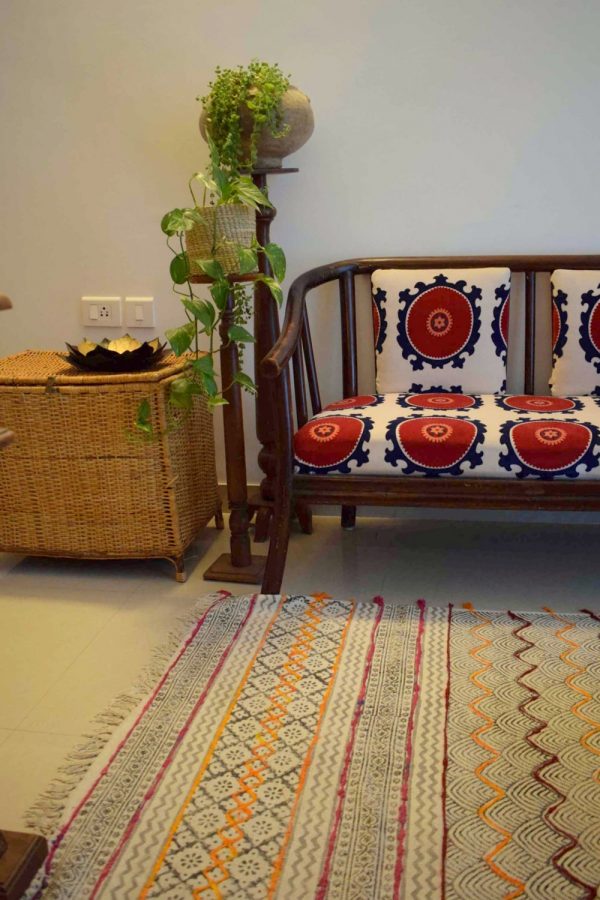 We've converted one of the bedrooms into the office (thanks to the ongoing work from home culture) the hubs is holed up there at all times. I work from the balcony, the bedroom, dining, pretty much anywhere I can get comfortable. Talking of bedrooms!
The master bedroom is my happy place!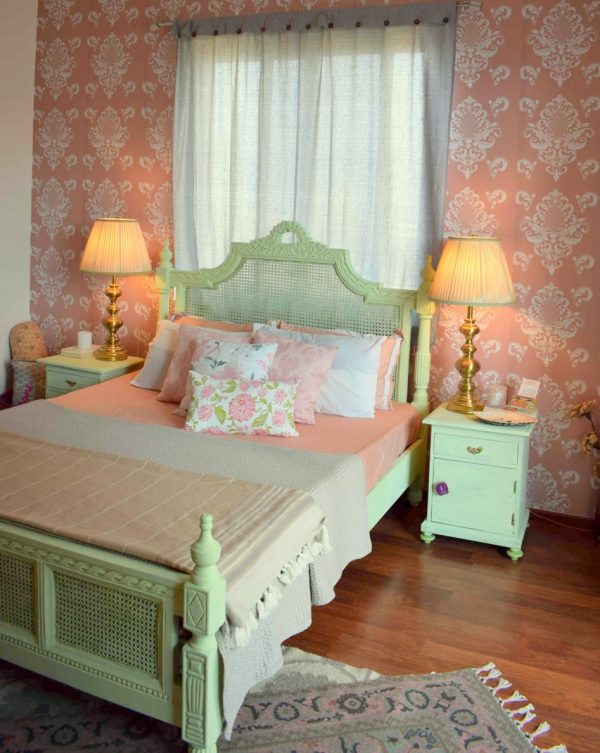 The wallpaper is a peel and stick one from Asian Paints that they sent me just before they launched the product. It was a frustrating affair to put it up, but worth the effort. You can buy the same one on Flipkart here.  The pink floral cushion covers were a housewarming gift from Sharon from The Upper Room.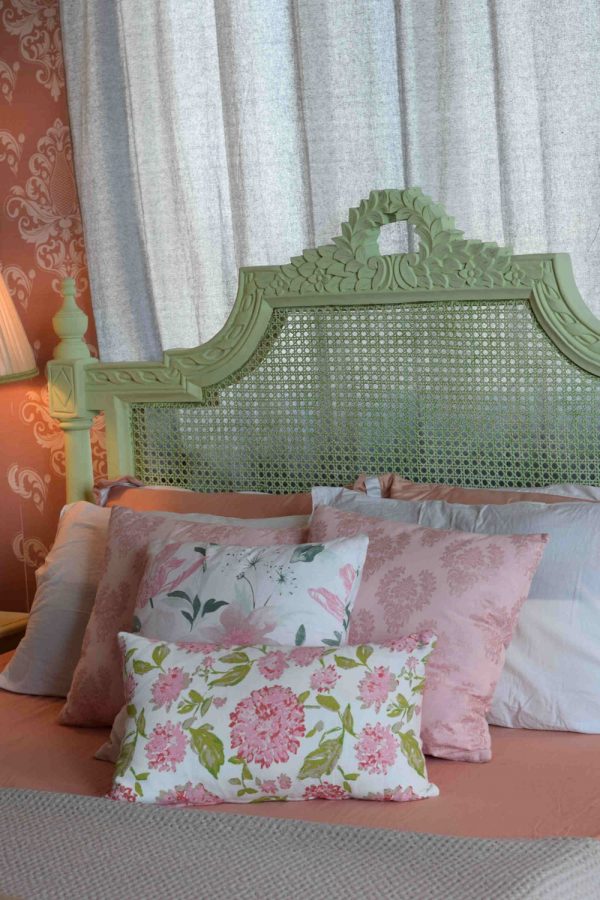 The past couple of months I have been thinking of pooling all of the content that I created or the knowledge that I have collected and host it in a place where it's searchable. Unfortunately Instagram content takes you to endless scrolling. I have been on Instagram since 2014 and if I have to find some of the DIYs that I did in 2017 or 2018, I will have to scroll my evening away. The solution I have come up with is, all the long-format content will go here on my blog and my Youtube, the short format with go on my Pinterest profile where it is searchable. I will organize my boards in a way where you can clearly find the content you are looking for. The two boards to look out for are the Home Hacks and Shopping for Decor.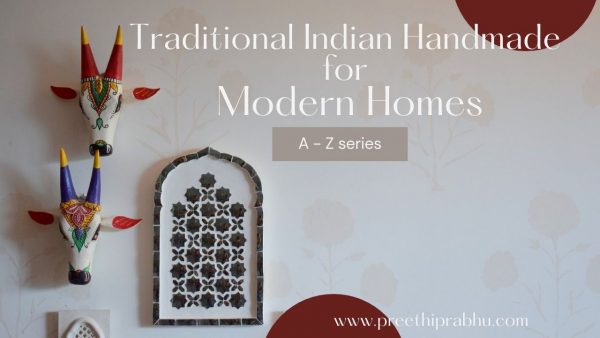 For Independence day month I started an Indian Decor Elements A-Z series which I was most excited about and which I hope to continue. You can see that board HERE. It is my pleasure to introduce you all to some of the finest Indian handmade our Country has. The first part is to document all of my collection and then I shall hunt for the things I don't have and document them too. Also, put together a where-to-shop guide. All so exciting!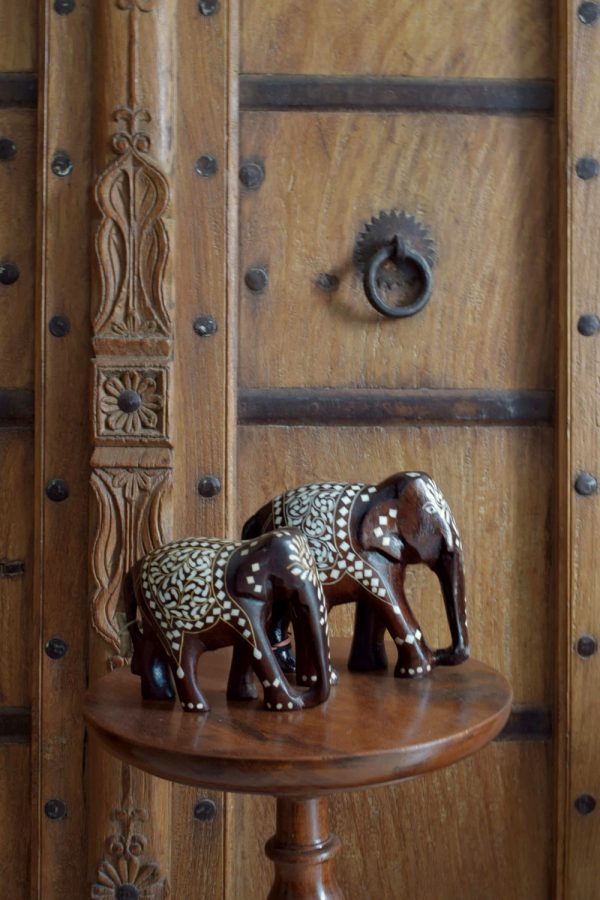 I wanted to feature some inlay work products for my A-Z series so I borrowed some from my neighbor and friend Avatar Arts She is going to be my one stop for a lot of the crafts that originate from Rajasthan. Here is another stunning visual.
I hope you liked my casual mini home tour. I would love to know your thoughts so leave me a comment here, just like the good old-fashioned way.
Until next time..
xoxo
Preethi