This post is about how you can decorate over the top, Boho maximal semi outdoor party like a boss(covered terrace, backyard or balcony) This was not a planned post, since I had decorated for the weekend, I though I might just publish a blog post.
Define the area with a large rug.
Use two if you dont have one large rug but its important to define your area first. Especially if you are doing a covered terrace space like mine or a backyard where there is no space constraint, if you dont define the space with a rug, it will look incomplete. If you are scared of soiling your good rugs, line the bottom with those plastic ones first, they are available in most large grocery chain stores and are very inexpensive.  You can also have a small foot mat for feet wiping before people step on to the main rug. Once your canvas is ready, its time to add the rest of the set up.
2. Have comfortable seating.
I usually have a dining table and chairs on my terrace, but I wanted it to be a casual lounge vibe. I moved the dining table aside and retained the bench that was on one side of it. I added a diwan on the other side. The Diwan did not have a backrest and If I added bolsters to support the back, they would keep rolling out and falling off the diwan. So I placed the bolsters first, then put the sheet on top and tucked it under the mattress. That way it stayed in place and I could line up cushions against it and they did not fall off either. Minimalist has to have the seats covered with pillows with no seat visible 😀
If the rug area is large enough, you can even add floor cushions. Have a couple of throws so if someone who is wearing a short dress wants to protect their legs from potential mosquito attack, they have an option.
3. Bring the indoors out
Since its a temporary outdoor set up, you can take pretty much anything from the indoors out. I added side tables, foot stools, sculptures, tiny potted plants, T-light candles, boxes and decorative accessories. All of them need to go back in after the party, dont let anything stay out even for a night. I have a cat family on my terrace and they broke a cute sculpture I had.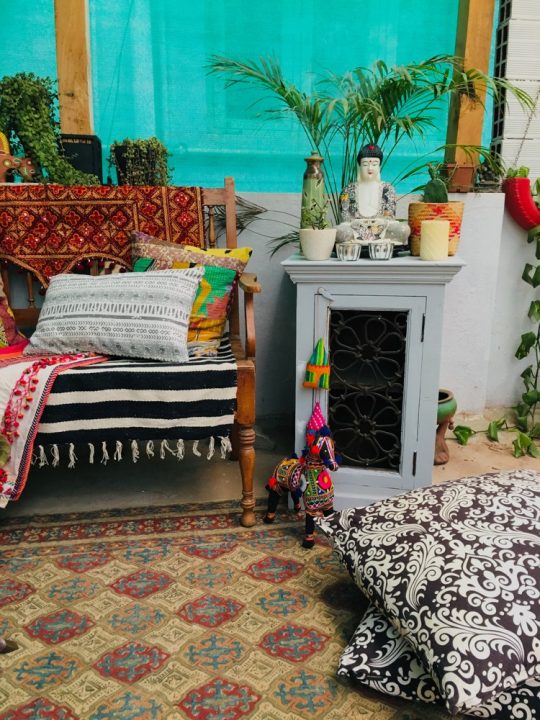 Also, When things that are supposed to be indoors are taken outdoor, there is a certain magic to it. I now want to do a setting in a lawn where its open on all sides and the grass is green everywhere and I get to do a setting which feels like its in the middle of nowhere.
4. Add in some fragrance.
Incense sticks specifically for the outdoors are available, and in a wide variety of fragrance. Even the bug repellent kinds. I find outdoor incense too strong. I prefer to take the indoor ones. Keeping them in those perforated boxes and stands, keeps them looking pretty while doing their job and also collects the ash inside it.
Scented candles are good for ambient lighting, but dont do much in terms of spreading fragrance in a large open area. You can even do a combination of incense sticks and cones in pretty diffusers, just make sure you dont confuse the hell out of your guests by putting different fragrances in different places. Invest in same fragrance cones and sticks.
5. Add some sparkle
Candles, t-lights and fairy lights. I did not have any fairy lights at home (I took all of them to the studio to style something and they never came back.Story of my life is boxes keep flying between home and office, I am never satisfied)
It was a pretty breezy day and I managed to keep the candles on. You can even invest in tiny hurricane candles so the breeze doesnt blow the candles away. Be careful with your placements, make sure it far away from textile. Remember, there is plenty of oxygen around and things can burn to ashes in minutes. Also exposed candles is a bad idea if you are going to have toddlers. Stick with fairy lights and hurricane candles only in that case.
6. Enjoy
I did! Most of the time we are too tired or are so caught up with making sure everyone is having a good time, that we forget to enjoy our setting. I had the most lovely time and enjoyed my setting thoroughly. The only thing I missed was my camera. So guess what? I may recreate this setting again, just for myself and take some good pictures. I am going to shower a lot of self love, make some green tea, wear a pretty dress, cross my leg and sip in style 😀