This post is about a Gallery wall that I created with some odds and ends that I have collected during the course of my life. This look can be achieved by anyone from a student to a seasoned collector.
I get asked a lot about the gallery wall along my staircase wall. Initially, it was only supposed to be a mask wall and somehow I got bored of it, so I switched some masks with artwork that I already had.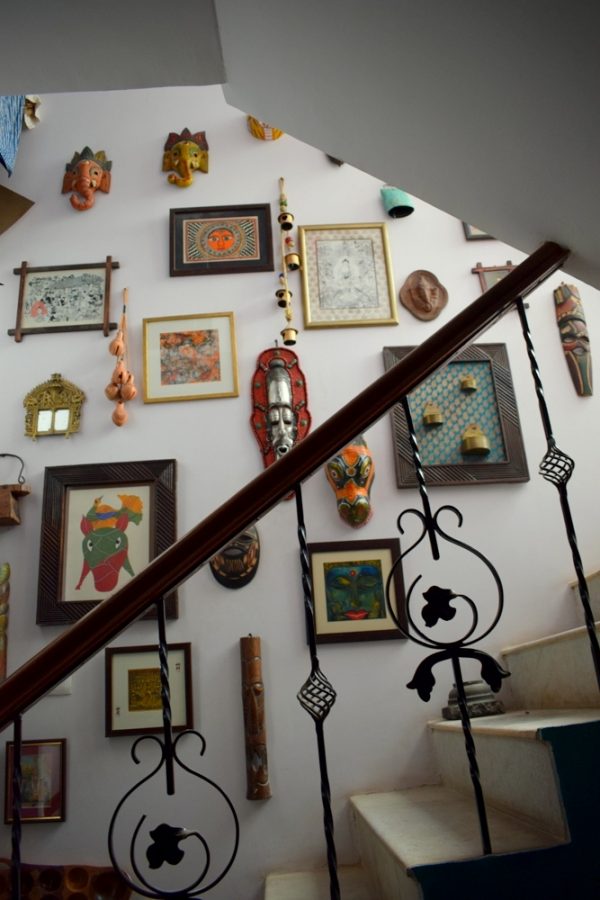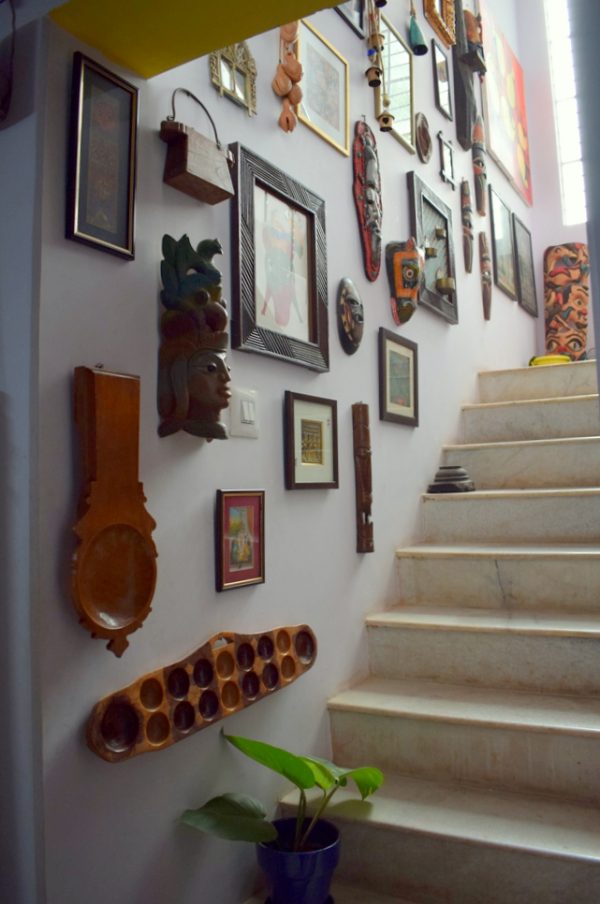 I was quite happy with that too until one day when I was cleaning the cabinet that has all my decor stuff, I found so many frames and wall decor pieces just waiting there for some attention. So when my carpenter was around, I got him to hold the piece on the wall and eyeballed the gallery directly on the wall, one piece at a time. What you see on this wall is a collection of stuff collected over a span of fifteen years or so.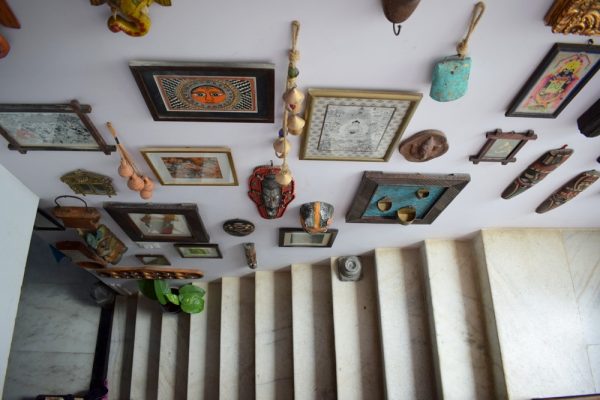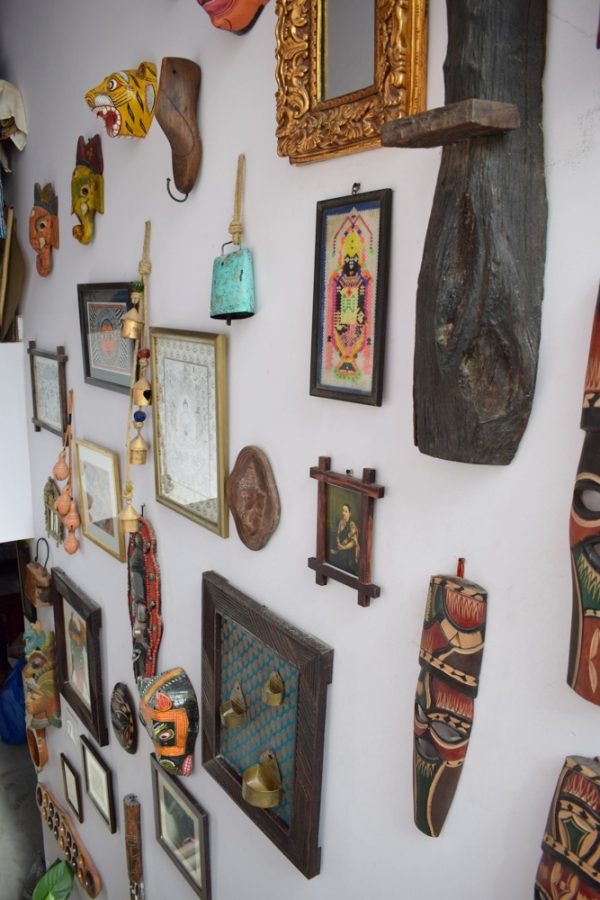 While it needs some practice to do a gallery wall directly by placing objects on the wall one by one, it's not impossible to achieve. You could get started with laying everything on the floor.
Here is how you could approach your gallery wall:
Collect everything you have in one place. Travel souvenirs, postcards, gifts, scarves, anything that you think can go on the wall.
Depending on how much space you have on the wall, lay them out in that much area on the floor.
Trust your eye, if it doesn't look right to you, move it around.
Ensure pieces are at equal distances from each other. If your eye is not able to do that, you may have to use a tape measure.
Not everything needs to go on the wall. If you think something doesn't fit in, remove it.
Move things around until you arrive at an arrangement that looks right to your eye.
Take a picture.
Use a tape measure to ensure all pieces are equidistant from each other.
You can either use newspaper to make the points where the nails need to n drilled and use that as a template on the wall, or use the photograph to guide you through the process.
Make sure the center of your gallery wall is about 60 inches from the floor. It gives you the maximum impact.
On my test wall today (Yes I finally built myself a test wall by lining the wall with Gyproc sheets, now I don't have to worry about drilling holes into the wall multiple times. Will do a separate post on that sometime soon) I have put up a small gallery wall with some odds and ends that I had, that are not necessarily art pieces. There is a mini prayer flag, a woven mini basket and a mirror that I got as a gift from my roommate in college, a tiny DIY art that I made out of the canvas I won at a contest, a tribal necklace that I love to wear and also look at and a Kutch embroidery purse that I bought out of fancy and never used. All of these are something that we pick up from our travel or are gifted and we don't want to let go. They end up taking closet space and never see the light of the day. All of those and more can be used to go up on the gallery wall.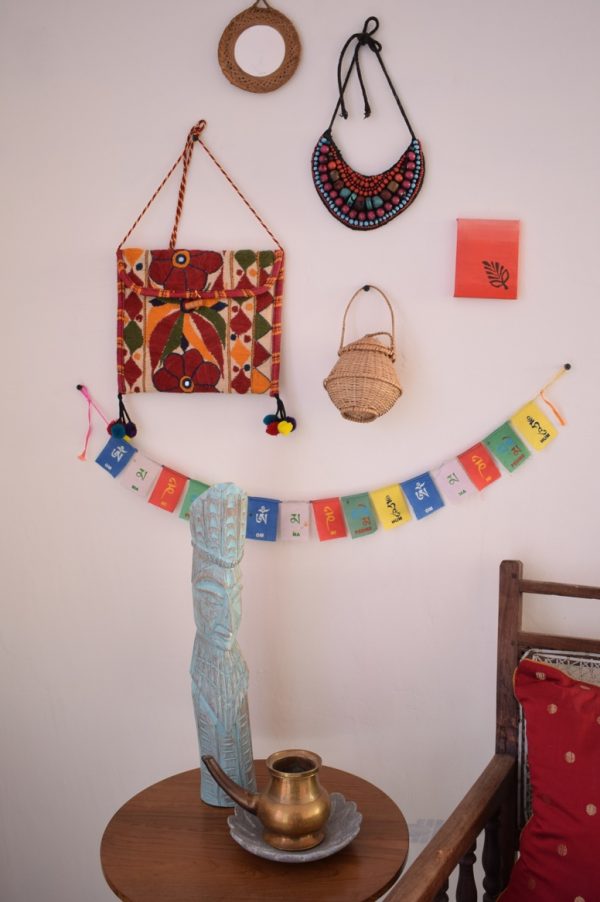 P.s. I found tiny spaces in my house that have a free wall and some space in the front. And since this is not on the main level, I lined it up with gypsum sheets and tadaaa… I have a test wall. I can paint, repaint, drive a screw in, unscrew, drive a screw in a different place and all this without damaging the original wall. What do you think? What would you want to see next?