This post is about how you can incorporate a lot of art in your space without it feeling overwhelming. All of the wall art you see here is by and in collaboration with Girija Hariharan.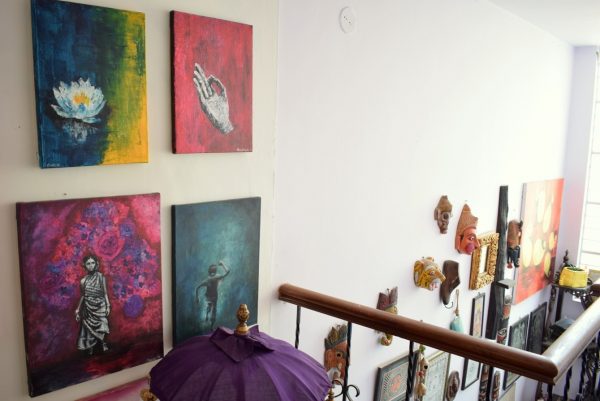 Art Explosion
The reason why the post title is Art Explosion and not art overdose is coz you can never have an overdose of art. There is no such thing called too much art. A person who lives with art knows its value and what it is capable of. In my opinion, art can heal anything and it can be the answer to any question, even world peace probably.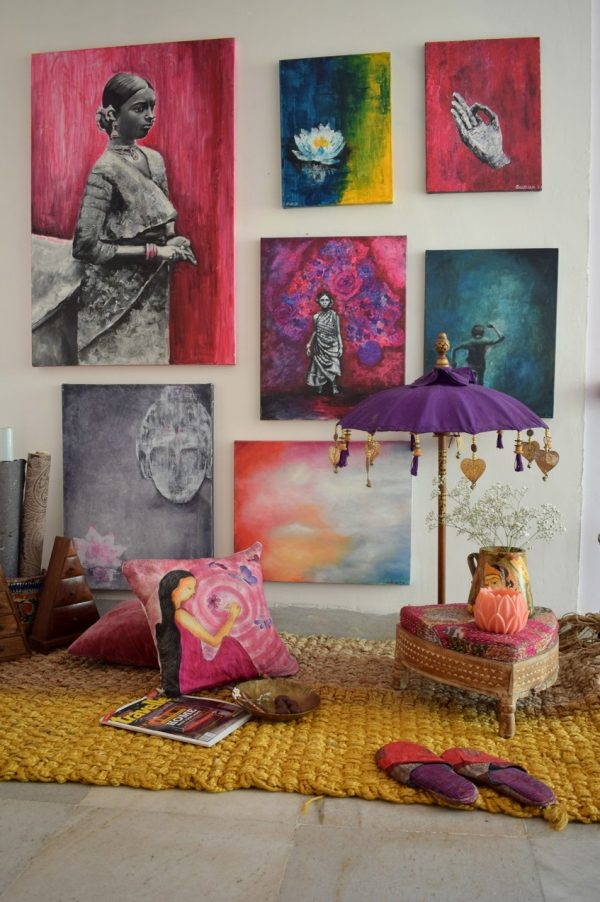 On my test wall today, I have a floor to ceiling gallery of paintings by my dear friend Girija Hariharan. You can follow her on her Instagram handle here to know what she is up to right now.  She is so much a part of my life and my work that when I think of decorating with art, I think of her. I have so many collaborative projects lined up with her, and why not, we love to spend time together. We have another character in our love story and it's actually a triangle, and I will introduce her to you guys soon, let's just talk art for now.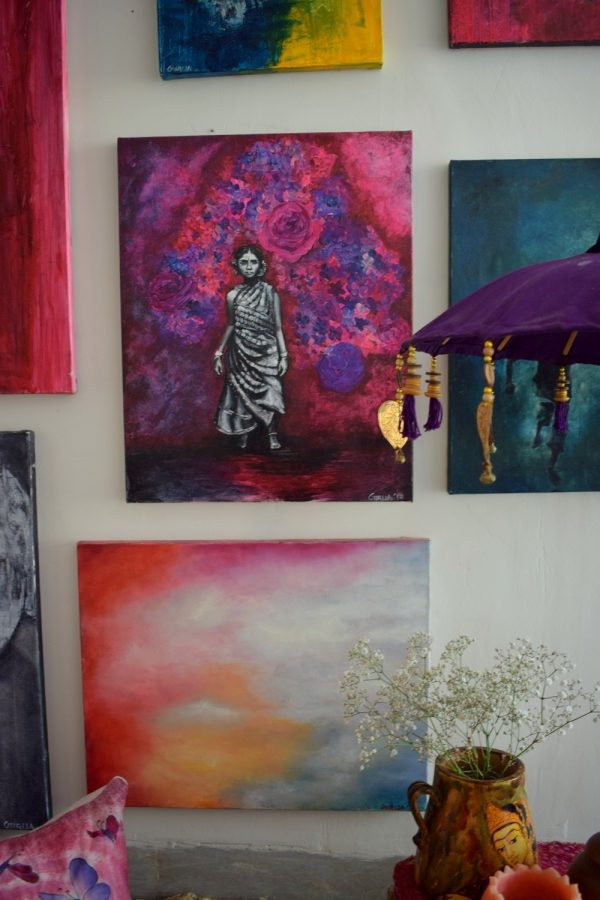 The trick to using multicolored accessories and art is to keep the background very neutral. It works best in spaces that have abundant natural light. I've kept the walls light. The colors in the paintings are more textured and not color blocks. While pink seems to be dominating the color scheme, there is also greens and yellows and a bit of orange.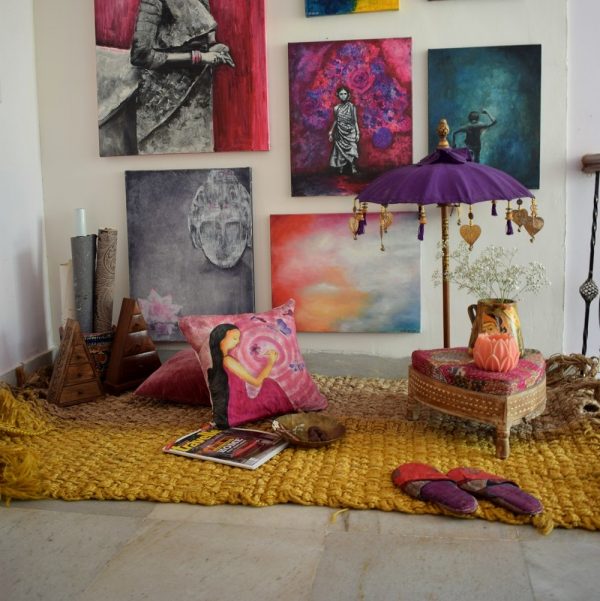 I have balanced the pink on the walls with pink in the accessories on the floor. The rug is a jute, half dyed in pale yellow, so not very overpowering. Again there is pink in the pouf on the side and the cushions. The only block of colors is the ornamental umbrella in purple, which perfectly compliments one of the paintings on the wall. You may say what about the velvet cushion at the back, doesn't that count as a block? No, it doesn't! You can see that light forms a certain texture on it and it doesn't look like a solid block of color.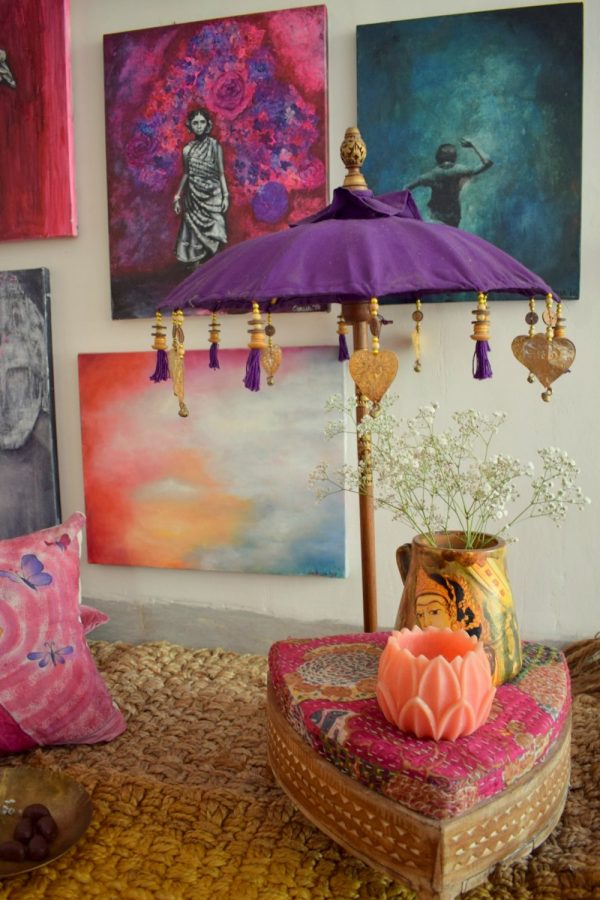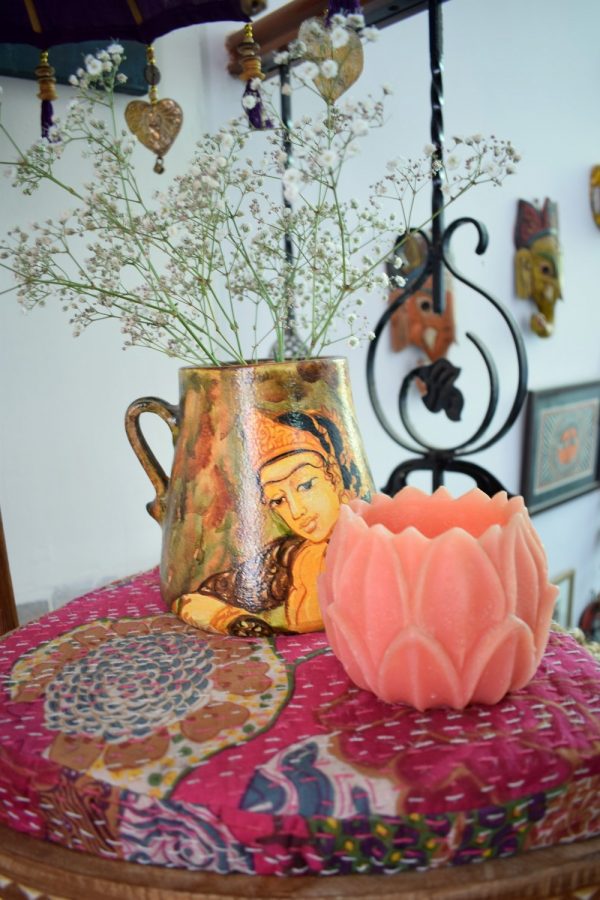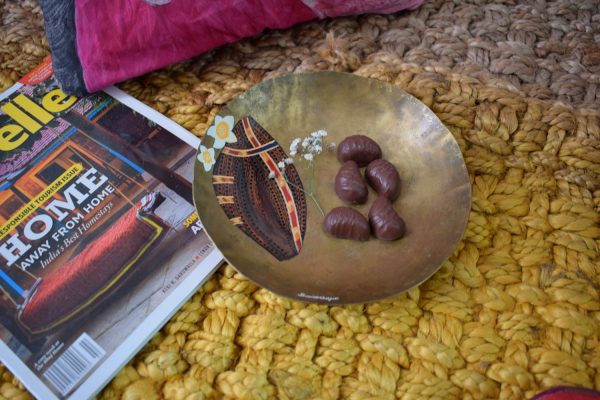 Furthermore, art need not be in the form of paintings alone. If you run out of wall space, you can always use functional art. The cushion cover you see in the image is a hand painted on silk. The flower vase is an original painting on the terracotta pot. The bin in the corner is hand painted Madhubani. The brass bowl has hand painted details on it. They are the perfect examples of marrying art with functionality.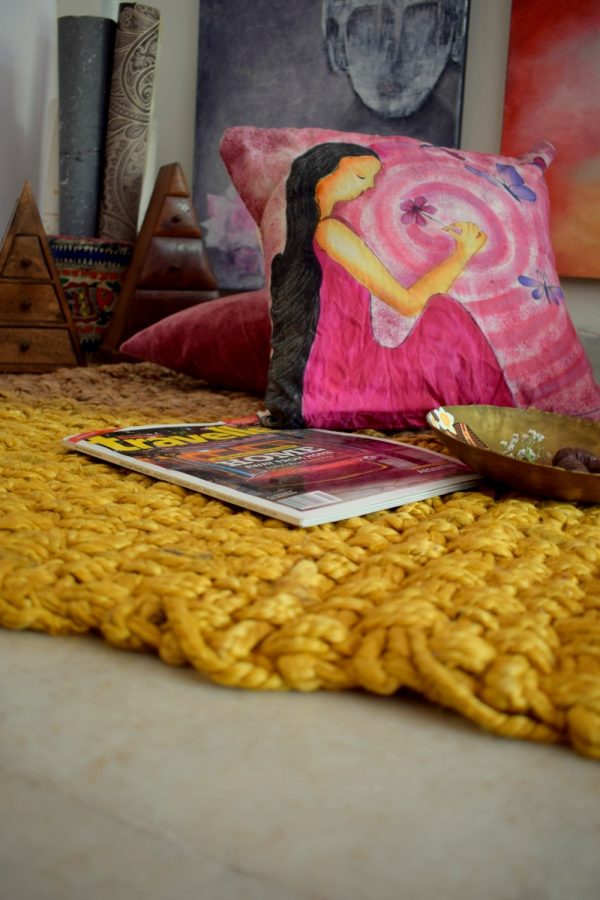 I think art is one reason I don't crave to go out or go for a vacation. I wait for the days or time that I can spend at home. That is what art does to me.
What does art mean to you? I would love to know.
P.s. To know what I am up to next, follow me on my Instagram handle here.