This post is about how you can make your own outdoor lantern using things you already have at home. This Jam bottle hanging lantern will look good during the day and at night. 
Things you will need for making colored sand:-
Sand
Sieve
Watercolors
Empty Jam Bottles
Plastic sheet to dry the sand
Small bowl to mix
Glitter powder
T light candles
Jute thread to hang the Jam Bottle
Tassel (made out of colored thread) or colored beads
Method:-
Spread a newspaper sheet on the floor to sieve the sand. Sieve the sand on the paper using the sieve to remove the large particles like pebbles and shells.
In a bowl, take the watercolor of your choice, mix it with a little water. If you want a dark color, use less water and if you want a lighter shade then use more water.
Mix this thinned down watercolor with the sieved sand.
Spread it on the plastic sheet to air dry it. The color of the sand will not be exactly the color you used, and it also dries a little lighter. (Be prepared to discover new colors)
Add the glitter powder (as much as you want) to the fully dried colored sand. Mix well until all the glitter powder is evenly distributed within the sand. I have mixed approximately 10 grams of glitter powder to the dried sand and got the effect that I was looking for.
Fill the glitter colored sand to almost a little more than half of the jam bottle.
Tie the Jute thread to the neck of the Jam bottle. What I have done here is to use 2 equal lengths of thread, took one end around the neck of the bottle and made a knot, took the other ends around the neck again and tied a knot at the opposite end from the first one, the result is a big loop to hang the lantern.
Attach colored tassels or the colored beads of your choice to the ends of the Jute thread.
Place a tea light candle inside and hand it wherever you want.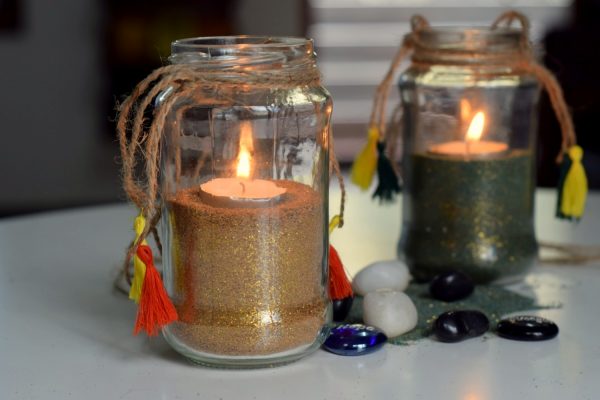 This was also a fun project to make, coz we had everything available and we did not have to buy a thing.