This post is about how you can make a lamp out of a glass bowl and a few things that you may have lying around the house.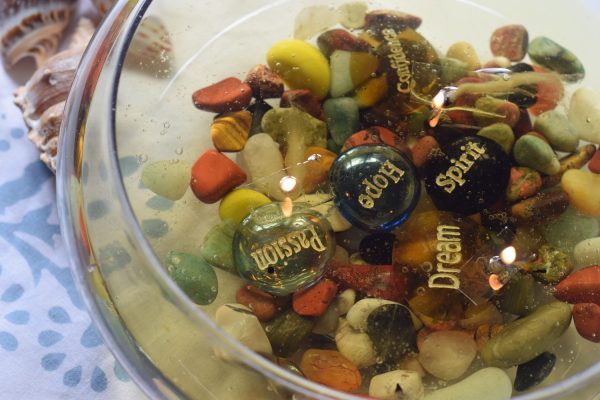 Things you will need to make water Lamp:-
A Transparent Glass bowl
Pebbles (colored or natural)
Water
Cotton Wicks
Plastic sheet (can be cut from a restaurant takeout container – transparent)
Oil that is used in lamps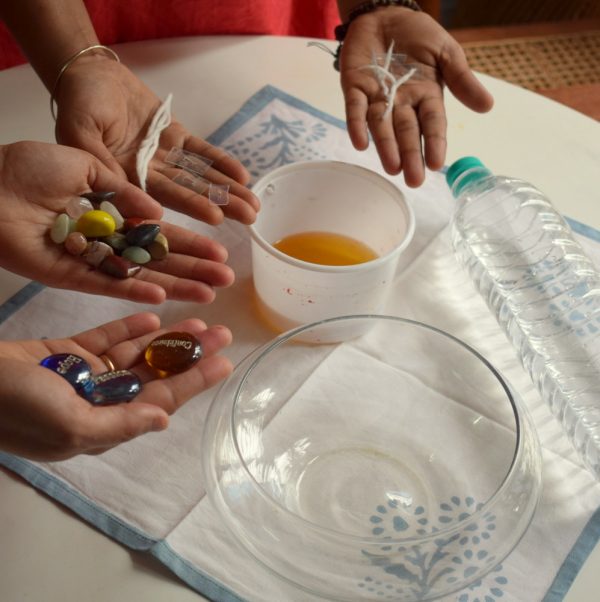 Here is how you make it:-
Take the plastic sheet and cut it into rectangle shape of 1cm in length and 2cm in width.
Make a small hole ( so as to fit the wick) in the middle of the rectangle sheet with the help of a pin.
Insert the wick in the sheet. Size of the wick shouldn't be too long, approximately 2 to 3 cm is what you will need.
Take a glass bowl, gently place the pebbles of your choice and pour the water to fill half of the bowl.
Let the air bubbles settle for a while.
Pour the lamp oil on top of the water. I have use gingelly (Sesame) oil because of its clear gold color and it looks good with the colored pebbles. You can use mustard oil or even vegetable oil. Make sure you pour the oil slowly into the water to ensure that you don't have too many air bubbles. If you still end up with bubbles, Burst them with the help of a stick or a toothpick.
Gently place the wicks which are attached to the plastic sheet. Now, this is the tricky part. Sometimes the wick does not stay upright and just leans into the oil. This means the weight of the wick is not balanced correctly. It may take a while for you to ensure the wick stays upright. This is also the reason why I have suggested the small wick length.
Carefully Light the wicks and enjoy the warm glow. 
When I experimented this first, I used a smaller bowl with a single wick and 3 spoons of oil. The lamp burnt for about two full hours and that is what prompted me to make a better version of it.
Also, this lamp needs to be made just before you light it if you are making it in a transparent glass bowl. If you leave it for too long the chill from the water starts to solidify the oil and it turns translucent which does not look good at all. However, it will continue to function as a lamp, no changes in its performance there.
I hope you are liking our series on sustainable Diwali decor, where we are trying to bring you ideas which you can execute with things that are found in your home. Do let us know in the comments below.