While thinking about how to upcyle stuff that already have, one thing that comes to the mind is the jam and Nutella jars. Here is a method to color them and use them as vases or storage jars. Here is our DIY Painted glass jars.
What you need?
Empty and cleaned glass jars
Enamel paint of the desired color (I have used oil based and water based )
An old rag to wipe excess paint
How to do it?
Ensure the jars are clean and dry on the inside.
Shake the enamel paint before using. Pour a small amount of undiluted paint into the jar. Don't worry if you think it's too much, coz you can always pour the extra back into the paint can.
Slowly rotate the jar so that the paint spreads to the full insides of the jar.
When all the inside is covered, pour the rest of the paint back into the paint can and quickly wipe the top rim of the jar.
You don't need to keep the jar upside down, just put it in a dust free space to dry for a day.
I tied some pom-poms to decorate them.
Here, I have used oil based enamel for the White jar, and water based enamel for the green one, just for the sake of experimentation. While they look equally beautiful, I liked working with the water based enamel simply because of the ease factor. Any spillage can be wiped clean with water, the paint is almost odourless compared to the oil based paint.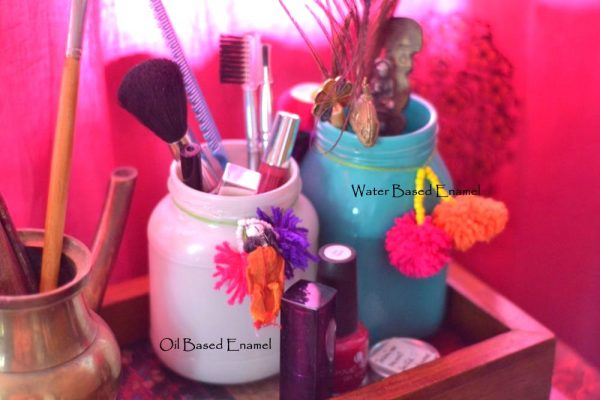 This DIY is a must try coz the only thing you need her is a can of paint.