Here is another quick DIY to display all the stuff that teenagers hoard and want in their room. I think a teens room is a place where you can go completely crazy and do all types of budget DIY and change it in a few days, coz they will love to have something new.
What You need?
An old frame, just the four sides.
Satin ribbon
A staple gun
Some colored paper clips
How to make it?
The wooden frame, I already had, you can even get one made for the size you want from your local frame shop guy. Just remember, if you make it too big, it may need a thick frame coz thin flimsy ones will warp and wont take the weight.
I stapled one end of the satin ribbon on the top at the back of the frame, stretched it to the other end at an angle and stapled it on the other side. Its like putting up a clothes line.
I repeated the same process to get 2 more lines.It looked like a stretched figure of 8 with satin ribbons.
To break the symmetry, I used a different colored ribbon and stapled it randomly.
Now it was ready to go on the wall. I used the colored paper clips to secure things on the satin ribbon.
This also qualifies for a quick 10 minute DIY. The best thing about this DIY is that, the kids can hang cards, friendship bands, little trinkets, photos, accessories, etc,. And after a few months, change them completely depending on what they fancy at that time.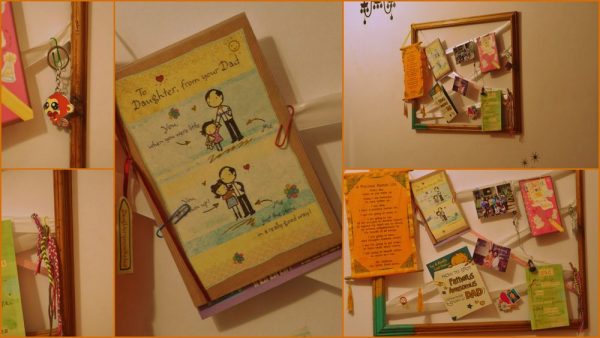 Since I was on a fast track mode, I hardly have pictures of "Work in Progress). Sometimes I am so engrossed in it, that I forget to take pictures. This series is helping me realize I need to be more organized and have a step by step picture taken.
I have a few more Teen DIY's up my sleeve, stay tuned. All posts of the 30 Days of DIY can be found here.