After 2 DIY's that take a few hours to complete, here is on that provides instant gratification.
Every time I am trying out a new color on my walls or for a client, I am mighty excited. I am even more excited when I have some leftover wall paint. So this DIY is super easy with brilliant results.
What I used?
Terracotta or Earthen ware – pots, figurines, anything.
Leftover wall paint
Wall painting brush
water (Spray can is good)
How to do it?
Clean the surface of the pot or earthen object you want to paint on.
Thin the paint with water. For normal application the paint -water ratio is 1:0.6, here you can go 1:1
Spray the earthen surface with water, the water will get absorbed eaisily. What this does is cools the surface and prevents it from absorbing water in the paint and giving you a patchy surface.
Use a brush and paint the surface. It dries in a matter of minutes.
Do a second coat as soon as the first coat looks dry. This will give an even color.
TaDaaaa… We are done!!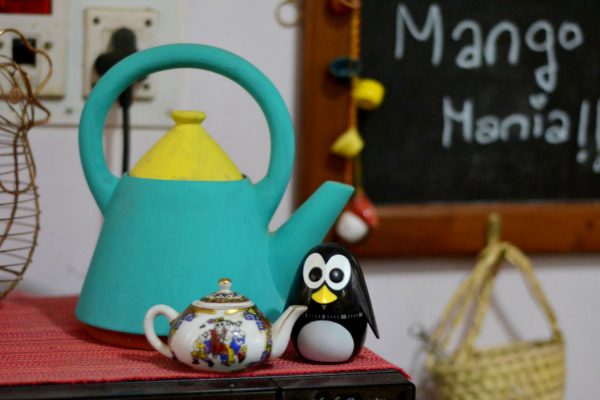 The wall paint gives it a rich matt finish , they look brilliant. I want to try it on large urns to place them outside my office, but havnt found the size I want. I've tried the idea in Artsycraftsymoms Studio too.
Now that you know the secret, keep a lookout at those roadside terracotta ware sellers. You get some lovely stuff for a fair price too. If you are in Bangalore, schedule a visit to the pottery town, you will find an amazing collection of garden accessories, masks, pots, etc. The people are good and prices are also reasonable.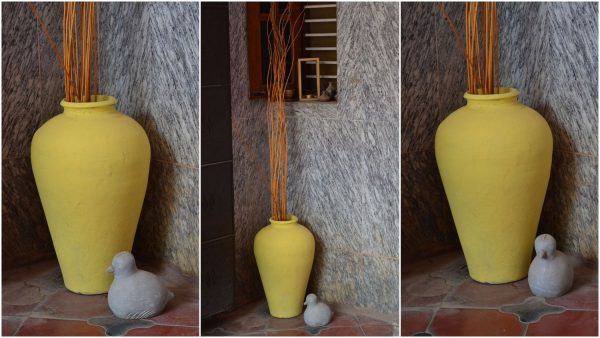 P.S. If you want to take this idea commercially, dont compromise on the quality of paint. Use Asian Paint Apex or Apex ultima (No, this post is not sponsored by Asian paints), they are rich in color, mould proof and will withstand any weather, so perfect for outdoors. Happy customers, happy business and happy you 🙂