How would you define your personal decorating style?
A question that haunts me in almost every interview and every Q & A that I have done. But I wonder why I have never written about it all this time. Well, looks like the stars have perfectly aligned today and it's time to shed some light on my personal decorating style and personal decorating styles in general.
In my opinion, personal decorating style can never be classified into one specific category. As a person, I have varied interests and taste. I am an Indian, who absolutely adores Indian craft and culture. But that does not mean, I don't appreciate indigenous crafts from other countries. I love the design and aesthetics of our heritage furniture, the comfort of modern ones and sometimes a bit of Paris chic too. I love a riot of colors, the rich hues of pinks and reds, but there are days I prefer whites only. I love buying handmade products, and I love working with my own hands and creating something beautiful. So as a person when I am a bit of this and a bit of that, it's hard to contain that in one particular style, but there is definitely something that is common here. ME!
My home is a reflection of me, it's who I am and what I do. And I don't see a need to stick to one style for decorating.
For the World Interiors Day 2018, the mantra is "Design without Borders" and the timing couldn't have been more perfect. Why? For me being true to myself and creating a design that is a reflection of my personality is the true meaning of Design without Borders. Break away from the need to follow a particular style or stick to a theme or format. Express yourself in your home and let your home be in a signature style that is YOU! And thats a trend is never going to go out of style.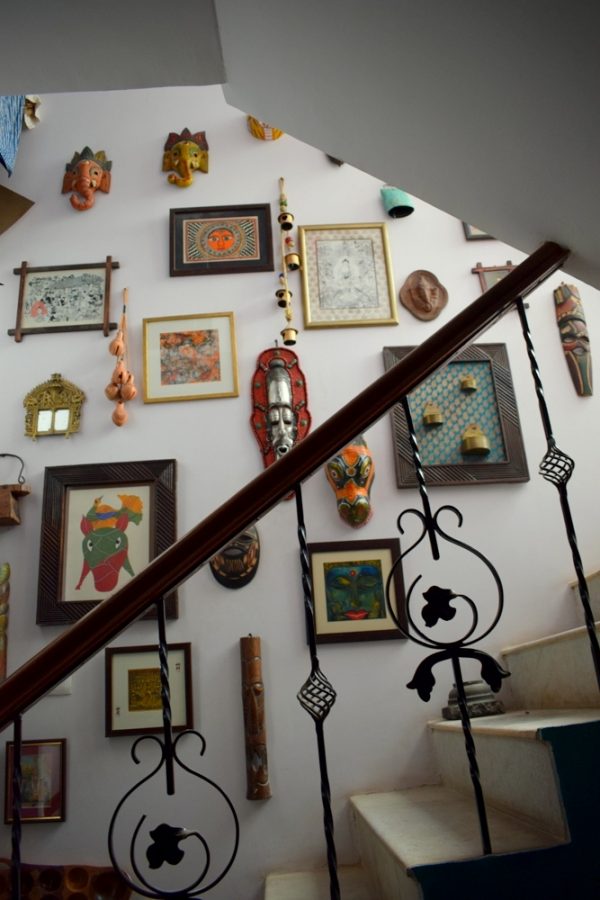 Look at my staircase gallery wall for instance. It's got almost everything that I love right here and is very me. Some of the things on this wall: Indian art and craft, a Chinese traditional game board, modern abstract art, vintage prints, my DIY project, my mother's beadwork art and a ton of other stuff that I have collected over the years. And it all works so well with each other, there has never been an instance when someone has disliked it. It's perfect, like a sunrise or a sunset, you never look at one and say "Can I have a little more orange on the left?". The only thing that bothers people is the number of holes that you may have to drill in your wall. Well, I have a solution for that too my friend.
This other wall that I wanted to use as my test wall, I have lined it with Gyproc ceiling solution from Saint-Gobain. I had promised to do an exclusive post on it, coming up soon. Four screws on four corners and some silicone at the back secures it to the wall. And once the seams are covered, it is as good as a wall and ready for you to start experimenting.
Gyproc is also very efficient, multi-functional and cost effective product for building temporary walls and decorative false ceiling and you can tailor it to your needs.
Some of the things that it can achieve in homes:
Make decorative false ceiling (very obvious) Build dry walls (very effective if you want it done quick and less messy)
Hide ugly beams and even out asymmetric alcoves.
Create your own lighting plan and not depend on the builders electric points and also hide all ugly wiring.
If you are on the top floor and it gets too hot during summer, it can reduce the temperature of the room by a few degrees.
Reduce energy consumption coz they act as heat sinks and less energy is needed for cooling.
With decorative false ceiling, you can choose to be a minimalist or go all out and also personalize it to a great extent. The possibilities are endless. A couple of years ago when I was working on a design for a corporate office, I had designed the false ceiling of the reception to look like a larger than life logo of the company (which was like a paisley) and it looked absolutely stunning.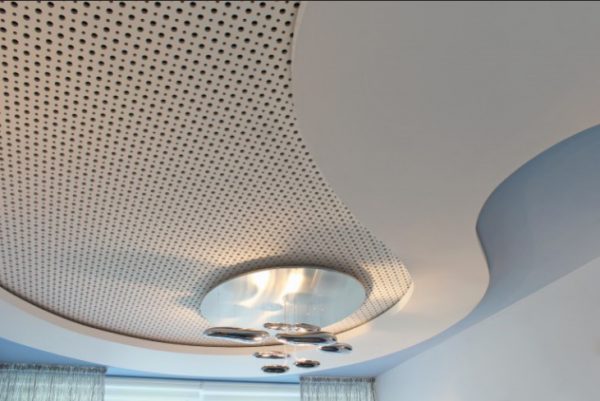 The ceiling pictured above is an office space that shows a new launch from the Gyproc Team called Rigitone Boards – this promises enhanced aesthetics and superior acoustic performance. I think in spaces such as office lobbies, hotel or hospital receptions or even in educational institutions, acoustics plays a defining role. These acoustical boards can create a seamless finish! All without showing the joints! I can imagine a perfect balance of acoustics and aesthetics which every designer craves.
To know more about Gyproc as a product, click on their website gyoroc.in  Their blog has some very good posts that will provide you with enough information to enable you to make good choices for your home.
This post is sponsored by Gyproc, A product of Saint-Gobain.