This post is all about budget shopping for fabric at Okalipuram. What you can expect, dos and donts and ideas for your home.
Okalipuram is a tiny locality in Bangalore that houses hundreds of fabric wholesalers and retailers dealing in export surplus, export rejects and new products. Its about less than 2 kilometers from the Srirampura metro station.
The stuff comes from various export houses that deal with fabric and furnishing. If you are lucky, you can find stuff that is selling on Pier one or Anthropologie. Some places sell by the kilo, some by meter. Good quality cottons are from 60/- to 180/- a meter. Mats and carpets about 250/- to 350/- a kilo, lace, depending on the intricacy is 300/- to 500/- a kilo and so on.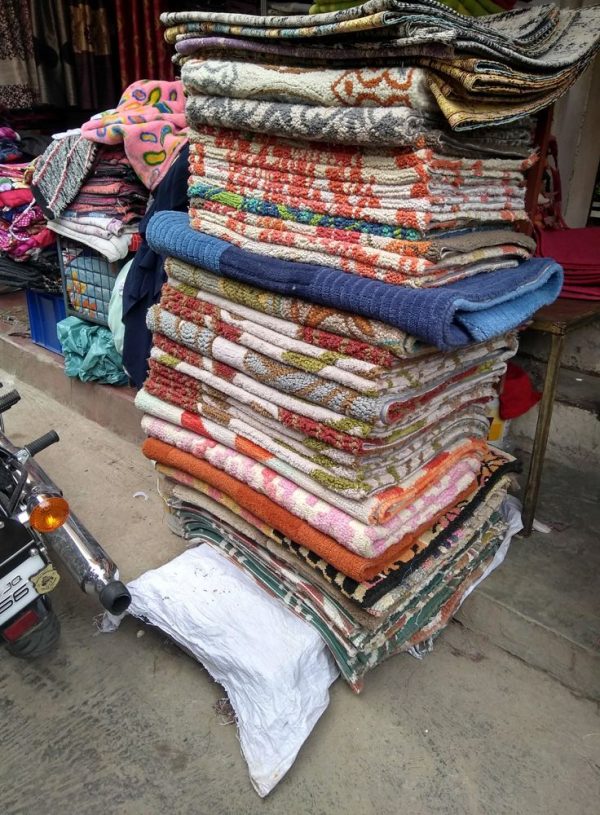 What can you find there?
Cotton fabrics with quirky prints, solids, corduroys, velvet and chiffon fabric.
Thick upholstery material.(no exclusive shop, you will have to drop in everyplace you fancy)
Indian fabric cotton and brocade (though not a big range and not in budget range, regular retail prices)
Foot rugs, area rugs carpets. (Local and export quality)
Bedsheets, pillow covers, cushion covers, chair pads (The curtains there suck badly, wouldn't recommend)
sewing thread, buttons, lace, zipper! Sewing essentials I would say.
Readymade garments ( I wouldnt recommend :D)
Do's
Have enough time at hand. Whatever that you are looking for, make sure you have 2 to 3 hours of spare time so you can inspect everything.
Take public transport or a cab. There is absolutely no parking in this area, so driving is out of question.
Ensure you are there by mornings or early afternoons. This takes care of two things, you can see the color of the fabric you are buying in broad daylight, and get out before the traffic situation there gets out of hand.
Carry enough cash, a few places accept cards too, but the small vendors dont. There are ATM's around, but since most of the exploring is on foot, its good to be prepared.
If you like a fabric, just buy it! Unless you are looking for something that is easily available, dont say I will come back next time for it. Chances of you finding the same thing again is very low.
Inspect everything you buy properly before making the payment. There are no exchanges or returns.
The prices are pretty reasonable, negotiate if you want to, if you are doing large quantities.
If you like a print you know you will use, buy a few extra meters if not all. It will cost more time and money to get there another day.
Donts
Dont go on an empty stomach. There are no eateries where you can grab a bite.
There is no breeze in and breeze out here. The stock is constantly reshuffles, even if you are visiting the same store, you will have new stuff in.
Dont take small kids along. Hundreds of people will be on the street walking, on bikes and driving. Kids will get cranky after the first 20 mins.
Dont go there without a proper buying agenda. You will either buy too much or come back with nothing. So make your list and chase it.
Dont expect to find the exact stuff you are looking for. Be flexible and look around, you will get ideas and can make better stuff.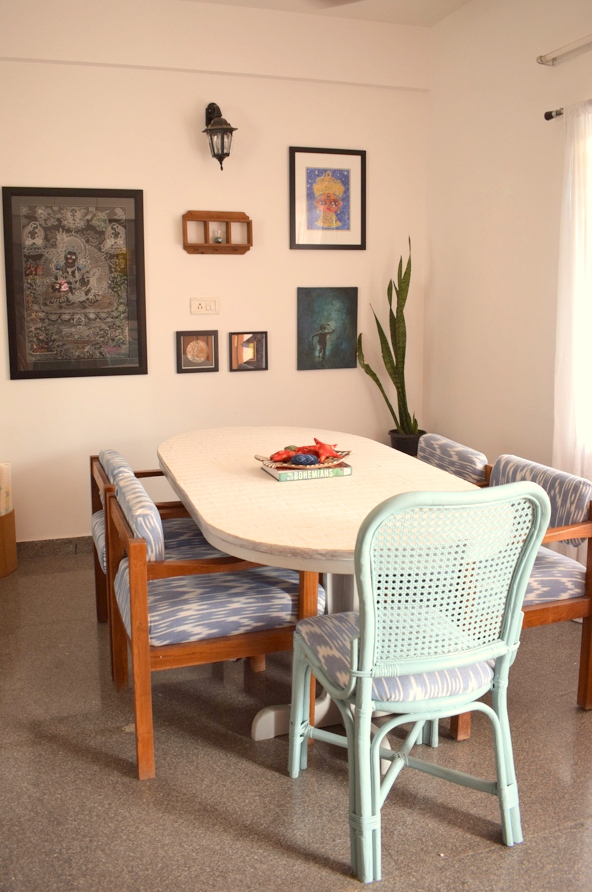 The Ikat fabric on the chairs of my office have been sourced from there. I was lucky enough to find original woven ikat and I picked up everything they has. It cost me 130/- a meter for a 60 inch width fabric. I get lucky like that. You can too 🙂