This post is all you need to know about bed linen and why it's important to choose well for yourself and for others. 
The two most important things that nourish your body is food and sleep. Now, I'm no expert on food, so I cannot comment about that, but I do know a little bit about living well because I believe in doing so myself. 
Picture this, a wedding in the family and you plan your diet,outfit, make-up and hair so you can look your best. You don't mind spending a ton of money on an outfit that you may wear once a year or maybe less. Nothing wrong. Indulge yourself. You deserve to feel like a million bucks, but not just on that one day, but every single day. Incorporate living well in your everyday life, eat well, sleep well and think positive.
For the time being let's focus on Sleep! Sleep is underrated. For me, especially if I don't get my eight hours of sleep in one stretch, I tend to get low and depressed. A good quality sleep recharges your brain, your cells repair themselves and important hormones are released. Its not enough if you take care of how you decorate your bedroom, the ambiance you create, what is more important is what you sleep on and what you cover yourself with. 
For the last three months, I have been focusing on bedroom styling, in the process learnt a lot about bed linen, done a ton of research and experienced a new level of comfort with the SPACES products. Let me take you on a journey of what I've learnt and experienced.  
Material:
Its important to keep your bed linen in natural material. 100% cotton sheets are the safest bet since its a breathable fabric and chances of allergies are very low. Stay away from Poly cotton (its a polyester mix) considering microscopic dust mites are everywhere, its an open invitation to allergies and aggravates asthma in people who suffer from it. 
SPACES has for the first time brought technology into their bed linen and developed a range called HYGROCOTTON TM  which is a hollow core cotton that can regulate temperature. They also have antimicrobial, 100% cotton sheets in their Bamboo Charcoal range, pets at home – No Problem. You want to keep the sheets on for a few more days, you don't have to worry about sleeping on a pile of germs.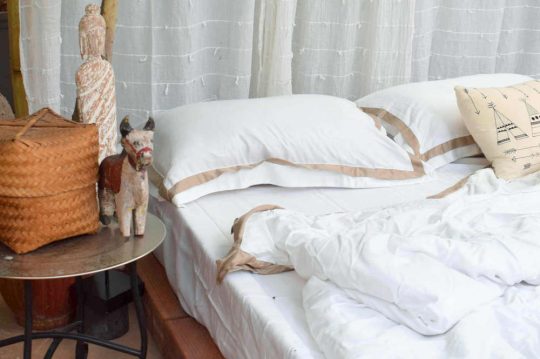 Thread count: 
Thread Count is the number of threads in one square inch of the fabric. What is a good thread count? I must have read pages and pages on it because some sources can be misleading. A thread count between 180 and 250 is an indication that your cotton sheets are good quality. 
What about some brands that sell you 1500 thread count? Its all hype and does not guarantee you quality. 
Most of SPACES sheets are 210 thread count and above, which are skin safe and are easy to maintain.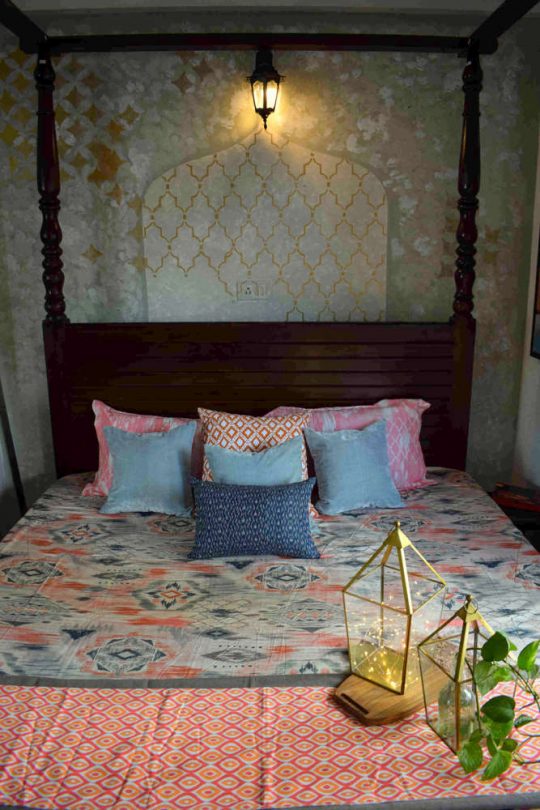 How often should you change your bed linen?
Did you know an average pillow can have more than 350,000 potentially live bacteria colonies on them? Its important to change your sheets and pillow covers regularly. You can change your 100% cotton sheets anywhere between one and two weeks. I usually like to change every two weeks. Happiness is fresh sheets to sleep on.  
If you are not using 100% cotton bed linen, then you should be sending them to wash every week, if not twice. Using the same sheets for longer period of time without washing can give rise to toxic bacteria that can make you sick.
P.s. Did you know the HYGROCOTTONTM sheets by SPACES get softer with each wash?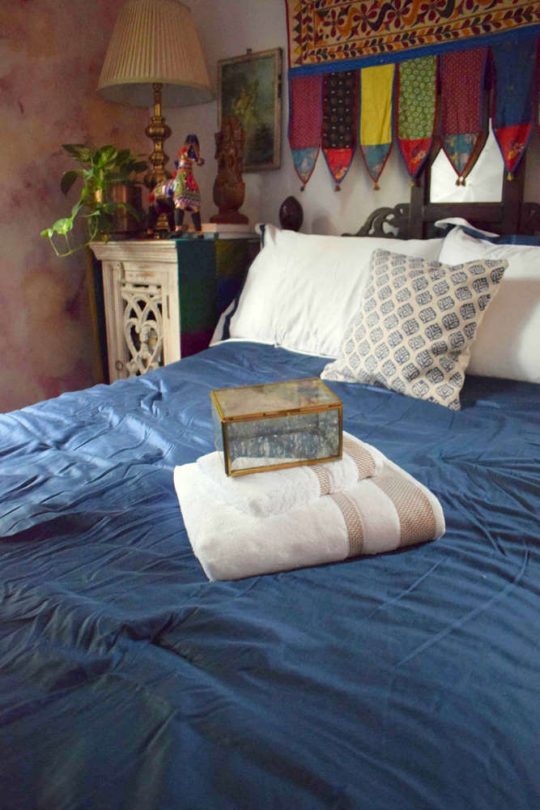 What else?
Choosing bed linen needs as much though as food or clothing. You want it to look good no doubt, but you need to invest in the best quality available because you are going to be intimate with it for six to eight hours every day. So choose wisely. 
Speaking of looking good, finally there is a bed linen brand that brings traditional Indian art on the bed. The SPACES Rangana Collection is every Indian art lovers dream, with all the quality features of a good bed linen set. Thank you Spaces! I am a fan! 
Why SPACES?
SPACES, in my experience is affordable premium bed linen. The first time I experienced their product, I decided to buy a set right away. 
In the last three months, I have taken you through their products, its features , we've done store visits, etc. So I wont repeat myself here. But I would like to address one valid point that a social media follower brought forth. Pricing!
One of you wrote to me saying "I love the SPACES products, but they are a little on the higher side when it comes to price". 
Well, three months ago, I felt the same too. But today, using the spaces sheets myself, I will tell you its value for money. And buying good quality sheets which you use every single day, is not a cost its an investment. 
Look at it this way, you dont buy bed linen often, assuming you sleep on one particular sheet for 100 nights in a year, or even 50 for that matter, what is the per night cost you are spending to get hotel like luxury and comfort? Affordable luxury it is. Stay-cation at home!
Gift Well!
We want the best for our loved ones and once you've experienced the luxury and comfort of the spaces sheets, it will be a natural progression to gift them to the people you love. Bed linen is something everyone uses and is the safest bet to gift. A pack of good quality sheet from SPACES is a thoughtful gift, if you are not sure about printed, gift solids, but one thing is for sure, it will be thoroughly appreciated. 
The Winner of the SPACES Giveaway!
To make the festival season more special, SPACES has offered a Rangana Bedsheet set in a contest on Instagram and the winner of the contest is Akanksha Anand! Congratulations Akanksha, send in your address and phone number so that your goodies can reach you.
Happy Diwali you guys! Wishing you good health, wealth and abundance!