"And suddenly you just know its time to start something new and trust the magic of beginnings."
I have no idea who said that, but its the feel right now. A new year brings new hope and starting afresh after a tiny break brings in the added enthusiasm. Year after year, I resolve to give my blog the time it deserves, starts off well and then through the year other "more pressing things" eat up the time allotted and I struggle to keep up with the things that I want to do only and only for me.
Just around the closing of the last year, I asked my social media followers to tell me what they expected to see on this website in 2019. Here are the answers that I received.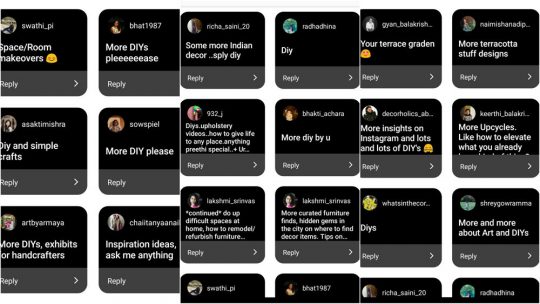 Almost 80% of the people said more DIY.
Budget decor
Makeover stories
Life Lessons
Help on how to promote yourself on Social media
When I looked at the list of things people were requesting, one thing that hit me was, it is not something new that people were requesting. Its the things that I do anyway. We do a lot of DIY for clients, for ourselves, for the sake of DIY. I am constantly advising people, paid or otherwise on how they can leverage social media to promote their small businesses. Also putting up some motivational pieces on my instagram feed occasionally. So my audience simple wants me to simply continue doing what I am already doing. (Which I think is a huge win for me in terms of the direction I want to take). And if I could compile it into proper categorized, searchable content, it would really work for everyone.
Well, year after year I have resolved to give more time to the blog coz it's one of those things that makes me really happy: to be able to share my work, what I do, how i do it and an occasional general ranting kind of post. But regular everyday life throws you off track and takes up almost all of the time and the gap between doing the work and publishing it gets bigger and bigger.
This year I have a slightly different resolve.
Its not a secret that my appetite for taking risk is a little more than average, and sometimes I want to take on these really over ambitious projects but I am scared it may not work (I know sounds hypocritical coz I advise so many of you that unless you get started, you wont know) So this year I want to approach it differently. I dont want to be not doing something coz I am scared it may not work. I dont want to be in my own way. For 2019 my words of the year are Believe, Plan, Work, Repeat!
To get the blog up to date with all of the work and DIY and info posts that I've always wanted to put up, I have taken on board a dedicated resource who will work with me on the blog. I think this was a smart move coz left to me and the one million things I handle in life, the blog sort of becomes a challenge to manage on my own. One human, physically present next to me, breathing down my neck everyday is what really is the need of the hour.
Happy 2019 y'all. Lets Rock!