This post is about how you can make full up your existing cushions more fluffy, and if you cannot, how to make your cushions fill up. 
I have noticed that even the best quality cushions can go a little flat if you are a very regular user. Leaning against them everyday kind of flattens them up a bit by bit and the covers don't look as much filled as they used to when you get them new.
So here are my five tried and tested recipes to have more fluffy cushions and you can follow the same order too.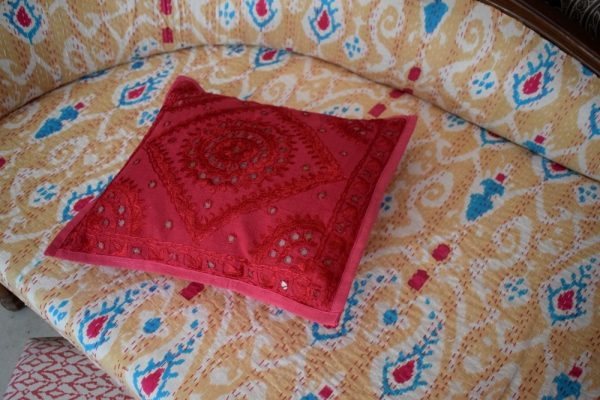 Beat the hell out of them. Take it to a balcony or an open area, keep it on a sheet or something and use a stick to beat it. (Best time to do this is when you are irritated with someone, take that frustration out) If you are dust allergic, make sure you cover your nose and mouth coz you will be surprised how much fine dust is inside your cushions. If you have good quality cushions, they should fluff up in this process itself. If it doesn't, move on to step no 2.
Sundry and fluff with hands. When you sundry, any moisture that is trapped inside in the cotton or polyester fibers, it will dry up.  Also, sun drying will disinfect them naturally. Once you bring them indoors, fluff them with your hands and let them cool down before you insert them into a cover. I love the smell of freshly sun-dried cushions and pillows.
Refill them. If step 1 and 2 have not taken care of fluffing them up then you can be sure that you need to have more stuffing in your filler. Making a filler case is easy and needs no special skills. Some plain cotton fabric and basic stitching skills will do. Don't worry about finishing as you will be stuffing inside a finished cover. Keep in mind, if you are making a filler for a 16×16 inch cover, make a 18×18 filler so you get a good fluffy cushion. 3 old cushions can be 2 new ones. (P.s. If you hate stitching, hot glue will work too. But not sure if it will last long. )(P.P.s Cover your nose and mouth while working with the stuffing)
Insert two fillers in one cover. This works and the lazy me does it all the time. There is one trick to this though. If you fill 2 fillers in one cover that you want to display, it will look weirdly out of shape. Use an old cushion cover that you don't use anymore and stuff 2 fillers in it. Fluff it a little with your hand and then stuff it into your final cushion cover. Here in the image below, I have Done the same, they look good and are also soft. So win-win.
Buy new. Yeah right! You don't have to tell us that! Well, I just did 😀 Think about it, if all the above four things did not work for you, then it's definitely time to buy some new cushion cover fillers.
I know some people wash their pillows and cushions in the washing machine. I have never done it, so I won't be able to talk about it. I feel weirdly uncomfortable stuffing them inside the front load machine. If you have washed your cushions, let me know how you do it and if it makes them fluffy.