"This post is about how I went about doing up the teen room set up with exposed filament lights for the Better Homes and Garden magazine that was published in October 2017. 
If you look into my media page, this isn't my first media or magazine feature, but certainly was the most special one. I'll tell you why. My home and my studio is more of a design lab than home and office, things are constantly changing. If you are a crazy decor enthusiast you can relate to that I am sure. But there is always something that i want to experiment with, which may or may not turn out well and I don't want to do that in a live space. So I needed an exclusive space for that. I wanted to build a test wall (like a temporary movable wall built from gypsum board or whatever). A place where I can let my crazy out and do whatever I wanted and not feel guilty for screwing it up. So it was on my wish-list and it just remained there for a couple of years.
When I got a request from Better Homes and Gardens magazine to style a teen room with filament bulbs, I was super excited. I looked at my options. I already have a teen at home and a tiny room decorated only for her. But the room is at the ground level of the house and gets little natural daylight coz of the tall buildings on both sides. Also what I wanted to achieve would have been difficult to shoot there. So I ruled that option out.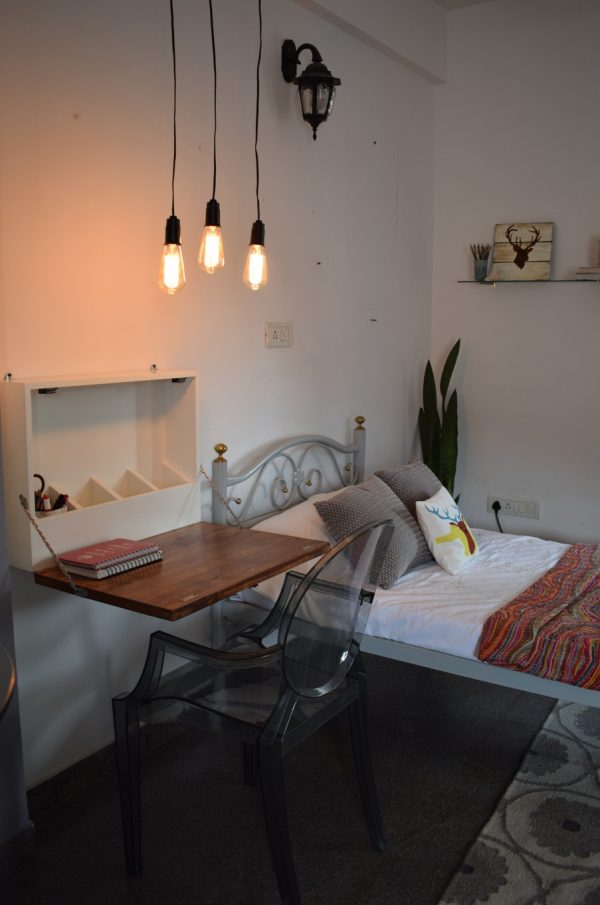 The only other option left was to shoot in the studio. The deadline was steep, I had just one day to plan and one day to shoot and send the images.
Luckily I have a single bed in the studio which I use to style cushions and hubs takes a nap when he wants. I picked up furnishing, artwork and lights from home and we cleared one side of the studio to put up the mock.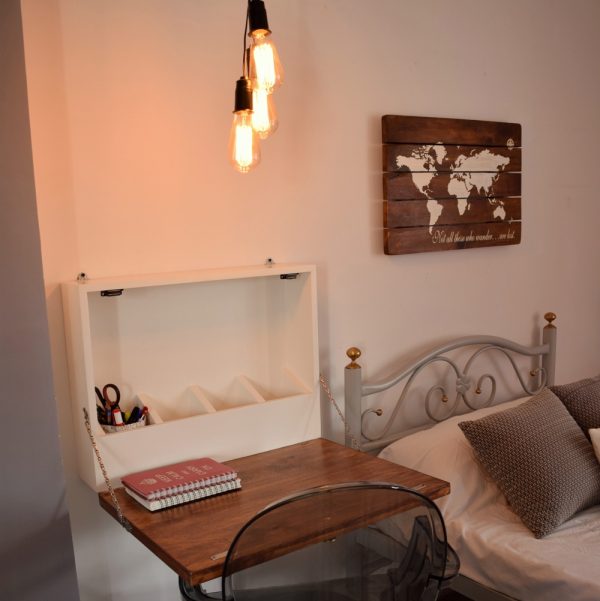 After the initial styling, the artwork that I had chosen was somehow not fitting in and I wasn't fully convinced. That is when I remembered my friend Denzil who runs CustHum Studio that makes amazing pinewood furniture.  I thought I could borrow something from him to complete the look. We had a quick chat and discussed the look that I was trying to achieve and within a couple of hours I had two wooden art pieces and a Murphy table delivered to my place.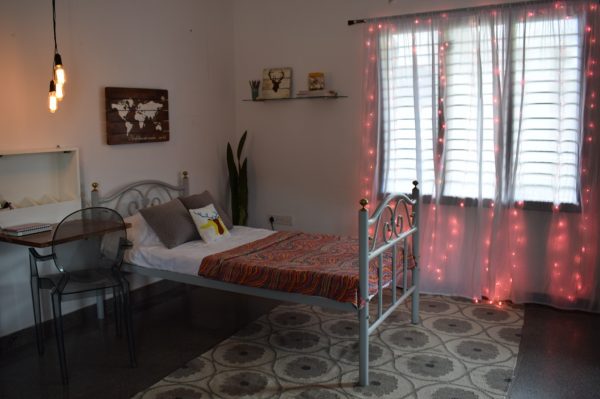 I am so grateful for the fact that without a doubt or second thought he sent me the things and fast. Thank you, i must have done something right.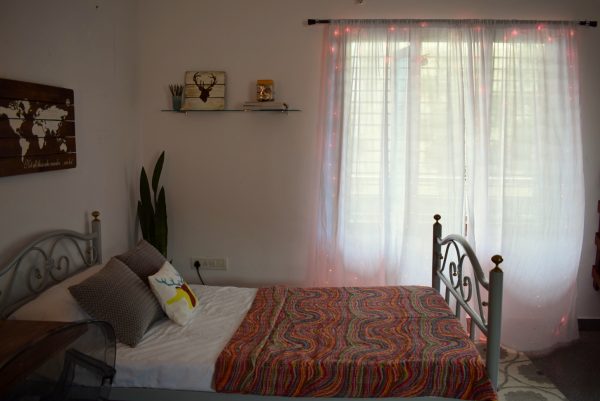 Back to the studio, it took a couple of hours to set everything up and we were ready to shoot. I think I took at least a hundred shots from different angles, before I was ready to wrap up. I can't believe this turned out so well. We were so hesitant to move back to our old setting coz it looked even better in person. I will list out where I got everything from at the end of the post.
Better Homes and Gardens India along with Social Samosa is celebrating content creators #celebratingcreators and have announced the Lifestyle Influencer awards. I have been nominated in Decor and under 3 categories: Best Design Inspiration, Best Ethnic Decor and Best Craft & DIY. If you love my content, please go to the links on all 3 categories and vote for me. If you already have a favorite blogger for any of the categories mentioned here, please take that little trouble to vote for them. As content creators, it will be a huge boost for us. 
Resource Guide
Metal Cot – Central Street Bangalore (Primed and painted light grey)
Murphy Table – CustHum
World Map Art – CustHum
Antler Art – CustHum
Antler Cushion Cover – By Sharon of The Keybunch
Ghost Chair – Zefo India
Multicolor Kantha Double Sheet – Safina Plaza, Bangalore