This post is about how we changed an ordinary boring tiny bathroom into a glamorous one. So if you are interested, read on. 
This was a typical office restroom that you get when you are a small business and rent out a small space in a premium locality commercial complex. Super tiny in size (Less than 25 square feet) boring tiles,  and no place for anything else other than a WC and a tiny corner sink. (At least we have our own and dont have to share a common rest room, Thank God!) It has a tiny window that lets the light in and provides ventilation (Thank God again).
During the process of rescuing this bathroom from boring, we discovered the 5 ways to glam up a tiny bathroom.
This is HOW!
1.Create a grand entry.  Just coz it leads to a bathroom, does not mean it needs to look drab. The entry to the (thinking) throne needs to be a grand one. The blue door gives you no clue about what is hidden behind. (Do ping me if you like the color and need the shade code)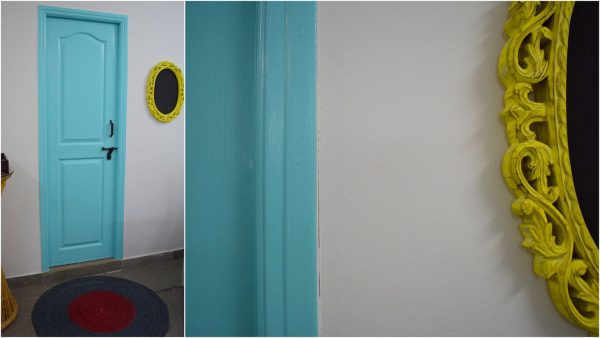 2. Ditch the light colors and go Bold. Contrary to popular belief that you should stick to lighter colors in small spaces, we decided to go bold everywhere. The walls above the tiles and the ceiling was painted in dark grey that almost looked like black. As usual, this made the biggest impact to the space.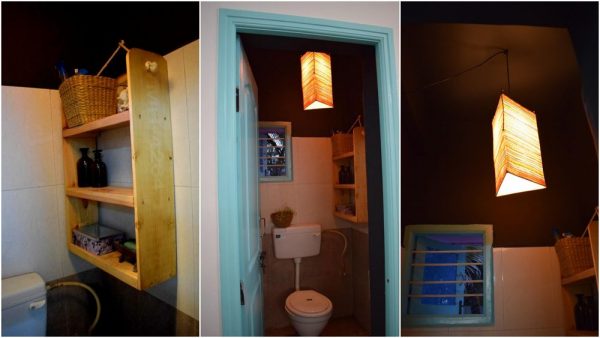 3. Switch the lighting to warm. Since this was in an office space and did not have a shower attached, I decided to do a pendant light, a traditional Andhra leather work shade with geometric lines. Changing the bulb to a warm led lends the glam feel.
4. Add an interesting mirror. Pretty self explanatory there. Since mirrors can be taken with you when you move, invest in a beautiful piece.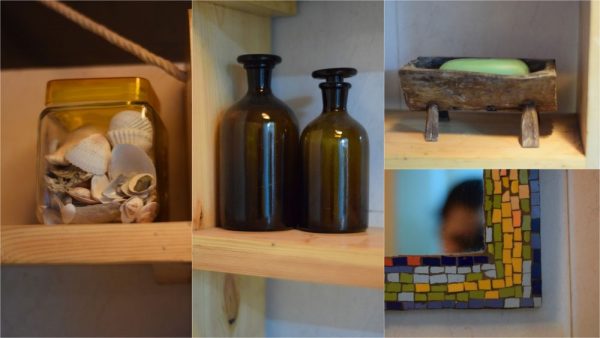 5. Introduce some Decor elements. I love decorative items in the loo. (Gives you something to stare at. Lol!) Maybe a plant, or decorative bottles, aroma diffuser or some sea shells in a glass bottle. Hanging a multilevel shelf provides room for storage of essentials and also some decorative elements too.
So these are our 5 ways to glam up a bathroom. Bathrooms are my favorite space to decorate coz there is no midway, you either break your bank or spend almost nothing decorating it.