The old-world charm of Goa makes it the perfect place for slow-life boutique stores and it does not disappoint. I was in Goa last week and got a day to go around and explore. Our primary objective in going to Goa is to visit our Kuladevi Temple, sharing a photo of the temple and the goddess here for you to see.
Coming back to the boutique home stores in Goa, If you have a car and a full day, you can hit all of these 8 stores on the same day. That's what we did. We started at 10 in the morning from Panji, we took a full-day taxi at the pre-paid taxi counter.  Assagao is where all the happening stores are, the upmarket happening place that it is developing into. If we had more time, we could have explored more, but alas! Next time! We started from Panjim and our first stop was Goa Decor.
1. Goa Decor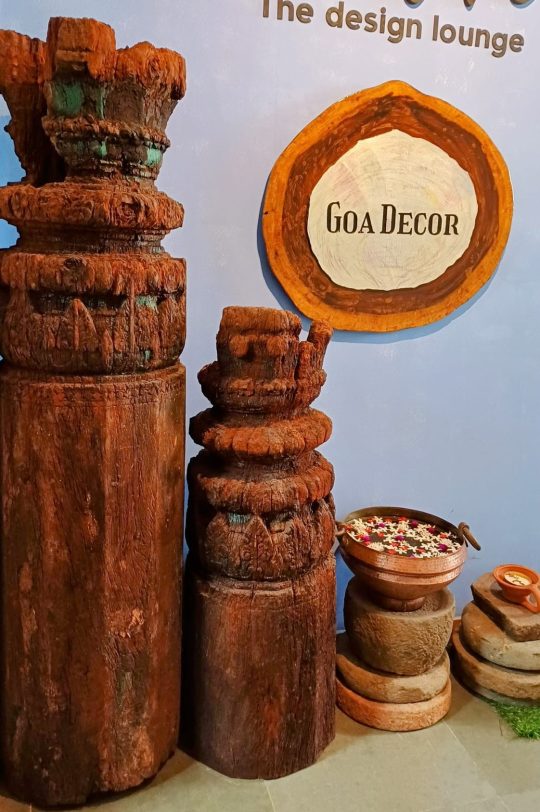 I looked up Goa Decor when I was doing my research and I was in love. Then we got there and saw these two ancient pillars outside at the entrance and I knew it was a fabulous start for the day. We were lucky to find the founder of the store, Architect Roopa Kunkolienkar and she took us around the store, passing on her passion for Goan heritage decor. The store is a collection of different aspects of Goan heritage presented as home decor products. There were original paintings, prints, woodcraft, ceramics, and everyone's favorite miniature Goan Windows.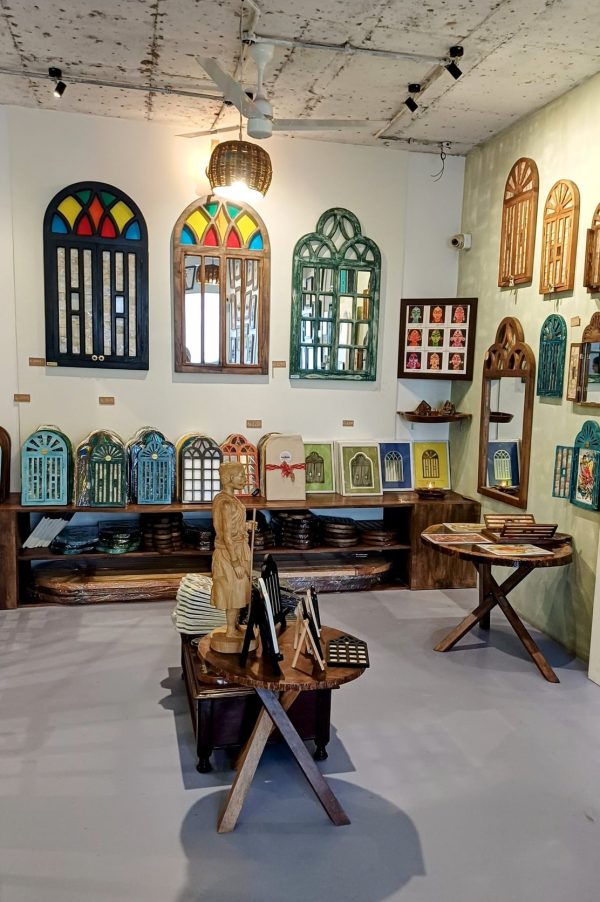 My favorites were the windows the watercolor paintings and the wooden kitchenware. If you shop handmade and know the pricing of handmade, the prices here will seem reasonable.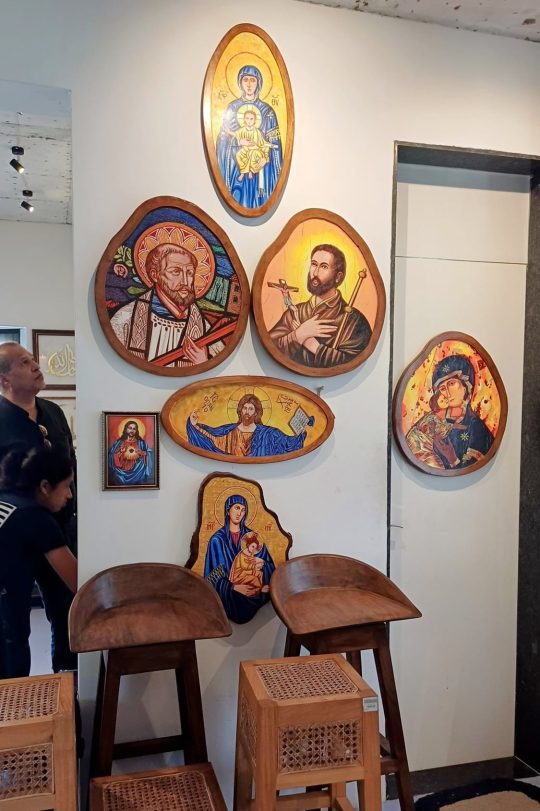 2. Velha Goa
Velha Goa is your go-to place for ceramics. They have the typical Goan-painted tiles and you can get custom nameplates from them. They also carry an excellent collection of pottery and dinnerware. Photography was not allowed in the store, so I didn't take any pictures except for this which I wanted to use it for a project, so I asked permission to take.
Among their painted tiles, I loved the paintings based on the life of the Christ, they were so vividly painted and eye catchy. The best part is that these tiles can be used outdoors and won't fade or discolor. You can check out their Instagram profile here.
3. Azulejos De Goa
This place is pure nostalgia. We got married in Goa in December 2014 and the day before our wedding day, we were wandering the streets of Panjim. And we shopped some stuff here. The tiny windows from the bedroom tour my YouTube below. You can see it at 4.29.
Again, photography wasn't allowed here, so I don't really have much to show. I had a lot of pictures from 2014, but I am not sure where they are now. They have a lot of painted tiles, wall art, and printed Mario Miranda tile artwork in frames. I have quite a few from them that I got last time, so I didn't buy anything this time around. Also, we had just finished lunch and were stuffed.
4. Rangeela Goa
Rangeela Goa was a must-do for me. I was like, ain't no way I am coming back from Goa without going here. It was better than I expected. Nestled in an old bungalow in the midst of greenery, Rangeela Goa is a treat for any home decor lover. If you don't fall for the building, you will fall for the stuff inside it. The curation was fresh, mixed, and very eclectic. There was a lot of Indian stuff mixed with African and Southeast Asian wood artifacts. Furniture, art, artifacts, rugs, etc. They also have a fashion and jewelry section which I did not even bother to check.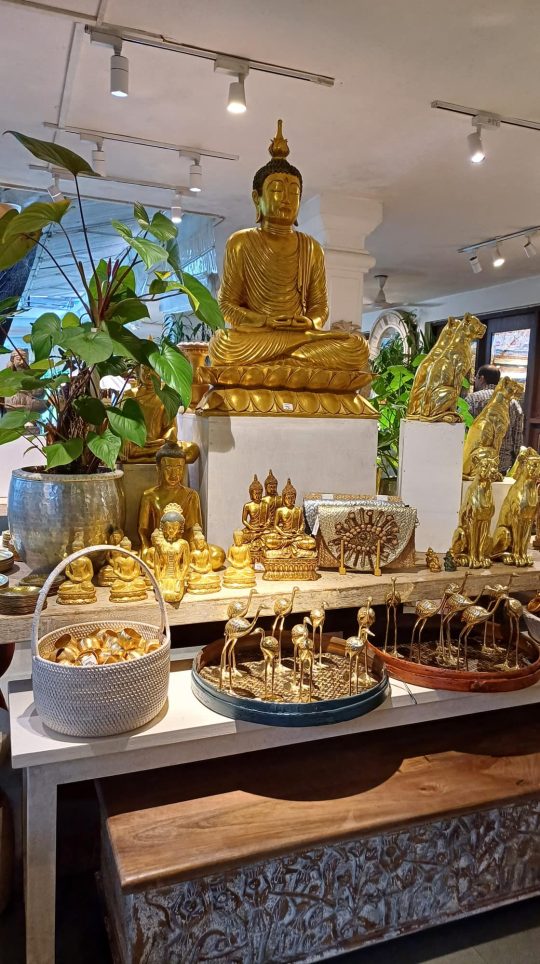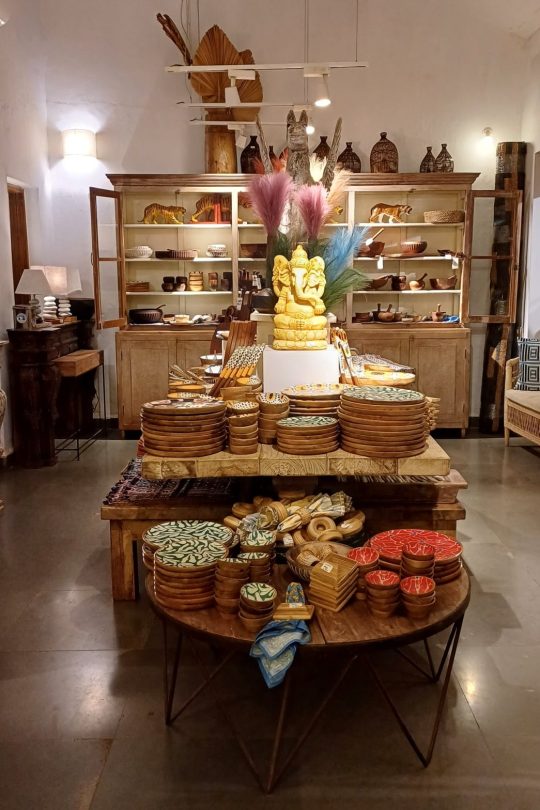 The styling of the store was so on point. It was a treat (and I am saying this a second time here). If you don't have any intention of buying but love home decor, you must visit. It's so so beautiful. I wish I had more time. Next time I am going to spend a lot more time there and I promise to take you along. I am going to make a separate post on what I bought from Goa over the years. But as I was checking out and paying at the counter, my eyes fell on this beautiful brass bee necklace that I simply had to buy! which surprised my husband to no end.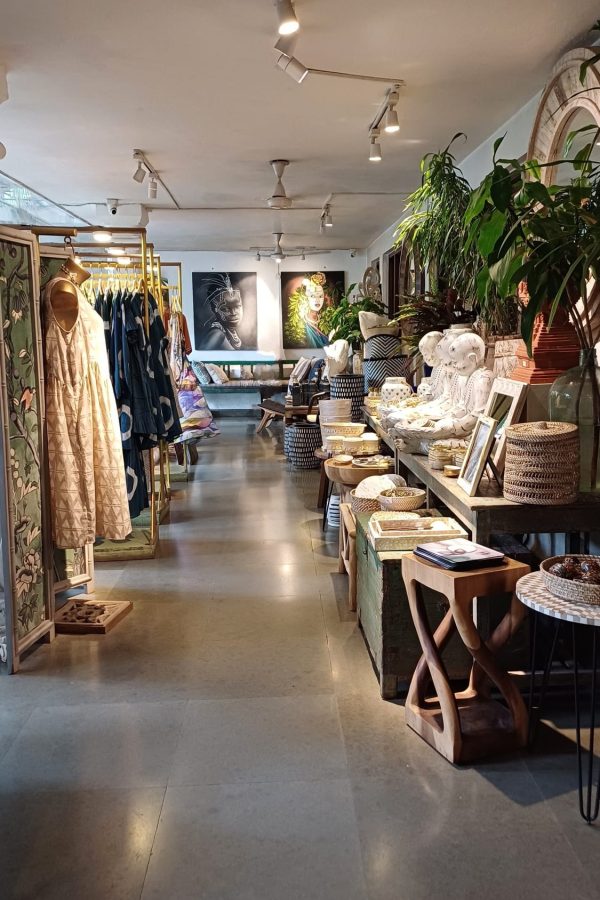 Rangeela Goa has an online store which you can see here, and you can find their Instagram page here.
5. The Flame Store
This was a little ahead of Rangeela Goa and had a very small home collection. The common being, an old home converted to a store, well manicured lawn, and very chic looking outside and inside. The Store itself is more on the fashion and accessories one with tiny sections of home accessories here and there.
No photos were allowed inside the store. The pricing was on the higher side, I was in and out of the store in a jiffy. We met 2 more couples inside the store and the man got talking to those men while the women were shopping. When I said I was done, those guys told my husband that he was so lucky that I got done so soon.
The Instagram Link to the store is here.
6. Siroi
Siroi is a cute store with the same specks. Old charming house converted into a store. They had Indian stuff, African artifacts, goan-painted ceramics, pottery, etc. They also had some vintage and antique stuff. The pricing was kind of mixed. I do a lot of shopping and a lot more window shopping, and comparing prices, some things are more expensive than the other places, and some things are cheaper. I found the vintage stuff was pretty decently priced. The painted ceramics were more expensive than the other two stores that I have covered before.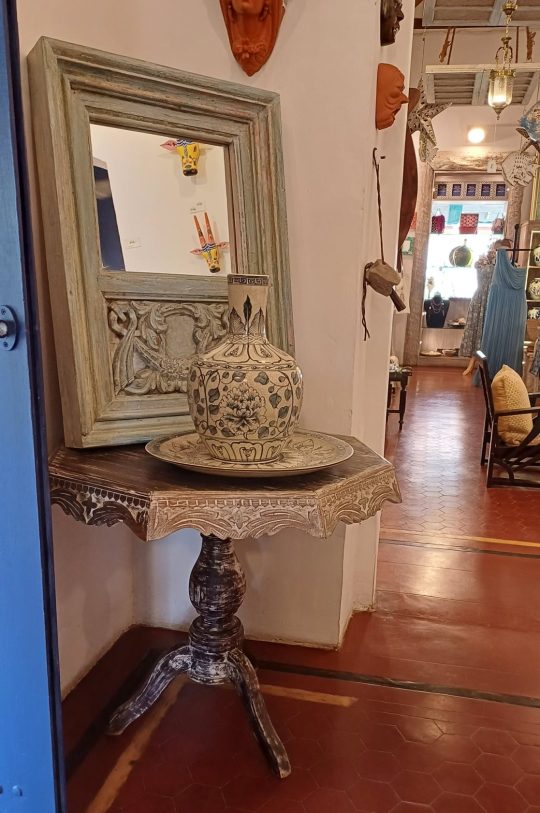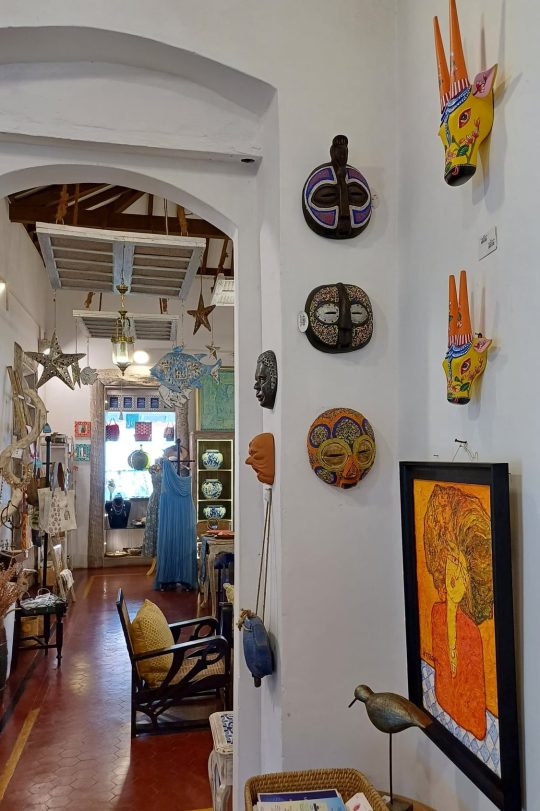 If you ever decide to hit boutique home stores in Goa, go with the mindset of exploring and you will find that it's so much enjoyable and you learn so much.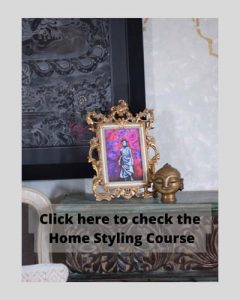 7. Adhvan
Adhvan is another beautiful store that is a must-visit. The store is curated by Indian fashion designer Vikram Phadnis and is a very beautifully curated store. You will see a lot of fashion and accessories, they are seamlessly integrated with the decor. The tables are laid out and the galleries are decorated. One room moves into the other like an enchanting maze of beautiful things. It's an experience that I think is a must-do for a home decor lover or an esthette.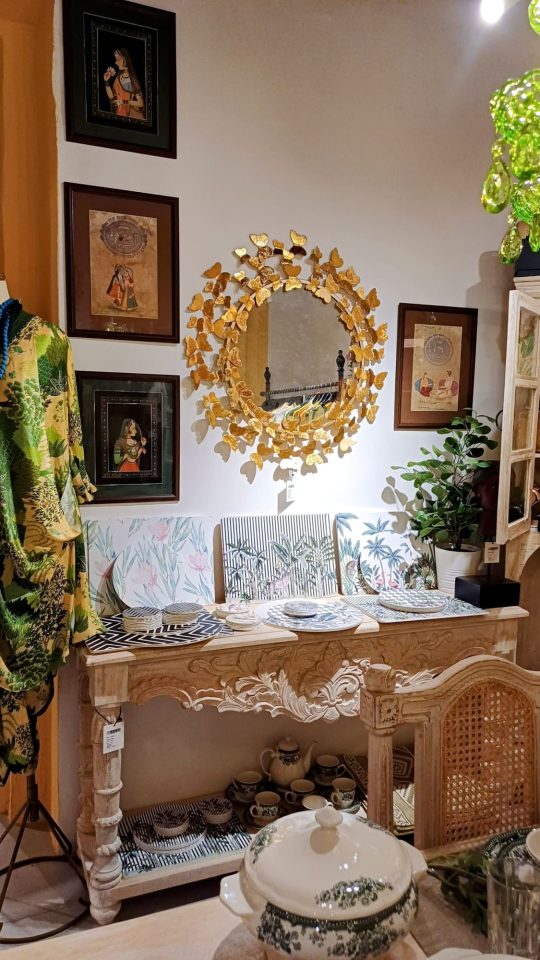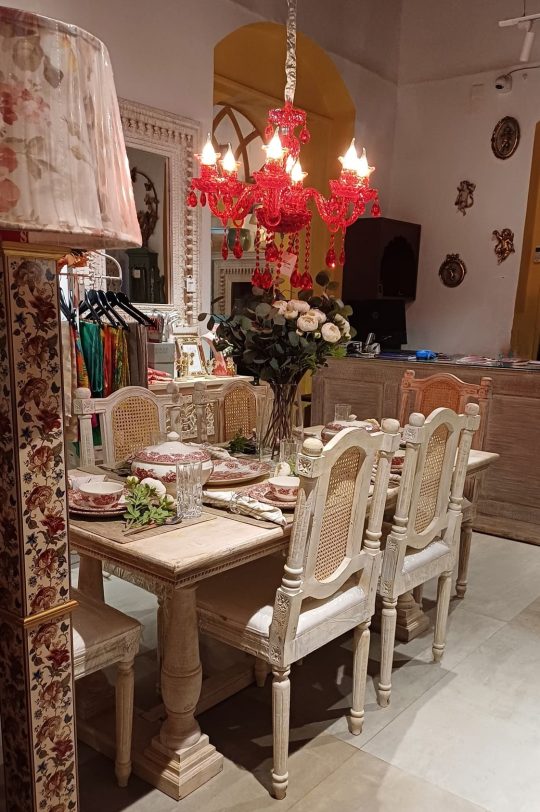 I loved the pottery they had on display
8. Ranji Goa
Raji Goa was our last stop of the day and I really wished I had more time. It is curated by Ranji Kelkar who I have been following for a while and his styling is something I have been absolutely in awe of.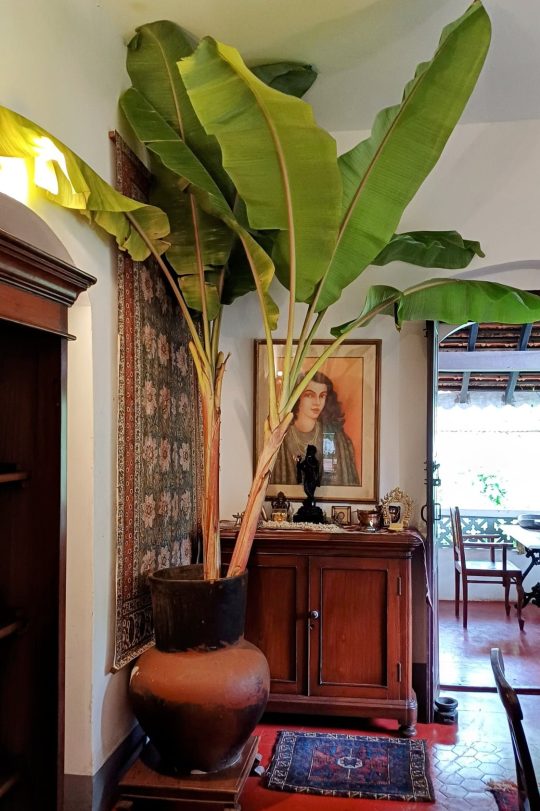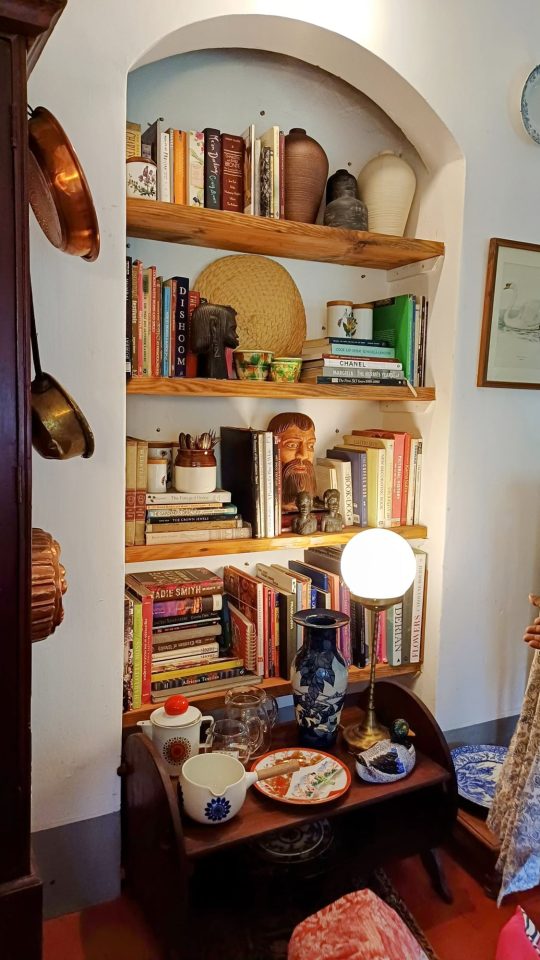 The store has a soul and you can feel it as you walk around. The curation is mainly vintage and antique, you can find them on Instagram here.
There are a lot more stores in Goa that I am yet to explore. Why do I go window shopping while traveling you ask? there are several reasons for that. One, for future sourcing, I need to know what is available in which store and at what price point. Two, bursts of inspiration. It's when you get out there and experience things is when you are inspired to do new things. Three, to share it with all of you. I have the privilege of having some of you who have been so much in tune with my journey so far. And its so much of a pleasure to take you along. Thank you!