This post is about introducing you to Anuja Cambatta and her creative venture, Dragonfly Farms. 
I have been following Anuja for a few years now and I enjoy her content on styling with plants, garden accessories, and home decor. Her knack for putting together rustic wood items with lush green plants with brass accents is goals for any home decor enthusiast. Very recently I saw her tagging Dragonfly Farms and this particular event poster caught my eye.
If you are in Ahmedabad, this is happening today and tomorrow (2nd and 3rd Nov 2023) don't miss it.
So here is a little bit about Anuja and her venture in her own words.
A landscapist, plant stylist, and Bonsai artist, Anuja Cambatta has been working in the field of organic farming for more than 20 years. She promotes sustainable landscaping. What started as a hobby is now a full-time profession. She has mastered her skills by learning from the best in the industry by attending workshops, and international Bonsai conventions, and doing a course at NID.  Daughter of an army officer and national highboard and springboard diving champion. Trained in London with the British Olympic team for diving. Air hostess with Air India for 10 years. It's her experience in various fields over the years, which makes her a designer with a difference. 
Dragonfly Farm was founded by Anuja 6 years ago. It is a nursery, situated in the outskirts of Ahmedabad, with a  collection of Bonsais-styled plants along with an interesting range of garden accessories. Anuja conducts gardening workshops (online as well as offline) at Dragonfly Farm as well as at various events like Farmer's Market, Sunday Fair, Women's Day Celebration events, etc. Her workshops are highly sought-after amongst gardening enthusiasts.
We specialize in landscaping, styling garden spaces, and indoor gardens with a difference. Our garden accessories are unique. We have many interesting hand-picked vintage artifacts, which are styled to fit in any contemporary home.
Although our garden accessories and plants are very popular in Ahmedabad, we are essentially a landscaping company and love to create gardens.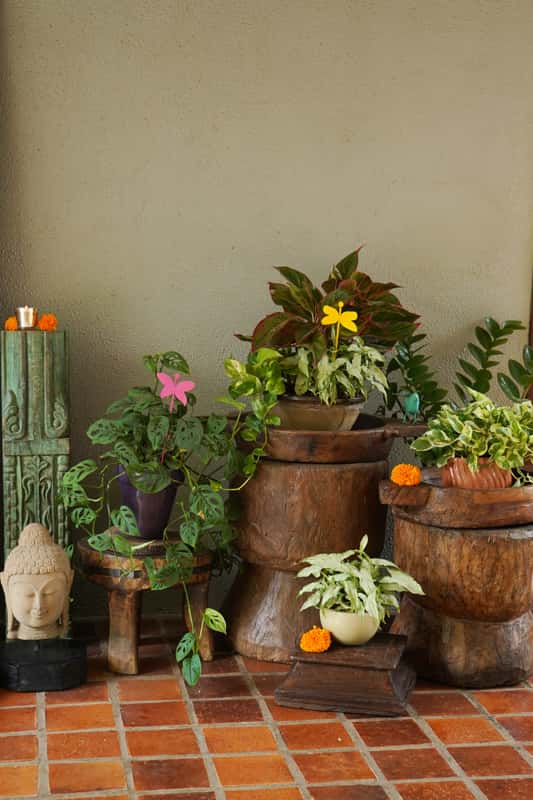 Click on Anuja Cambatta and Dragonfly Farms to go to their Instagram profile. My favorite accessories from the Dragonfly Farm are their hand-carved Naga bowls and furniture. I adore the way they are styled with brass accents. (I have probably said it before somewhere, but you know how it is with our love for eye candy). I am taking the liberty to share some of the images that I love from their social media feed.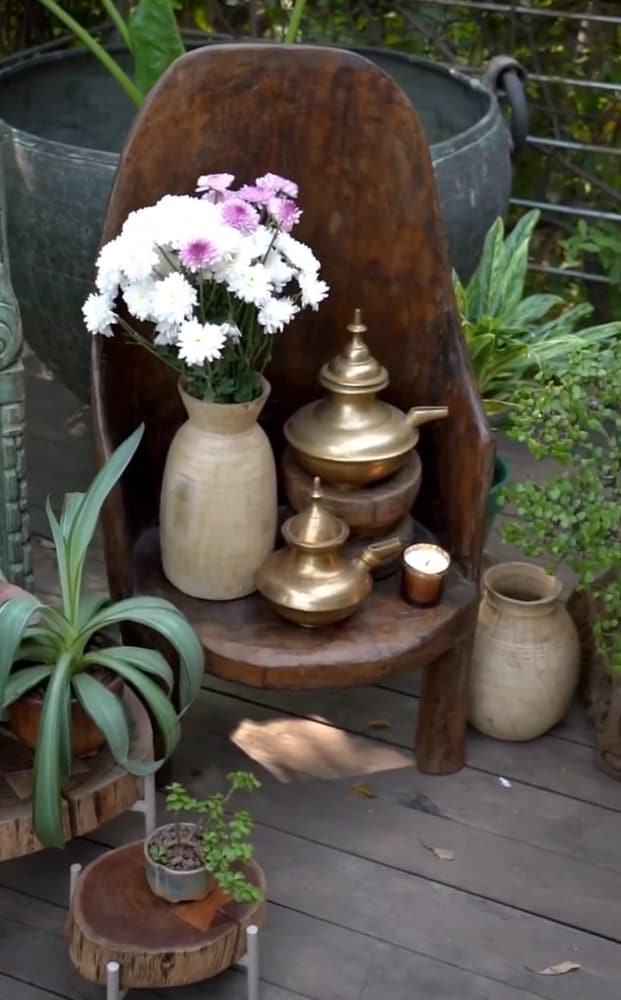 DIsclaimer: All images are copyrighted and belong to Anuja Cambatta and Drangonfly Farms.