This post is about my experience with the Non – Profit AhamBhumika that is based in Bhopal and a review of their products. 
I am not sure when exactly I was introduced to AhamBhumika, but I got reintroduced to the organization through instagram. AhamBhumika is a non profit based in Bhopal and works with women in two villages Borda & Mahabadia. Among their several projects, one livelihood project has trained more than 30 women in hand embroidery. They make cushion covers, table runners, tote bags, pouches etc. (For those who dont know, livelihood projects are set up to ensure people have some form of generating income to support their day to day living. In most cases, the project is the only way for them to generate income)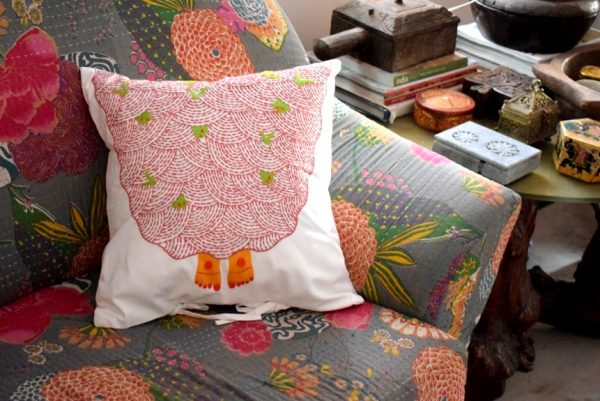 I follow their feed and one day I saw an embroidered cushion cover that stole my heart and decided to write to them.
My Experience!
The experience of dealing with AhamBhumika has been nothing but an absolute pleasure.
My query was answered promptly and what was supposed to be a one cushion cover purchase became 4.
I asked for 2 designs that I absolutely loved and couldn't make up my mind for the other 2. So I paid for 4 and asked the team at AhamBhumika to send me two of their choice in the same range.
I received 4 gorgeous cushion cover in 3 days from when I had placed the order.
Good quality fabric has been chosen for the embroidery, the finishing of the cushion cover is great and the best part, the embroidery is a piece of art.
The two covers that I asked them to choose, were again art in the form of embroidery. The best embroidery I have seen in my life. ( I have not featured them in this post as it will be an overdose of beauty)
What blew me away was that they even included a 5th cushion cover as a token of love for me from their team. And mind you, its one of their best designs. The fact that they did not compromise when sending the freebie speaks volumes about the team. I am floored!
Why should you buy from AhamBhumika?
The first and the best reason to buy from AhamBhumika is that they make mind blowing handmade pieces at affordable prices. The fact that you are supporting a livelihood project in a village is a bonus.
Here is the instagram profile of AhamBhumika.
Life Lessons here?
When we sell things, everything has a price tag to it. But when we give something away for free, and we ensure it is one of the best we have, it becomes priceless. Agree with me??
I am sharing the love I received!
I know what I share only grows, so I have decided to giveaway this beautiful embroidered cover to one lucky winner. Hop over to my Instagram post and enter the giveaway. Find this image and follow the instructions given.