Here is a visual treat, a photo tour of the Artika Cafe Gallery,  in Puducherry previously known as Pondicherry.
A couple of winters ago I made a trip to Pondicherry with my college roomie, who is an absolute sweetheart. We did not have an particular agenda in mind, we stayed inside the town a few hundred meters from the French Colony. It wasnt my first time there, but I did what typical first time tourists do in Pondicherry. Walk up and down the road at Promenade beach, visit Auroville, Aurobindo Ashram and take pictures of the beautiful French architecture. This is when we discovered the Artika Cafe Gallery.
A stunning Art Gallery with a cafe attached, it is carefully tucked into one of the by-lanes that you can easily miss it if you dont pay attention. The first striking feature was the all white walls of the old house converted into a gallery cafe and the white tables and chairs. I love White, it is my go to color when I am not sure.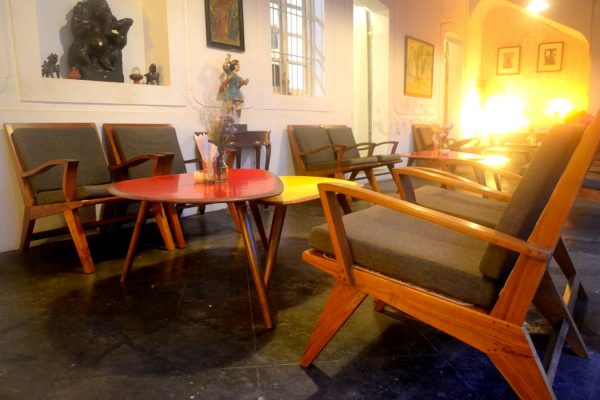 As you step into the portico, its warm and more inviting. The Art Deco furniture is absolutely stunning and to die for. The place is carefully put together with antique mud figurines, period furniture and of-course Art.
There was some fascinating detail in every corner and its a visual treat. Even the rest room wasnt spared, it has this crazy amazing (running out of adjectives) painted door and a painted door frame.
I was careful not to take pictures of the gallery portion coz you want to protect the artists creative interests. The Gallery has a distressed wall similar to the nook you see here. It made the bright paintings hung on them pop.
Not to forget the food was lovely too. We ended up spending all our evenings there. I would say it is a must-visit when in Pondicherry. Here is their FaceBook Page.