This post is about my Dasara Celebrations for the the year, the open house I hosted for my Instagram followers in my studio. You can also read about my Dasara dolls display and what it means to me. 
I am still not over my Dasara Celebrations and the joy it brought, that writing a post to summarize it seems like cheating. But now that its ten days to Diwali, its time to wrap up the Dasara memories and make some new memories for the upcoming festival.
I hope you had a fantastic Dasara and Navaratri Pooja this year. I think I had the most beautiful Dasara of my life and I cant stop talking about it. After not being able to put up my Dasara dolls for the past four years, I was very sure I did not want to miss it so I made sure I planned well in advance. This year the theme of my Dasara Doll display/ golu/bombe/bommala koluvu (bombe is what we call it here in Bangalore) was Indian craft. Not surprising at all I know.  Here are a few snapshots of my bombe.

I set up my bombe in my studio coz that is where I spend most of my day(read, that is where I have enthusiastic helpers). From where I come, we do not have a practice of dolls display and it is something that I embraced after coming to Bangalore. My Bombe has never been a traditional one, I dont do the kalash puja amd the everyday puja that is done as a part of the traditional ritual. My Bombe is re-jigged to suit me. For me, the Dasara Bombe is a celebration of life, a celebration of me and the entire universe around me.
The best part of the Dasara Celebration for me was the open house I decided to have for my instagram followers. I know its a freak idea to invite total strangers from the world wide web, but it was a calculated risk I took. (P.s. If you want to do something like this, keep your safety in mind first. Dont have it in your home, dont put up your address or contact information in public. Have an RSVP method and send details only to people who RSVP. Also have security backup, my studio is under 24hr security surveillance.)
I hosted the open house so good people could come, chat up about Dasara, Bombe, Instagram and just about anything in life. Boy! it was the most amazing day and every time I remember it, it makes me so happy. It was hard to believe that people would travel half way around the city to meet someone they follow on Instagram. I was speechless. Even friends turned up coz they thought it was a good excuse to meet up and it turned into a grand celebration. We had a small snack station that most of us forgot about and we made the cutest favors to giveaway that everyone loved. It was a day that the universe sent out so much love to me that I am not sure I am worthy of.  I think this is what made this Navratri so special for me and my team.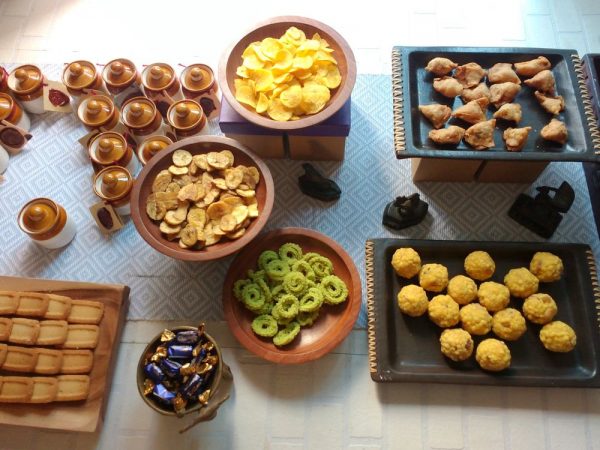 We did our yearly office puja on a day before Vijaya Dashami and getting the office decorated for it was another grand event for us. Navratri ended for us by releasing sky lanterns into the sky, spreading the positive cheer and a promise to the universe that we will give back the love and affection that we received during the festival season.