We see gorgeous dhurrie planters in images of homes around the world but they are hard to come by here in India. This 10 minute DIY is simple to make, but has tons of style. If you dint have to measure and cut, it would be a 2 minute DIY and you will be surprised at how ridiculously easy it is to make.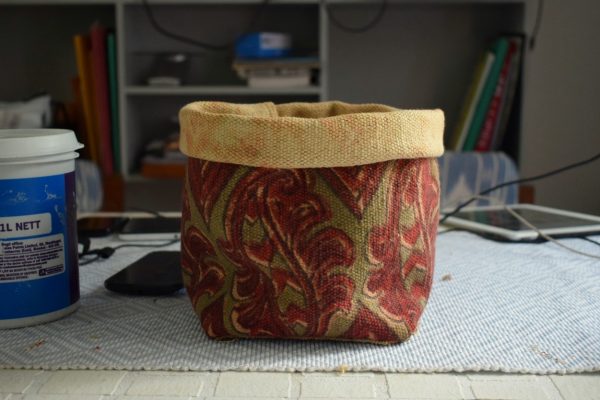 Here is what you will need.
A kalamkari carpet small or any stiff carpet(i used a 2ftx4ft, this size can make 3 baskets)
Good pair of scissors. (Rotary cutter if you have)
A marker or marking chalk.
Hot glue gun (If you are making it with a kid, please supervise the use of hot glue gun)
Here is how I made it,
I cut all the tassels from the end of the carpet.
I marked 1 inch from the shorter end ( 2ft side) of the carpet width, and then divided the remaining 23 inches into 4 equal parts, that was 5.75 inches each. so 1″+5.75″+5.75″+5.75″+5.75″ = 24″ (2ft)
 I marked lines of 4.75″ inches long from the edge of all 4 markings.
The height of the basket should be approximately same as the flap 5.75″, I did 6 inches here, allowance to fold another 3 inches, so 4.75+6+3=13.75 (no need to be this accurate) , I marked 14 inches from the edge on both sides and cut them out. So 14×24 inches made one basket for me.
I cut all the lines along the 5 inch line that I had marked.
I stuck the 1 inch flap to the inside of the other end of the carpet with hot glue gun all the way. Now I had a cylinder with some cut flaps at the bottom.
Just like you would fold the flaps of a carton box, I folded the opposite ends and hot glued it together.
Turn it over and here is your base. Now fold the top part a few times like a rice sack and you are DONE.
Here is the link to the instagram video.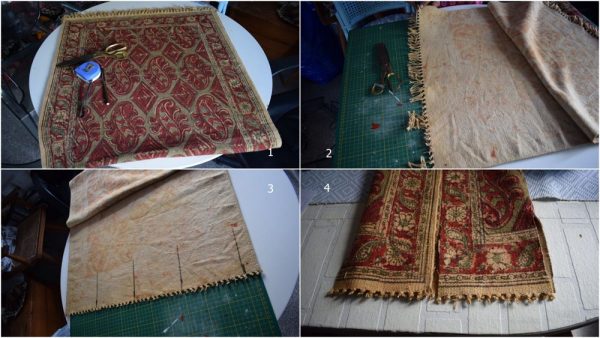 I even made a slightly bigger one with a more stiff mat and I think it looks fabulous.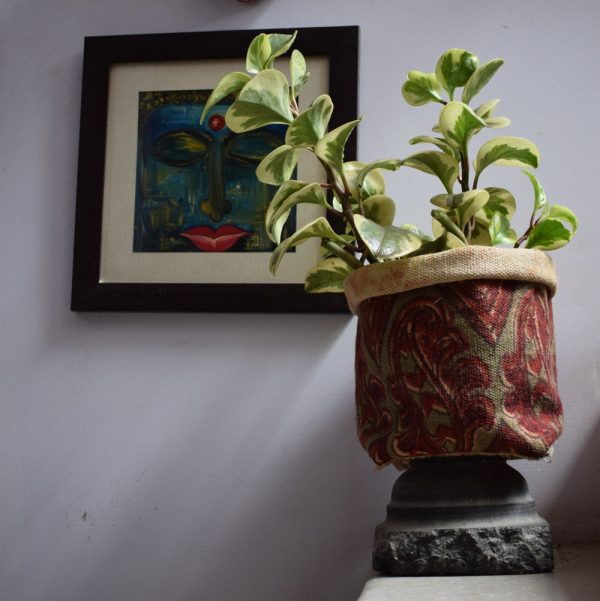 This picture should help you figure out the math for any size of dhurrie.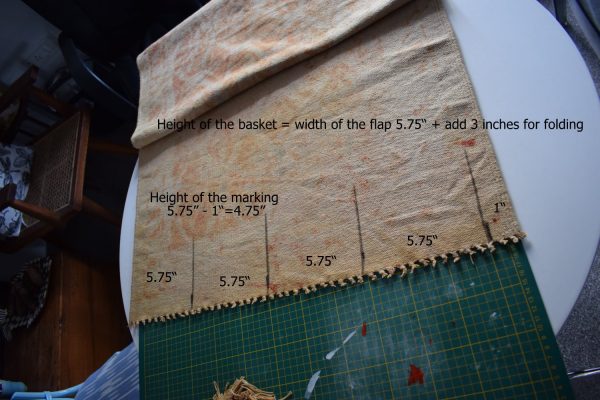 Make sure the mat you are using is stiff enough to hold on its own. If you make it too tall, chances are it will sag down. Hot glue holds pretty good, we put a big pot in it and lifted it and it was intact. If you want to give it extra strength, you can nail some steel tacks from the bottom.
Now go and pull out all those dhurries that are in storage for some reason or other, and put them to good use.