I wanted the first post of the series "30 days of DIY" to make a huge impact to the space, this DIY is very easy and doable with a little guidance.
Lots of people think painting a wall is a very tedious job, its not! Moreover, it can be a lot of fun. Lets get to work right away.
What you will need?
Hammer or plyer
Putty blade
2 or 4 inch brush
A roller
Wall putty (to fill holes)
sand paper
Wall primer
Wall paint (any brand you like i used Asian Paints premium emulsion, 1 ltr paint covers a 10ft x 10ft wall)
Ladder
Select a wall that you want to have as an accent. (Where you want your eyes to rest in the room)
Get to work
Remove nails with a plyer or the back of a hammer.
Line the bottom of the wall with newspaper.
Mix the putty with water and bring it to a chapati dough like consistency. Apply it on the wall with the help of a putty blade and sweep clean. Wait till it dries out ( depending on your weather about 30 – 60 mins) sand the area so the surface is even and wipe the entire wall to remove dust and grime.
If your wall was painted more than 5 years ago the last time, apply a coat of primer first. Or if your wall is a dark color and you have chosen a lighter color for your accent, do a coat of primer. No matter which paint brand you use, the instructions are on the paint can, follow it.
Always, do the edges first on all 4 sides with a brush first and then fill in with the roller. Let it dry for a couple of hours.
The paint – water ratio is specified on the paint can, so mix water accordingly. Once the primer is dry, start applying the color on the edges on all 4 sides to make a frame.
Use the roller to fill inside, roll up and down once to get an even color. Avoid rolling several times in the same area.
Let it dry for another hour or so before you do another coat. Dont worry if it looks a little patchy, once its dry and the 2nd coat is done, it will all even out.
Follow the same procedure of doing the edges first with the brush and using the roller in the middle. It is very tempting to get started with the roller, but believe me, its a lot neater when you do the edges first.
Let your wall dry while you plan what you want to put on it!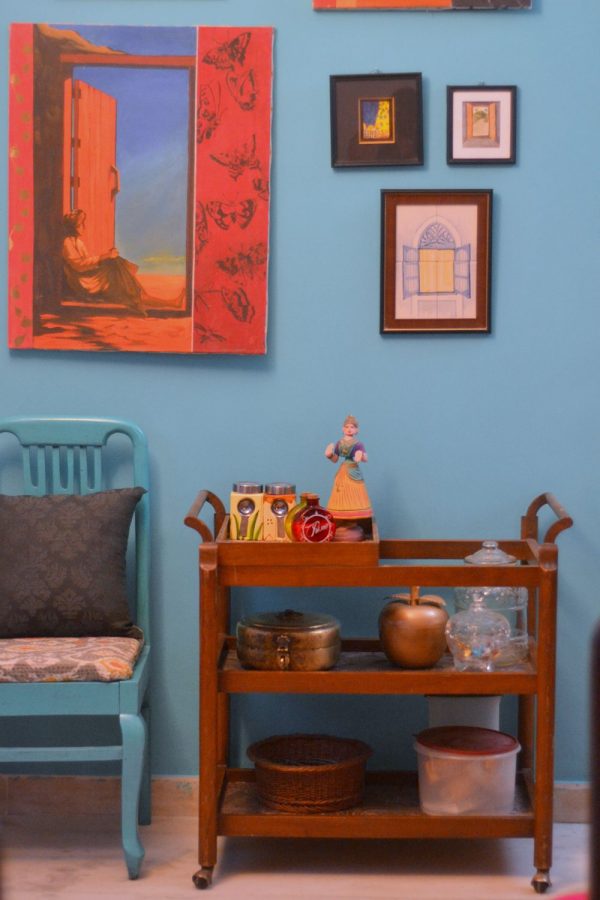 P.s. Leave a comment if you have any questions.
Happy DIY month!