Hectic weekdays followed by no rest weekends resulting in hectic weekdays again is the reason for the posts spill over. However, the committed 30 Days of DIY is going to happen and Day 6 & 7 will be published today so I am back on track.
A DIY Decor Enthusiast needs to make a few best friends and a spray paint can has to be one of them. Spray paint can completely transform anything.
What you need?
Spray Paint Can ( They will be available in your local hardware shops for 180 – 230INR)
Open space to spray, balcony, terrace, etc,. (Spray paints will fly all over, so if you spray indoors, it can stick to the floor and the furniture around)
An old bedsheet or news paper to spread (more than 5 times the size of the object you are spraying)
A mask or a cloth to cover your nose.
How to do it?
Spread the bedsheet or the newspaper in the open area. Keep the object you want to spray in the middle.
Spray paint does not come off easily, so if you want to color only some parts, tape the rest tightly with cellophane tape.
Shake the spray can vigorously for a couple of times. Hold it 8 to 10 inches away from the object you want to spray and spray an even layer.
The paint dries quickly, so give it some 10 minutes and spray another coat or the other size.
This Glass, I spray painted on the inside, I had to tape the outside tightly with a polythene bag and cellophane tape, and then spray painted the inside. The effect is beautiful. Excuse the out of focus subject.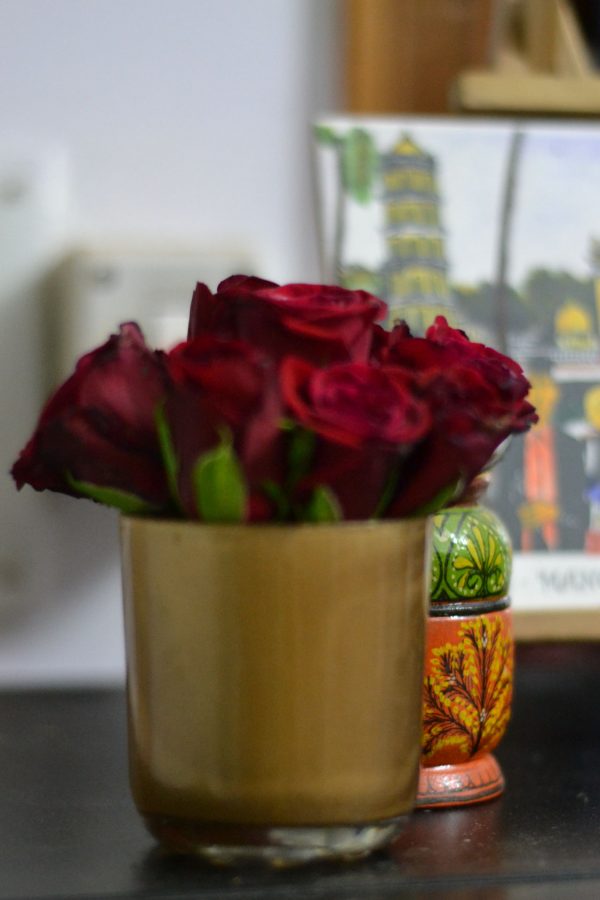 P.s. Spray Paint works great on plastic or fibre molded decorative. Just make sure they have a Lots of details that will get highlighted when you spray. You can even use them on carved wood.