And how exciting is that!!!
When I quit my job, my boss asked me this question. "What question should I ask Preethi? Why so early? or What took so long?"!
Well, I know you will ask the same.
And honestly, I don't know the answer to that. I made my first stop motion video in 2013. Smartphones were barely launched, I took photographs on my DSLR until 2 in the morning and created the stop motion in Picasa photo editor, just for the sheer joy of creating and curiosity. Life was quite crazy back then, mom was at her dementia worse, I had just started my business, and thinking back, the only thing that kept me sane were these crazy projects that I did in the middle of the night to satisfy my curiosity. Anyway, I did not go back to doing more videos for at least another few years, 2016-17 I made a few clips, and then 2020 saw us all take a deep dive into video making with the introduction of reels. I also learned to make videos and edit them in the lockdown time when I was making videos for my online courses. Even then I did not seriously think of getting the youtube channel started. it was always in the back of my mind, but I never really got around getting started on it.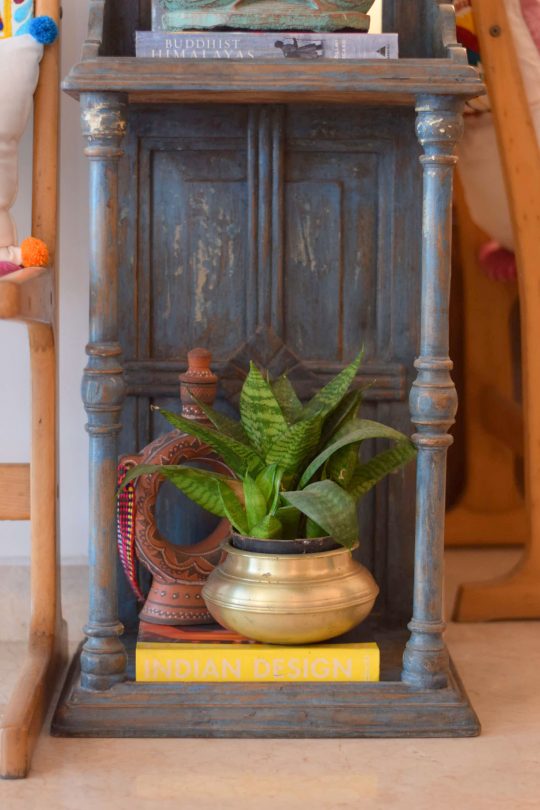 Anyway, the good news is, it is here and it happened. Partly because I hit my milestone birthday of 40 last December and since then, I have been in an "IF NOT NOW, WHEN?" mode. SO that's how it happened.
Here is the LINK! Please please, pretty please, SUBSCRIBE! I don't think I have ever asked you to follow my social media or like the Facebook page, but my Youtube channel, I will definitely insist you do, because all the other things just happened, but this channel has been true labor, an investment of time, energy, emotion, and money to put out something that I love, that will change the way you look at your home and decorating. So please SUBSCRIBE!
Since my first love is home decor, it only made sense to open the doors of my home for you guys and make the first video a home tour. I published the video on 31st July and since then, it has got some amazing responses. If you have not watched it.

My home is my story and has so many little stories in them. It was not possible to cover all stories in the 15 min video, so there are more stories to be told, more DIY to be shared and so much more fun remains to be had, so follow along.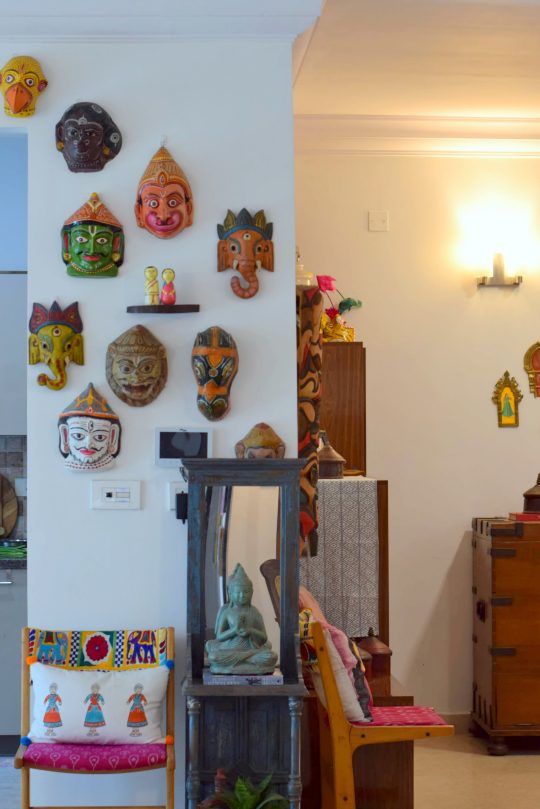 The home tour video was already 15 mins long and I missed talking about a lot of the things. This mask gallery has some of the paper mache masks that were a part of my store decor in 2011. The chair I found several years ago on a Facebook group called Second to None, it was a group to buy and sell used things. I paid 500/- per chair, and got 2 of them. STEAL! The Tanjavoor doll block print cushion is from MnR Decor.
Whenever I have posted a picture of my dining, I always get a comment on where I got the set from. The dining table and the chairs were bought 9 years apart. I got the chairs first, from my friend Meenu Khanolkar who has a wonderful workshop of vintage and antique furniture, you can check her Instagram profile here. The dining table, a solid teak wood one, I got recently from Meenu again. The chair upholstery is from Russel Street Anokhi, it's a screen-printed Suzani pattern, you can buy this fabric on the Baro Market website here. The round orange painting is a Panjurli (Wild boar head), it's an original acrylic on canvas by the artist Ashish Agrawal, you can look at his Instagram profile here. Let me show you a close-up of that.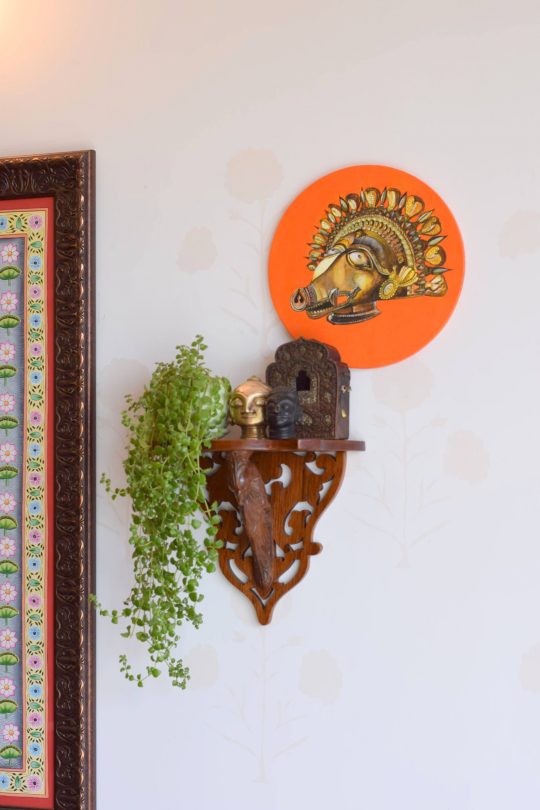 The block print on the wall was one of my very first DIYs in this house. It's the love of my life! The plant is tangled hearts, which I have quite a forest of. I recently chopped quite a bit of them and took them to my studio and planted them there, (The studio tour is another interesting video that is coming up on the channel, so keep an eye out for that).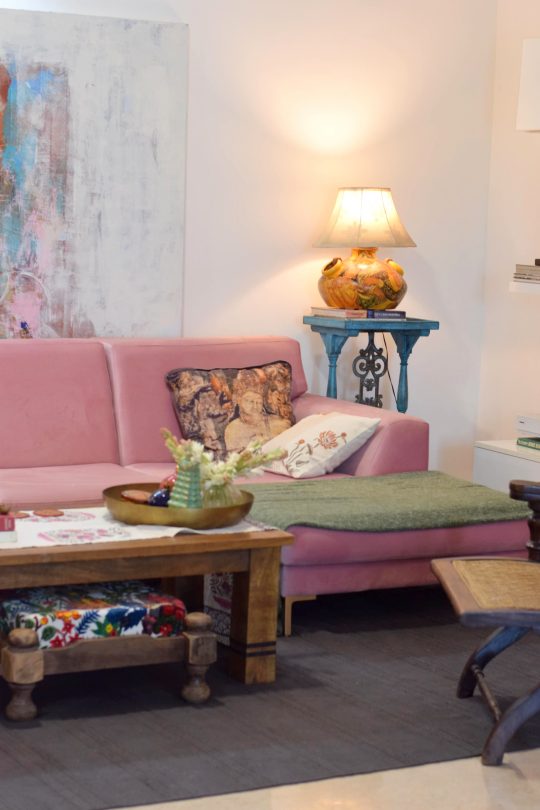 And oh! My pink couch! It is absolutely drool-worthy.
This is how it looked before.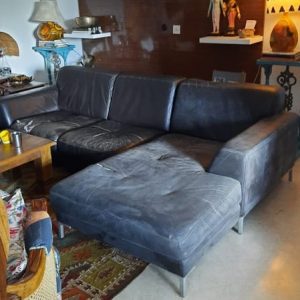 It was an old leather couch that a friend wanted to get rid of. Initially, I wanted to do some crazy patchwork kind of experiment on it. My idea was to move it to my studio (an exclusive space for me to try my crazy ideas and experiment) when I decided to call the upholstery guy and do the work, I was going through this pastel pink phase (Thanks to the master bedroom color scheme) so I decided to do a pink velvet sofa, and boy did it turn out stunning or what? While the upholstery guys were doing their work, I also spray-painted the legs gold to match the vibe. Touche!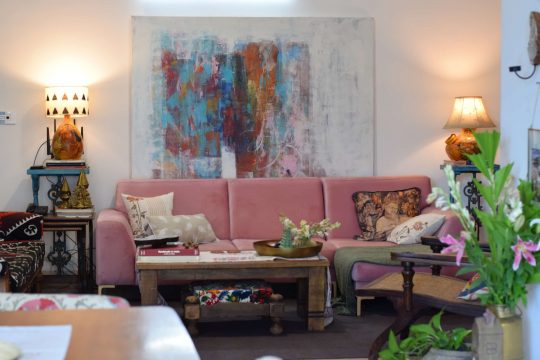 We live on this sofa, on most days the man is on the lounge side of the sofa and me perpendicular to him. Some days if I wake up way too early, I will wrap myself in the throw blanket and take a nap on the sofa before I begin my day. It's just so perfect. A thing of beauty is a joy forever.
Remember I talked about the master bedroom color scheme? Here is the video on the master bedroom tour. The home tour video was becoming unusually long, so I had to do a separate video on the master bedroom. You can watch it below.
Just like the videos, this blog post is becoming too long to handle in one sitting, so let's wrap it up soon.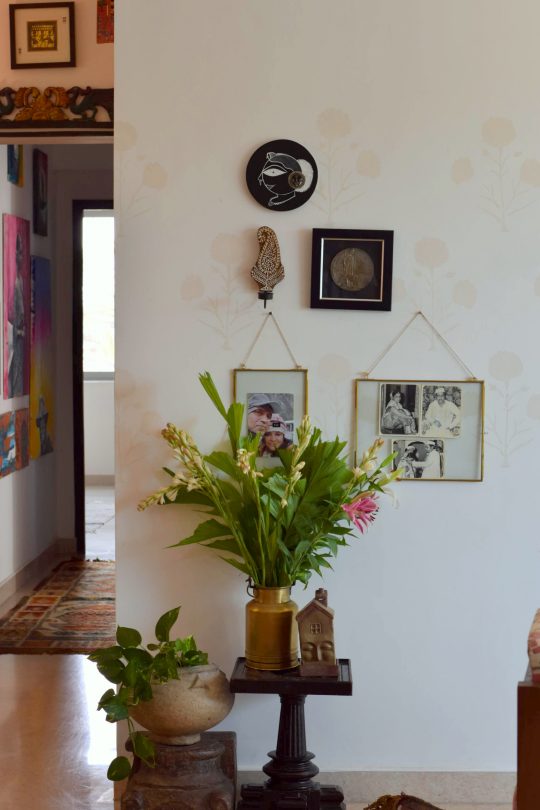 Whenever I have guests in my home, their first reaction is that it's calm, peaceful, has good vibes, is so positive, and it's so me! Through my channel I want people to learn how they can do the same and turn their homes into beautiful oasis for themselves if it is not already. I have come a long way from what I was in terms of my decor and style and learned things on the job, and I will be sharing all that I have learned through my channel and that is why you must subscribe and share it with people who will appreciate the content.
If you have any requests on what kind of content I should make and what I should share, do leave a comment below and I, and my team will do our best to honor every single request we get.
Thank you.
xoxo
Preethi