This post is about my experience, during my recent visit to Chor Bazaar Mumbai and I am sharing 10 tips to enhance your experience there.  
While I was doing research on visiting Chor Bazaar, it was both exciting and terrifying at the same time. While on one side you see these gorgeous images online that you almost want to be in, and on the other, all the blogs and websites that warn you about being extremely cautious so you don't get cheated.
Some of the things Mr. Preethi Prabhu (yes, that's husband, and of course, he has his own name, in his circle, they call me Mrs. KD Kini, so I would prefer if we called him Mr, Preethi Prabhu here, FAIR don't you think?)  read was to dress modestly and not have your wallet in your back pocket and go in groups and what not. I don't know, everyone has their own experiences and you have to know each one's perspective,
I am a Home Decor person and I will only speak from my perspective. You can find pretty much anything in Chor Bazaar, but here we will only talk about antique, vintage, and home decor.
If I had to summarize my visit in one sentence, I would say "I loved it, and I can't wait to go back"! I met some wonderful people, saw some amazing stuff, and had some good food. Now let's talk details.
Where is Chor Bazaar located?
On your google map look for Mutton Street, Bhindi Bazaar. As soon as you get to this signboard, is where the street filled with old furniture and artifacts starts. As of November 2022, there was some redevelopment happening and we heard that about 40 shops were sacrificed for it, but it is still enough for you to explore.
What kind of home decor can you find in Chor Bazaar?
I saw lots of old solid wood furniture, and vintage, and antique decor. Lots of reproductions of antique figurines in wood and brass. Old collectibles like movie posters, old cameras, typewriters, lots of second-hand cutlery, china, you name it, it's there. You can buy the wooden stuff as is or ask them to restore it. However, if you have some DIY skills and can restore things, the deals are sweet.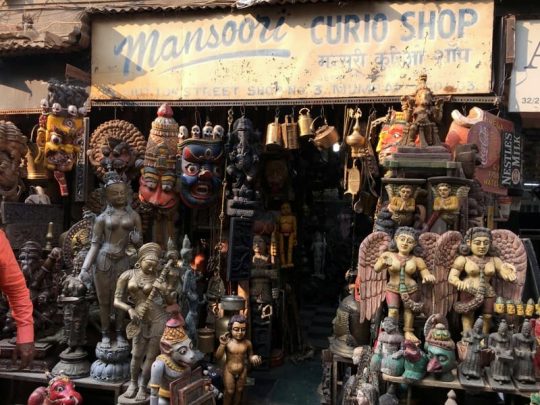 You can visit anytime between 11 am to 7 pm from Saturday to Thursday. Since it is predominantly a Muslim community, you may not get to see a lot of stores due to the Friday prayers, so avoid going there on Fridays.
Is Chor Bazaar selling stolen goods?
I can only speak for the Home Decor section I saw and from what I saw, I don't think so. Vendors are proper businesses who either have suppliers who manufacture stuff or kabadi walas who bring old home goods like crockery and paintings. If you actually analyze, stealing home decor and selling them in Chor Bazaar is not really a sustainable business option and any uneducated kid from there knows that it doesn't need an MBA graduate  😀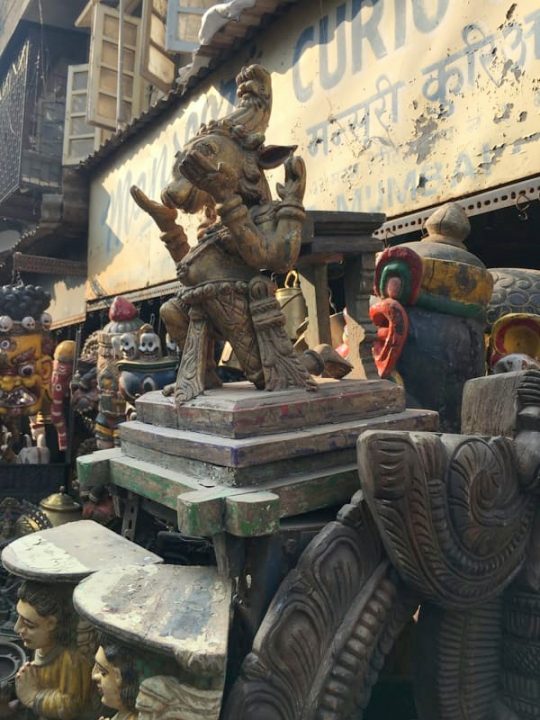 If you have any more questions, I think the next section should answer them all, if you still have any lurking questions, do mention them in the comment and I will be happy to answer.
Let's get into the main part of this blog post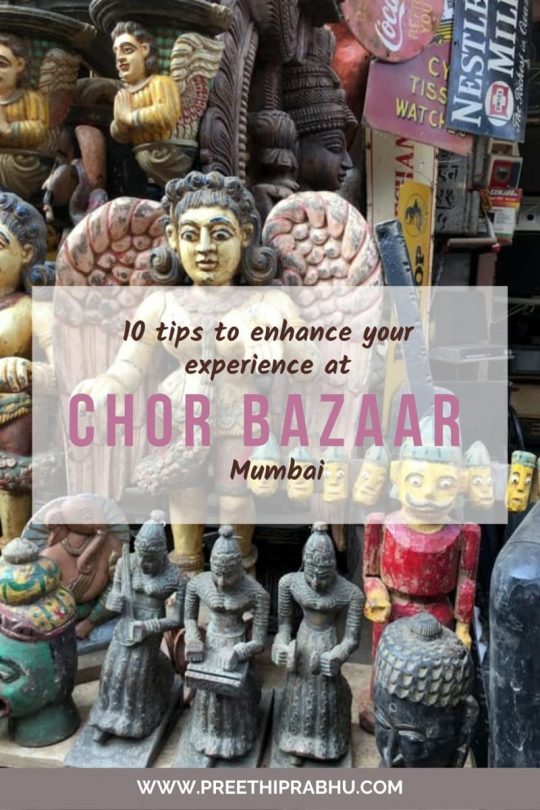 10 tips to enhance your experience at Chor Bazaar Mumbai
1. Do your research before going. Watch videos, look through pictures or read blog posts. Knowing what is available at the market mentally prepares you for it, and also helps you build your wishlist if you don't have one.
2. Have an idea of the prices of things or furniture. Vintage and antique solid wood furniture is built to last a few lifetimes. So some of the cost might be at par with cheap furniture available today, but that doesn't mean it's not a good deal. Everything is online, doing some window shopping online can help understand wood, artifacts, and their pricing. When you see similar stuff in the Market, use that knowledge to make better decisions. Pricing depends on the cost at which the piece is acquired, the restoration cost if any, and if the piece is easily available or not. The same piece can cost two different prices with two vendors and it's justified. That's why the next point is important.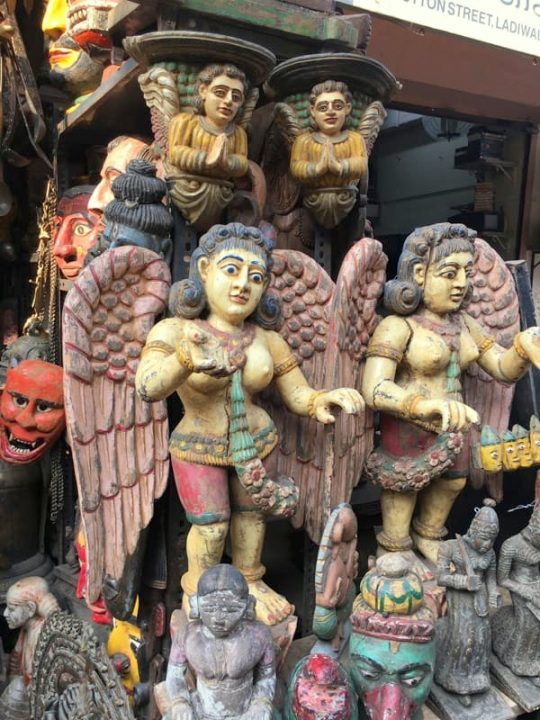 3. Have enough time. There is no 'in and out in an hour' when it comes to markets. If you are in a hurry you make poor decisions and also encourage the wrong kind of people to take you on a ride. Have at least half a day in hand to take a look at things at ease and make your choices. Time is the most essential key to finding good deals and good pieces.
4. Keep hydrated, wear comfortable shoes, and don't shop on an empty stomach. Can't stress this enough. I am a person you don't want to meet when I am hungry. While shopping, I will either buy something I don't need or leave something behind that I really really loved, either way, its a road to regret.
I remember on this particular trip I was looking for some old prints of portraits of Indian women and I found some that the vendor quoted 1200/- each. Having kept 4 or 5 aside thinking I will choose 2 of them and I was really hungry and had the presence of mind to tell Mr. Preethi Prabhu to take me for lunch while the shopkeeper was pressuring me to buy them before I go for lunch. Filled my belly with some good food and realized I did not have to buy the prints at that cost, I could simply print them out from online downloads since they were for a photo shoot and nothing else. Sounds silly but I save a couple of thousands.
5. Go with an open mind. While the goal is to find what's on your wishlist, there is a good chance that you will find something that can be repurposed or modified to fit your need. Be open to that. While you are relaxed and open to things, the universe rewards you with some very amazing finds. Do you know the story of how I found a world war I medal? Ask me and I shall share it soon!
6. Resist the urge to buy Vintage or Antique if you are very new to it. Sometimes people who are pro vintage and antique collectors can go wrong while identifying a piece, so if you are a newbie and you are being sold something as antique at an exorbitant price and you don't know how to tell authenticity, don't buy it. I love Indian vintage and antique, and I think I have a fair judgment on a few things, even then, I won't buy something that seems expensive because it's been termed as antique. I always have a "what am I willing to pay for it?" scale, and if the quote matches, I buy.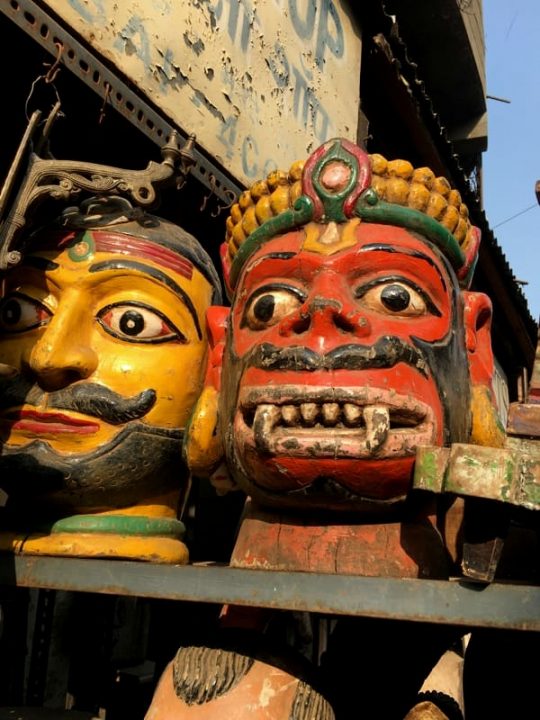 7. Talk to the vendors and make connections. You learn so much when you talk, so don't hesitate. A lot of them selling vintage and antique stuff have a vast knowledge of things. They have personal favorites, and sometimes are able to guide you to pick the right piece for your collection or home. You can share your wishlist with them and they will go out of their way to show you what they have.
8. Negotiate your deal. Notice how I dint say bargain. The popular tactic of offering 30 to 50% of the quoted price, does not apply to everything. While you have done enough research on the pricing, you have a fair idea of what things cost and decide how much you would like to pay for them. In fact, I bought something for which I did not negotiate at all, I will share it here when it's ready to share. But the price offered by the vendor seemed fair to me and I paid it. At the end of the day, they run a business and have families to feed, so negotiate fair.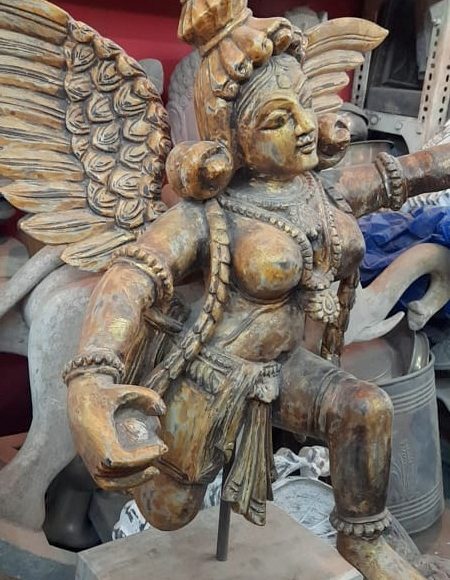 9. Buy only when you are convinced. Most vendors are upfront about what is new and want is vintage or antique. But there are people who will take you on a ride. Buy because you are convinced and willing to pay what you have negotiated for. Don't buy because the vendor forces you to make a quick decision. Step outside if you feel pressurized. It's your money after all and no one is judging you if you don't agree on the pricing.
10. Enjoy the process. Exploring markets is like a treasure hunt for adults. You release more dopamine which gives you a natural high and a feeling of satisfaction. So it needs to be stress-free. Take a like-minded friend along, have a good chunk of time at hand, and have some fun.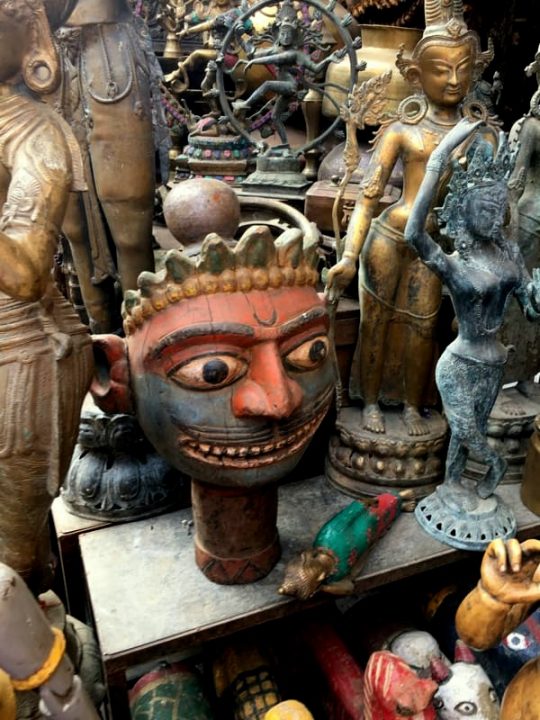 And that's a wrap for this chor bazaar post. I still have to share a few things I got from there. That will be a completely different post because there is a lot to share there.
P.s. If you have bought two or more digital products from me, ebooks, or courses, lookout for an email from me. I am building an advisory group from my audience to help me with executing my 2023 vision. Its going to be special,