A feature wall can be a focal point in any room. Here is a quick, easy, and budget-friendly DIY Feature wall that I created. 
My current office is a box-shaped space with no interesting architectural elements and run the risk of being too office'y. I needed a beautiful warm space where I could have meetings and people would feel comfortable and nice. I set out to clearly demarcate them and I realized the only way to deal with that was to split them into four quadrants to use the space effectively. Here is an Instagram of what I had in mind for my space.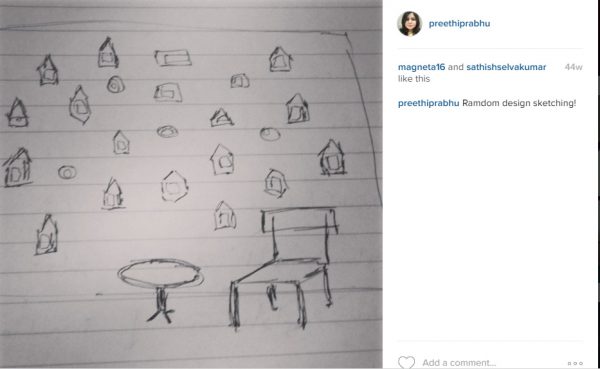 After I had finalized the location of the meeting/lounge space, it was time to get to work. Since there was a window right next to it, I knew there would be a ton of natural light and I could get adventurous with the color. I decided to do a black! It was the first time I was using black on a wall, so my only odds were that if it didn't work, I could get it repainted.
I looked up the Asian paints catalog and got a color that looked like black to me, but when I did the test patch on the wall, it turned out to be a reddish-brown. Nothing can be more disappointing than wanting to start painting and realizing you have the wrong color. Instead of revisiting the color guide, I decided to do a chalkboard black.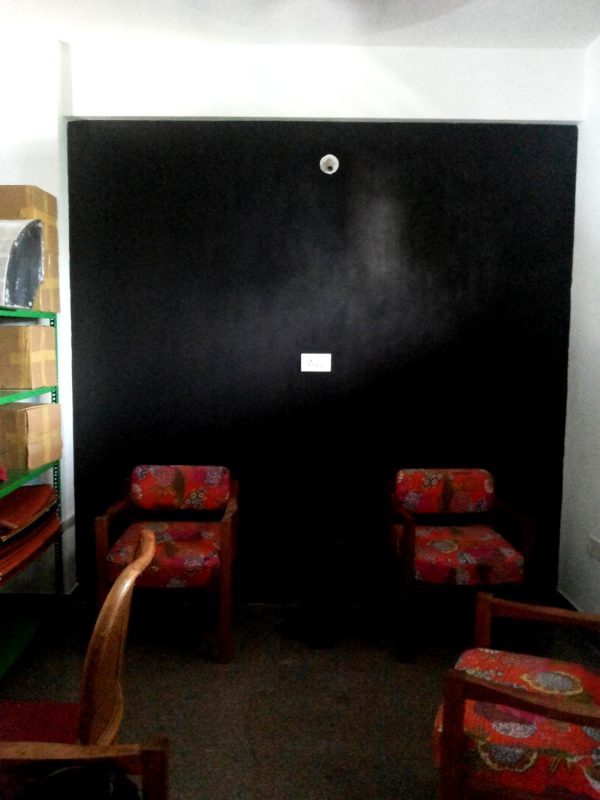 This is what I got at the end of it. While I loved the black wall, I dint want it to absorb all the light. So the best way to reflect light is to use a mirror. I had previously used Bhuj Mirrors on my bedroom wall.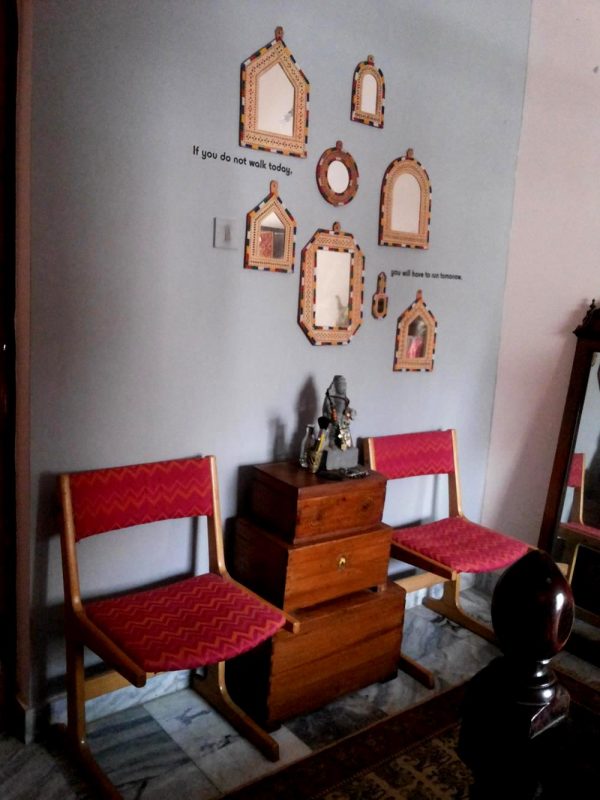 I believe, why to use just one when you can use many. So I picked up some more mirrors of different shapes and sizes from Gurjari and they went on the wall. Any kind of gallery wall needs planning, so since this was a blackboard wall, it was all the easier to draw them out before hanging them.
Then all it took was getting a carpenter to drill the holes and put up the screws.
So here is my little piece of drama in my office space.
This is the first arrangement that I styled in front of my DIY Feature wall. Subsequently, the wall has seen other arrangements too. Here are a few of my posts on Instagram