So the Artsycraftsymom and me were walking down the street of MG Road and we saw these super cute mason jars with polka dot lids and straws displayed outside a crockery store. You cannot just see them and walk away, so we had to have a couple of them. We must have been there for about twenty minutes, we did a quick scan of the two storey shop, drooled on some cute crockery, picked out what we wanted, billed them and paid for it. All in those 20 minutes!!! We are kinda becoming pros in his kind of shopping.
What we did after the speedy shopping trip is another area where we are becoming pros, but that's for discussion on another day 🙂
When I got home and unpacked my loot, I knew it called for a mini party of sorts.
Bangalore has a ton of fun things to do during weekends, we are the Pub capital, the Art hub, and the Garden City. The only challenge though is to get to where you want to go. The traffic situation at the moment is totally crazy and unless you live within walking distance from the venue, its a nightmare to get out on a weekend.
So if I stay at home during the weekend, it calls for a DIY or fun of some sorts. This is what happened last weekend.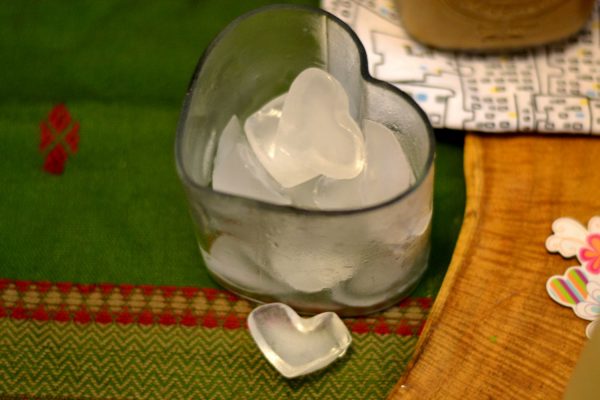 It also happens to be the Valentine's week, so I had to add some mushy hearts. We are a family of four, so two of us had some refreshing cold coffee and the other two some yummy cold badam milk and had some silly stupid conversation to go with the mood.
I think if you have the will and some imagination, you can turn your home into anything you want it to be for the occasion. A chai party that is conversation-centric, a lounge to chill, a cozy dinner date space, or anything else and you won't feel the need to get out to chill or party.