I am sure its written in my Jaatakam (Horoscope)!
That as soon as I announce something that is close to my heart, I will be hit by a ton of work that I will not be able to even think of anything else and will be begging to drop dead in bed at the end of the day. Yes!
If it was just managing the creative part of my work, I can go on and on like the duracell bunny. But its the business side of it is what I hate the most. The accounts, the taxes, the payment followups take up a lot of time, but what sucks the energy out of my life is the failing electronic equipments and oh! haggling with people who want to get the work done immediately and want to pay me after sixty or ninety days claiming that they are MNCs. How unfair is it to do that to a small business??
Anyway, Life has to go on with all these problems, so here we are announcing the winner after fifteen days of the winner being chosen. I guess better later than stop the challenge.
Before we jump to the winner, here are two of our favorites that gave very close competition to the winner. The first one is the hand painted wall mural by Anubha Varshney inspired by a kilim pattern. Take a look at her Instagram handle here. While Kilim patterns are simple and repetitive, what is impressive here is the scale, the proportions and the patience that is needed to complete a wall this size. And all of those are rewarding in the end.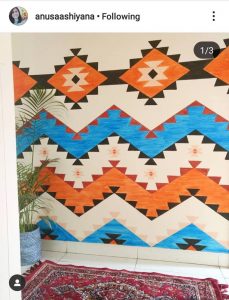 The next one that we loved is the Tree of Life by Preeti Singh, you can look at her Instagram handle here . Who doesnt love a good Tree of Life on their wall, especially when it has colours, flowers and birds. This one again is a game of patience and consistency.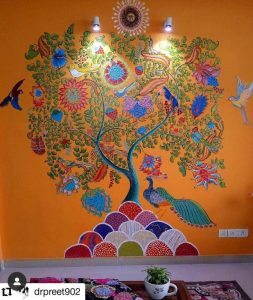 The winner of the first Great Indian DIY Challenge GIDCJUNE is the gorgeous stenciled floor by Shaoni Mukherjee. You can look here up HERE.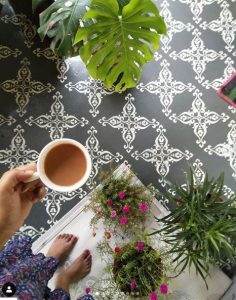 This is a mind blowing transformation if you look at the before pictures. And most definitely a back breaking project for sure.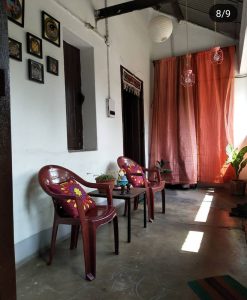 The thing with a project this size is that it takes courage to get started. I have wanted to make a stenciled carpet under the dining table of my terrace, but haven't had the courage to get started on it. So yet, to get started is half the battle won.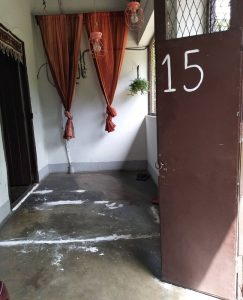 So here is how I think she carried out this DIY
. First, she cleaned the floor which is obviously a must before you take on any kind of painting work.
Then comes filling the cracks with Putty, There are acrylic puttys available in the market that are much more durable than the regular ones. Once dry, they have to be sanded smooth and then wiped clean, ready for the next process.
Here Shaoni has painted the cement floor with a grey colour. Again there are various cement floor paints available in the market, you can ask your local hardware and paint shop guy for it. Mostly instructions are printed on the paint can itself. So read and follow instructions if you want to do something similar.
 Once it was completely dry she used a stencil and acrylic color(which was the theme for GIDC June)  to fill the floor with this beautiful design. We have a blog post on how to make your own stencils. Click HERE for it.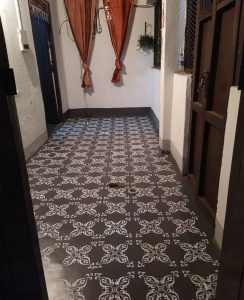 Finally she varnished it with a polyurethane varnish which is mostly used on wooden furniture.
Congratulations Shaoni, You are the very first Winner of The Great Indian DIY Challenge and your name shall be etched in history. You will also help us pick the winner for this months challenge and along with a bag of DIY supplies, You will also receive a signature hand painted tray made by me and my team and a fabulous fabulous Coffee Table book by Reshma Kadvath.
This coffee table book is a DIYers dream. It has so many DIY projects done by Reshma. You can currently buy a copy of this book directly from her by getting in touch on the instagram profile HERE.
The GIDCJuly is going to be a short and sweet one without the registration process. Lets hope I can keep this going as long as I can for the love of DIY.