Everyone needs art in their home. I especially, cant function with bare walls. When I moved to the new place, I made sure most of my art came in the first trip of shifting and my clothes came in the last. That is how important art is in my life. It is currently a "where there is a nail, there is a piece of art" kind of situation at home, but it will do till I plan what I want where.
I would any day recommend buying art made by real artists and not the mass-produced ones sold by big decor stores, but depending on the skill level of the artist, it could be in a wide price range which may seem unaffordable at times. Haggling with artists is most definitely not the right way to get affordable art. If you are really in love with an art piece made by an artist, consider paying them in installments and when you make the last installment, you can ask them to send the painting to you. Most artists understand that if a painting is meant to be with someone, it is simply meant to be. They would rather sell it to someone who loves it than keep it in their studio for longer or sell it to someone who is looking for a deal. READ THIS before you get in touch with an artist.
Here are 5 ways to have affordable art.
1. Make your own!
You heard me! Make your own art. I am saying this, not in a sarcastic way, but in a good way. I consider myself an entry-level artist, can't draw to save my life, but occasionally like to dabble with paints and create abstract art. And irrespective of how stupid or immature it is, I adore my art and hang it with pride. I also proudly gift my art to my artist friends and they love it (At-least they pretend to love it, no! They actually love it)
So don't worry if you think you don't have the skills. Making a large dot on a black canvas is art. If you love to see it, its art. Get some paint and canvas and do some experimenting. The best part about acrylic colors on canvas is that you can paint over it with a solid color and let it dry overnight and start all over again.
You can also create themed abstract art with almost no talent. Check THIS video out on my IGTV.
Stretched canvas prices start at Rs. 100/- for the smallest one and large ready ones cost you 2 to 3k. All you need is paint and some imagination.
This piece that you see below is my first ever abstract art. I call it "Focus". It's one of my favorite pieces. Making art is also a form of meditation, don't stress too much about it, just get your colors together and play with them.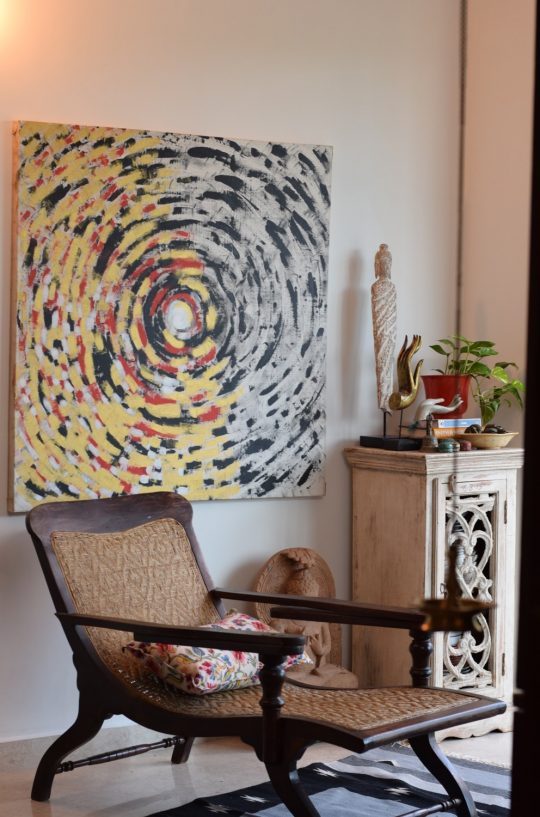 Bonus tip: use beautiful wrapping paper or fabric inside a frame. Frame your mother's wedding saree pallu or your kid's first dress.
2. Use photography art from your phone
A basic smartphone can take good pictures in good daylight. It also has enough resolution to blow up a few times and print. From 4×6 to 16×12, you can print any size based on the mega-pixel value of your phone camera. Look around, and get creative. You want to photograph a leaf or a flat-lay or a distressed door you saw, they all can be worthy art to be hung on the wall. Google "phone photography ideas" and you should be able to find plenty of inspiration.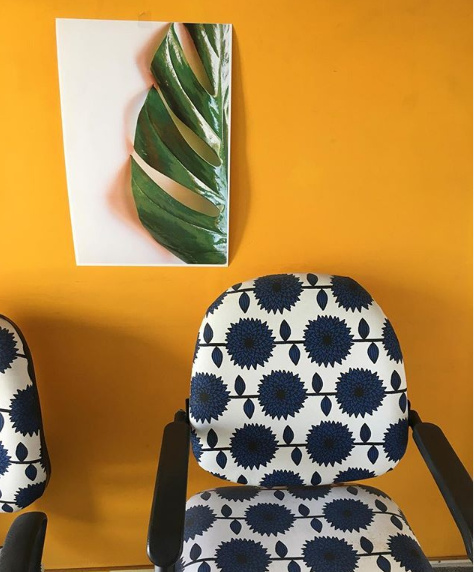 The Monstera leaf print is a photograph taken in-house and printed.
3. Put on your art glasses and look at everything as art
Do you know, most of the Ravi Verma Laxmi and Saraswati we used to see in our parents and grandparents' home were mostly calendar cutouts? Yes! They repurposed them, we can do the same and look at everything as art.
Calendar art is common, look at magazines, gift wrapping, gift bags, and anything that appeals to your eyes, its art and worth a display. Also, if you've received some ghastly frames as gifts, don't give them away, re-purpose them to make your own art. Here are some examples.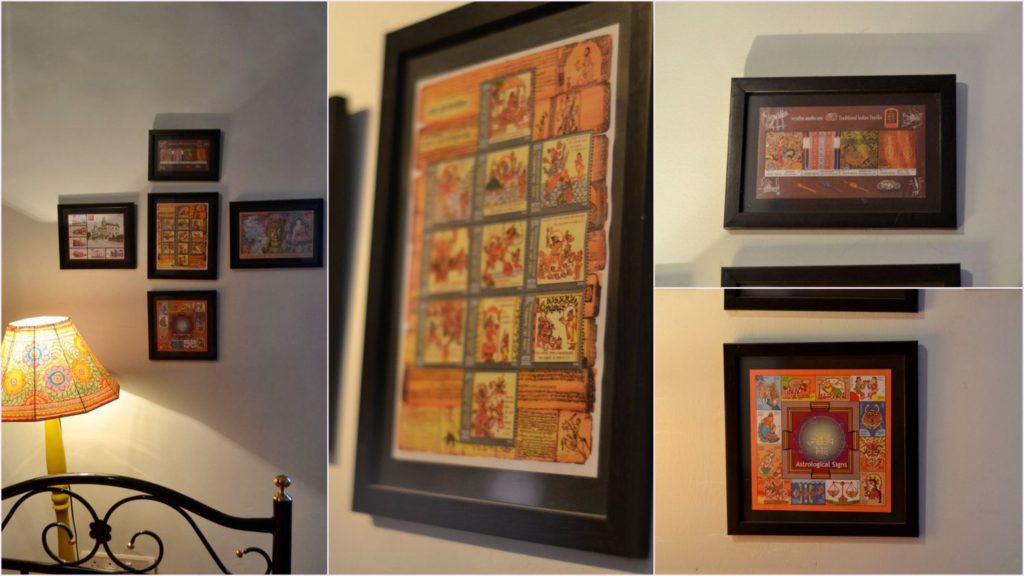 India Post has beautiful commemorative stamps that make gorgeous art. I had a few framed in my old studio.
The tropical prints art in this living room was a gift bag. Two sides became two art prints. The gift bag cost Rs. 60/- , art is priceless.
Pro tip: To make your art look expensive and elegant, ask your framer to keep an inch of mount board. The one inch of black or white around the piece, take it to another level. (Artists, please use this tip, your art will sell faster)
4. Buy art prints from artists
A lot of artists sell prints of their original art at affordable prices. While I would love to bye original art for my projects, when the budget for styling is very tight, I settle for prints. It supports the artist and brings a little goodwill to the space.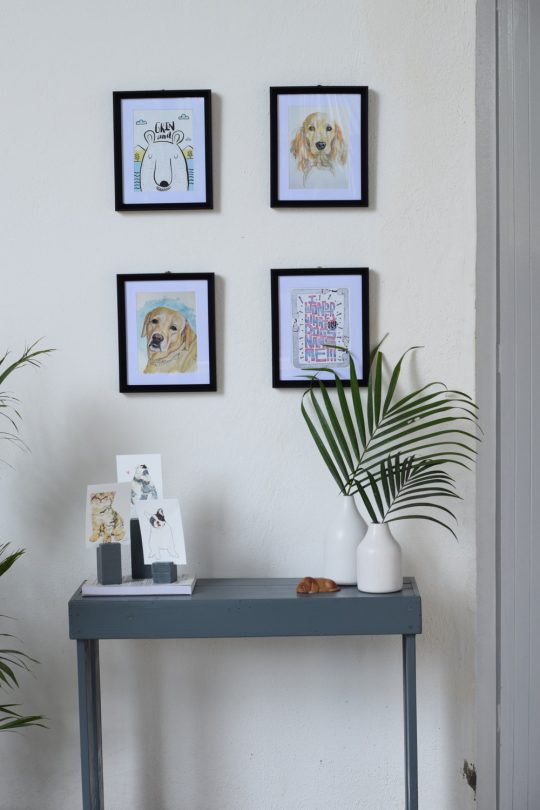 Some of the artists that I know and have bought from in the past, sell affordable prints. (Click on the names to go to their pages)
One other place you can find affordable art is the National Gallery of Modern Art (NGMA). Unfortunately, they don't have an online shop, but you can visit them in Delhi, Mumbai, and Bangalore and pick up good quality prints from the museum shop. In Bangalore, NGMA is nestled in a stunning heritage building. Click HERE to take a look.
5. There is free art online
Feed your Soul is a free art project that has hundreds of free digital art available for free download. You can browse through all of the artist's work, download what you want, and print them out for personal use. You will have to check with the artist if commercial use is allowed if you want to use it to make money. The art you see in the picture below is made by Rachel Smith and I found her on Feed your Soul. (unfortunately, I couldn't find her website online, but this print is available for download)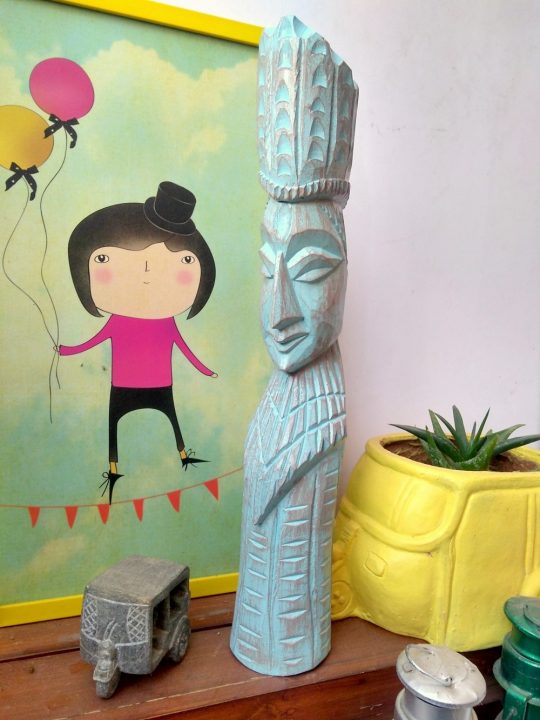 Unsplash is another website where you can download some stunning photographs and print them out and hang them. There is a mind blowing range of landscape, architecture and still life photos to choose from. Again, look at the copyright info before you use it for anything else other than personal use.
Bonus Tip:
Include functional art in your home. Things that are hand painted and can be used. It makes a huge difference and gives character to a space. Look at art as therapy, it really is. Art is like a mini vacation sitting at home. Everyone who has included it in their homes will tell you that.
P.S.: Have you signed up for the MOST POPULAR course on my learning portal?  Home Styling Techniques 101 is a must-do if you love styling your home.