We set ourselves a budget of 10,000/- Indian Rupees for the makeover. Considering the amount of stuff we needed to organize, it was a very pessimistic budget, but there is no fun if you are not faced with a challenge.
Since our budget did not permit us to buy a lot of new furniture, we had to look at used ones.  Shruti and me spent a day last week at the Bamboo Bazaar looking for storage solutions and did find the perfect one we loved, and also fit into the budget. The table is a new piece that we got custom made and painted the top.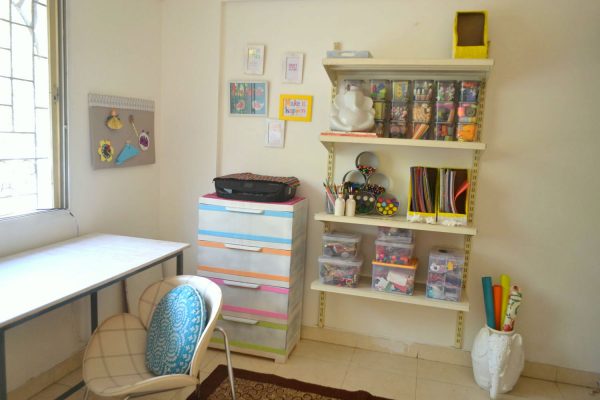 Metal rack (Used) – 2700/-
Table (Custom) – 2000/-
Wall Paints – 1075/-
Spray cans – 520/-
Storage boxes – 720/-
Multi-slotted storage box – 800/-
PVC Pipe – 276/-
Wooden grow box for papers – 1459/- (yet to arrive)
Cushion – 550/-
Cloth for the pinup board – 70/-
Transport for the furniture – 800/-
Total – 10,970/- (about 970/- over the budget)
But we were not done yet. The craft room needed a chair and we had no budget left and were wondering if we should use one of the dining chairs. To make things worse, we both fell in love with the lovely chair you see in the studio. Lucky for us, Shruti's husband said he would gift the chair to his wife's studio. Yayyy. Win-win! We got the chair and we dint spend.
P.S. Follow the ArtsyCraftsymoms Studio tag for more updates and DIY.