This post is about a living room makeover I did for a dear person who could use a little glamour in life. This post is also kindly sponsored by Berger Silk Glamour.
I don't believe in sending out Women's Day wishes or writing an elaborate post about celebrating women. You know it happens once a year and after a point it becomes meaningless. But Women's Day can be celebrated in a totally different way if one chooses to. If I can make a difference to the everyday life of one woman, it's a better tribute than a million flowery meaningless words. So that's exactly what I did, made a difference to one woman, with what I do best. Decorate!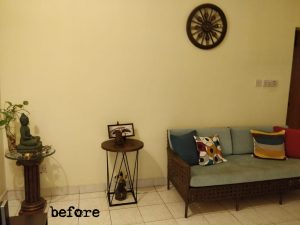 I met Priya (name changed to protect privacy) a few months ago at a job site I was working. I guess she sensed my vibes matched with hers and we ended up spending a lot of time together. After a few meetings, I realised she is a gem of a person, trying her best to stay away from the largely fake world outside.
Knowing her story was bone chilling to me. Priya went through a painful and humiliating divorce for no fault of hers. She walked out of the marriage, worked many jobs and put her children through college. Today, with her children settled in their jobs and their own lives, Priya is living her second life, surrounding herself with beautiful people (like me :D, I just had to say that!) and filling her life with new experiences.
Priya, doesn't need acknowledgement or appreciation for what she did. She doesn't need anyone's sympathy for what she went through. She is a self-made woman and has given her children the best upbringing she could and everyone in the family are living a good life now. All she needed now was a little glam for her cozy little castle and a hug. Team Preethi Prabhu did both!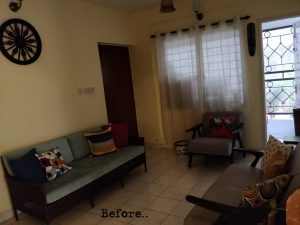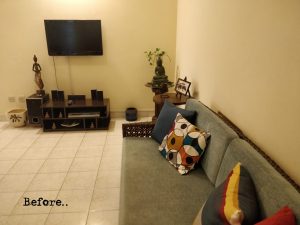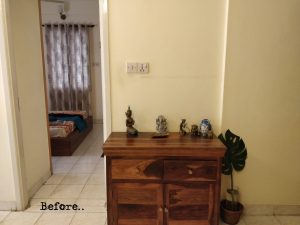 Priya had invested in some good pieces. The couch, the side tables, small artifacts were all well curated and were good quality. All she needed help with was to bring the whole look together.
The color scheme was inspired by the upholstery of the couch. I have paired the stunning blue with mustard hues and a generous dose of neutral white.
The first part was to add some interest to the walls. Inspired by the geometric patterns on the Berger Silk Glamour shade card, I decided to do a geometric Zen mountain.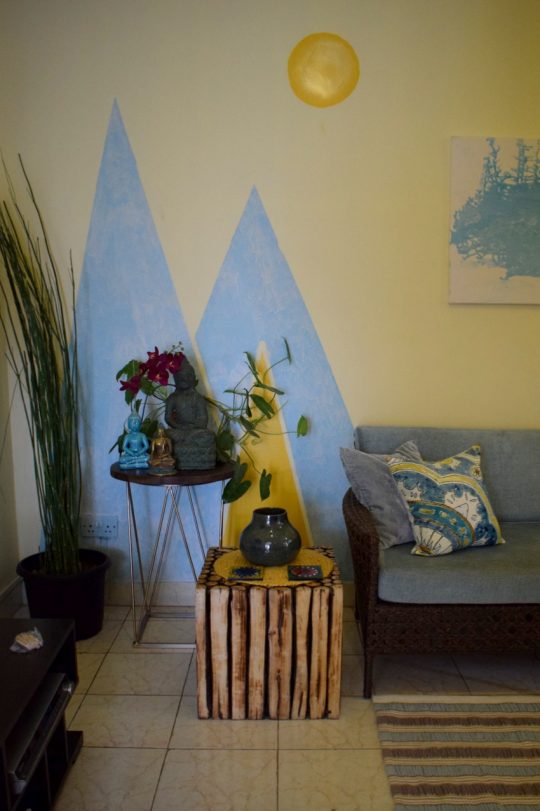 We used one litre each of the following Berger Silk Glamour shades
(Blue shade of Berger silk Glamour) Aqua Flip 5P0128
(Mustard shade of & Berger Silk Glamour) Summer Sun 3A0386
(Neutral white shade of Berger Silk Glamour) Porcelain Cup 7P2499
To create the Zen mountain structure, we just taped the borders with masking tape and happily painted our hearts away to glory, slowly soaking into the richness and smoothness of the paints.
Quick tip: While choosing Interior wall paint, don't cheap out. It doesn't matter what you have in the house, if the wall paint looks rich, everything does.
In the entryway, I left the rich solid colours as is and added a mirror at eye level. On the other side, after the 'Aqua Flip' dried, I used 'Porcelain Cup' as a top coat and pressed some crushed newspaper while it was wet to create an interesting texture. The whole process from taping to creating the final texture took about two hours. That was it, once dry, we were ready to style.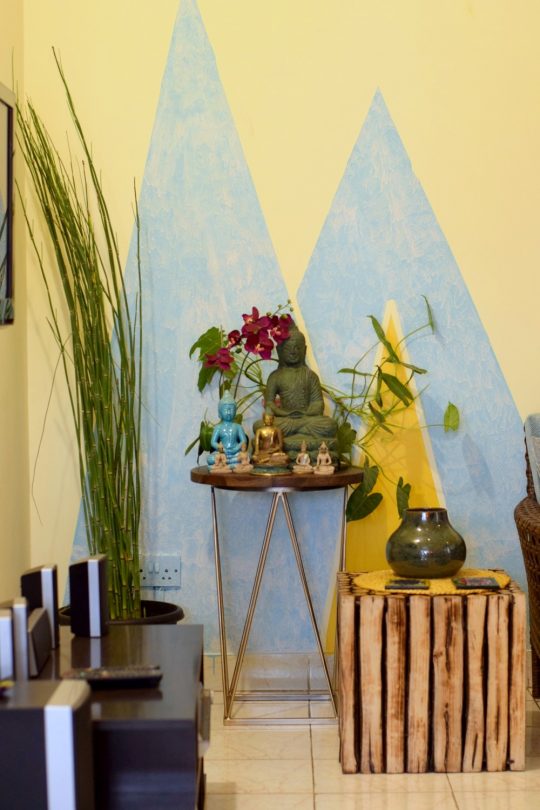 Priya had a metal and wood side table of which I upgraded the glam quotient by spraying them gold. I added a rug to the area (we found the perfect textured rug for the space, what luck!)
Berger Silk Glamour provides excellent coverage even with just one coat, we had a lot of paint still left, so we decided to make some art. We poured some paint in a bowl, watered it down and poured it on a canvas to create a custom painting for the living room.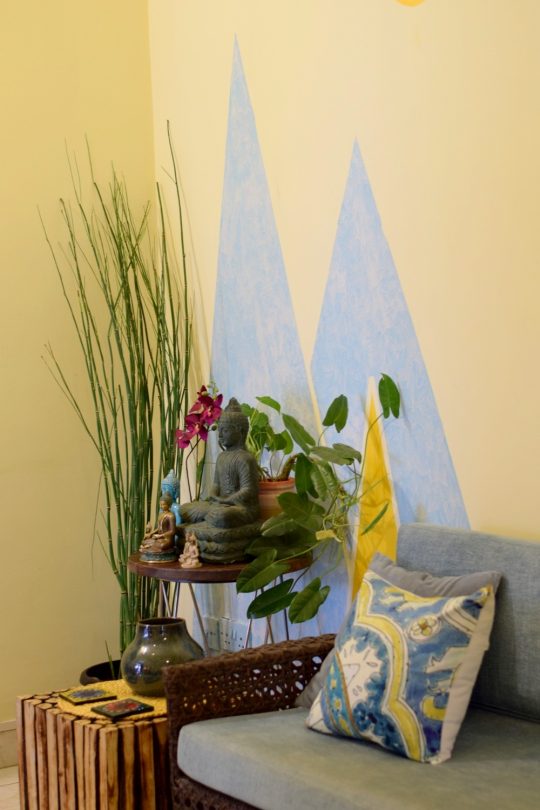 With still more paint left over, Girija and the girls created our signature texture wall in the dining room.
All of this came together in just one day. I must say this was one of the most satisfying and rewarding makeovers I have ever done. One of my team members was sick, but showed up on the day because she couldn't get herself to miss it.  We did a dramatic reveal of the living room and Priya was holding back her tears throughout the day while she soaked in her revamped living space. She could barely stop staring the art. One day makeovers are extremely taxing physically, but when you receive an appreciative message the next day which says "Woke up to this lovely home today", it makes all your aches go away in a jiffy.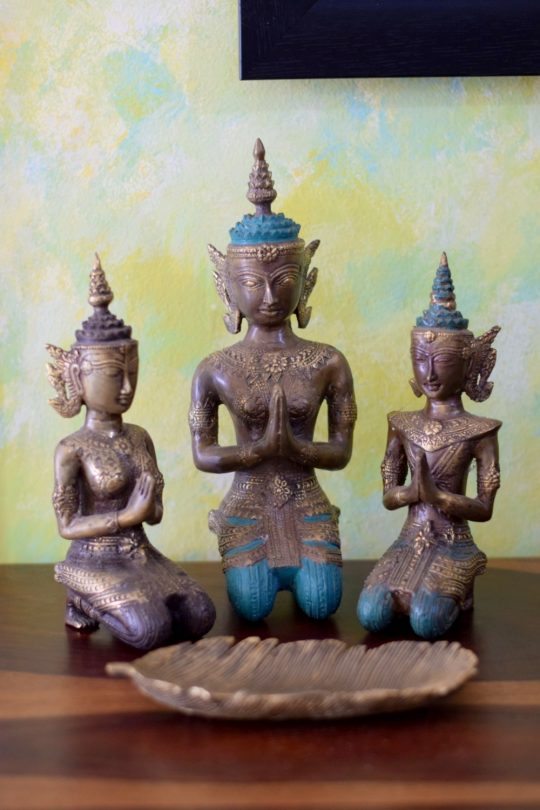 A big thank you to Berger Silk Glamour for making this possible. If you think you are in a job that doesn't change the world, you haven't really explored all the possibilities.