This post is about how we did two wall makeovers in one day. One was a Madhubani Tree of Life and the other was a block print on a textured wall and both were hand painted.
Once in a while, I like to do something just because I can, and also coz I have the support of my friends and my team. Somehow I have managed to put together a bunch of people who think all of my crazy is normal and also tag along to lend a helping hand. This was one such project where I needed some bit impact in a short span of time.
I had posted this picture on Instagram saying I wanted to try this in a different color scheme and if anyone was willing to offer their wall and a friend got in touch. I am super excited when someone is within five kilometers from me (The Bangalore traffic does that to you!) I go meet her, look at the wall and decide a date to do the work.
Instead of one, I decide to do two walls. One Madhubani Tree of Life in the entryway and the textured wall with block prints on the dining. Now, I have absolutely no skill whatsoever on doing both, but I have talented friends who I know will come and help when I want. So I sent out a message in my group asking if anyone would join in and I had four confirmations and all three of my team members wanted to pitch in, so it turned out to be a gang of eight.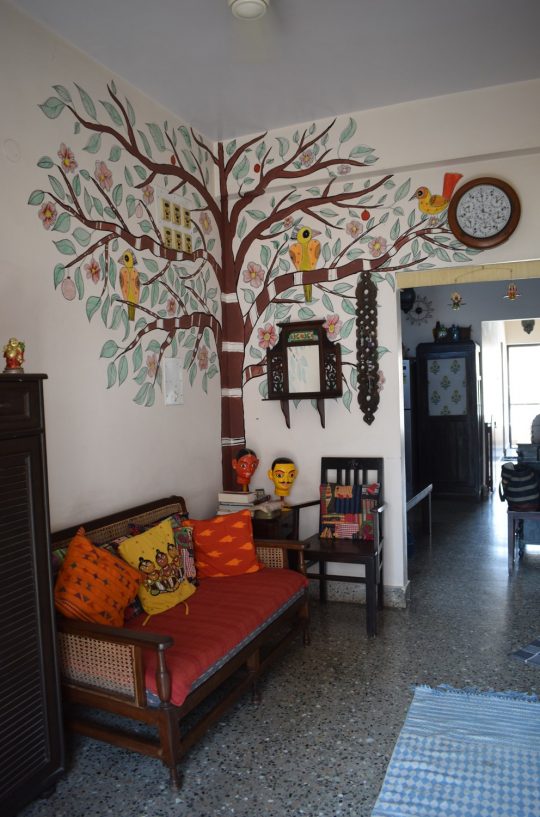 I split the girls into two teams, Girija did the background texture for the dining room and Shruti and Anupama managed the Tree of Life. Spandana, Padma, Harshitha and Nishitha helped out wherever needed. I was mostly the circus master.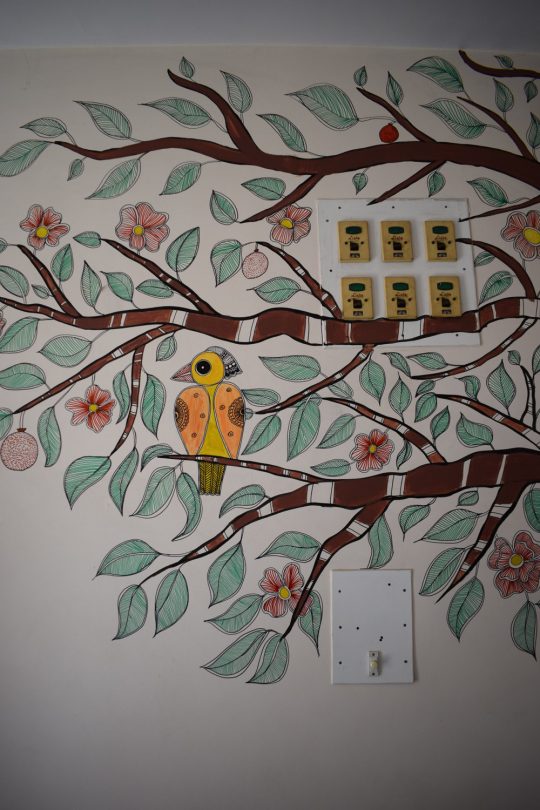 When its my show and I am having friends come over and help me, I give them a brief on expectations and constantly supervise to know they are going in the right direction and I am seeing my vision come to life just the way I wanted it. When I am volunteering to go and help someone, I am just a helping hand. I take instructions and give my opinion only when asked. That way, the owner of the project maintains their authenticity without the others diluting into it.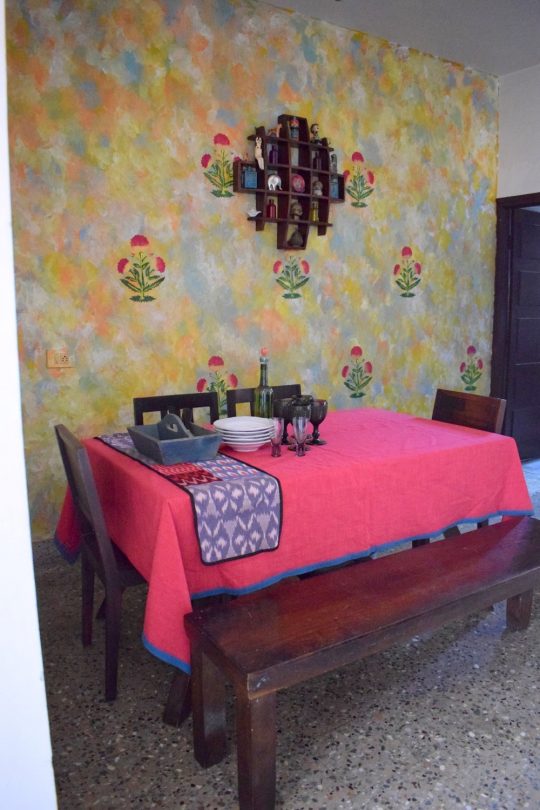 One day makeovers are physically exhausting , but it doesn't hit you until late in the evening. There is a certain energy to working together with like minded individuals, its like an adrenaline that keeps you going. Our host for the day treated us with a good lunch and put up with all of our loud chattering and laughing. We managed to leave behind some of our positive energy.
it was a great day and we had made over two walls and styled then in flat five hours. Sometime you dont know what you are capable of until you do it.
If you've been putting something off for a long time now, its high time you get to doing it. The only way of addressing your doubt is doing it.
Take a look at the videos we've made and let me know how you like it.