This post is about a DIY Madhubani Inspired mural we did for a friend Monika. It was a day well spent with a mural as a reminder of happy time together. 
Last year around the same time, Shruti and Me planned a Mural for Monika for her front porch. The mural we hear became world famous in her gated community and now she is identified as the lady of the mural villa :p (Kidding!! or maybe not :D) Shruti and Me are always itching to do something new and we readily agreed when Monika offered her wall. What was also more exciting was that she mentioned food and beer. Ain't nobody says no to free food and beer 😀
The fact that all three of us met online through our blogs and became friends is enough for all our parents to start worrying and question their own parenting. Why this is post is high on humor is coz we are like that, when we are together, nut cases of the first order. Well, enough said, this post is about a DIY Madhubani Inspired Mural and not about our madness.
So here goes,
DIY Madhubani Inspired Mural.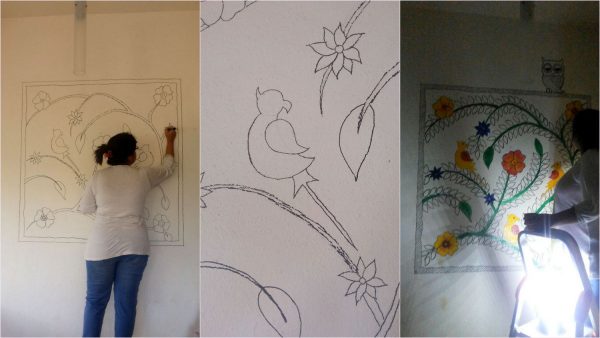 What we used?
Some printed reference images from the internet
Pencil & Markers for borders, brushes
Enamel paints – Small tins (Wont recommend, use wall emulsion trial packs instead)
Old rags, cotton buds for clean up.
The first job was to decide how big the mural should be and mark the boundary lines. Anything looks fab inside a double line frame. The crude hand drawn lines add to the character. Once that was done, Shruti went about adding the flowers, and birds. Next we joined them with branches, just about starting anywhere and ending anywhere. Finally we added the smaller leaves.
After the branches, flowers and leaves were painted, it somehow felt incomplete, so we added the details into the leaves and the frame. Monika is all crazy about Owls, she requested an owl to be put in, so Shruti had to quickly draw an owl on paper and I transferred it on the wall (The first ever owl drawn (err.. copied) by me, thanks to Shruti's fear on heights).
Well, the final result was beautiful.
So we are about to celebrate the first anniversary of my first owl painting, so expect some more action soon.
Read Monika on SinamonTales. Read Shruti on ArtsyCraftsyMom. And if you are here congratulations!! You are already reading me 🙂 Do take a look at how the IndyaKaleidoscope Store is shaping up.