This post is about how I achieved the rosette textured wall finish on my dining space wall. I learnt the basic technique from my friend Girija while I was assisting her with a mural, then I added my own touch.  I wasn't planning on turning it into a blog post, so some intermediate pictures are missing, but I've tried to be as detailed as possible. 
It's quite funny that I made a post on how to paint your own accent wall a few years ago and this is the wall that was featured on that post. If you want to read how you can paint a wall from scratch this is the blog post that you can go to. Painting the wall in solid teal, I think took me about two hours. And the texture on top of it which looks like a difficult process took me less than an hour. Its funny that these two processes are several years apart.
What you will need for this DIY
A 2 or 3 inch paint brush (make sure it is an old one because you may not be able to use it again for fine painting)
A tiny bit of contrast colour paint to make the texture (I have used Asian Paints wall emulsion here but since you need very little you can also use artists acrylic)
Some water
A waste rag just in case
And we are ready to start!
I removed all of the paintings on the wall and dusted it with a microfiber cloth. Then I wiped the whole wall with a wet rag. Now this step is very important since I was painting a white texture, I did not want any residual dust coz it can turn white texture to Brown. Eww!
Once the wall was dry I was ready to start painting.
I put some Paint on a plastic dish added some water and just let it be. I did not mix the two together this way when I dip my brush I get a little bit of paint and a little bit of water on my brush. And when I start painting 1 get different shades of the color.
This is how I painted the texture: I dipped my brush in the paint, removed the excess paint then made circles on the wall like a spring as long as the paint lasted on the brush. I got a bright white circle in the beginning which gradually thinned down because of the water on the brush to a blurred texture. Then I simply went back dipped my brush again and started the process where I had stopped.
In every DIY project there comes a stage where it can look extremely ugly and you start second guessing yourself. It was that stage for me here for this DIY. Now since I do this all the time I know that beyond this ugly stage there is a beautiful product and I don't panic. If you are on a DIY project and you think you ruined it completely then I suggest you just keep going and trust the process. 
Once I had completed the entire wall, l took a few steps back to look at what I had achieved. it was looking good but I somehow felt that it was a little incomplete, so I went back and made dark white circles in a few places where there was too much faded color.
I wasn't really planning on turning this into a blog post, and did not quite document the process of how it looked before touched it up. If you are going to attempt this DIY texture I suggest you trust your eye. I know some of you may argue that its easy for me to do it but you cannot but you know what? I am not an artist so if I can do it so can you!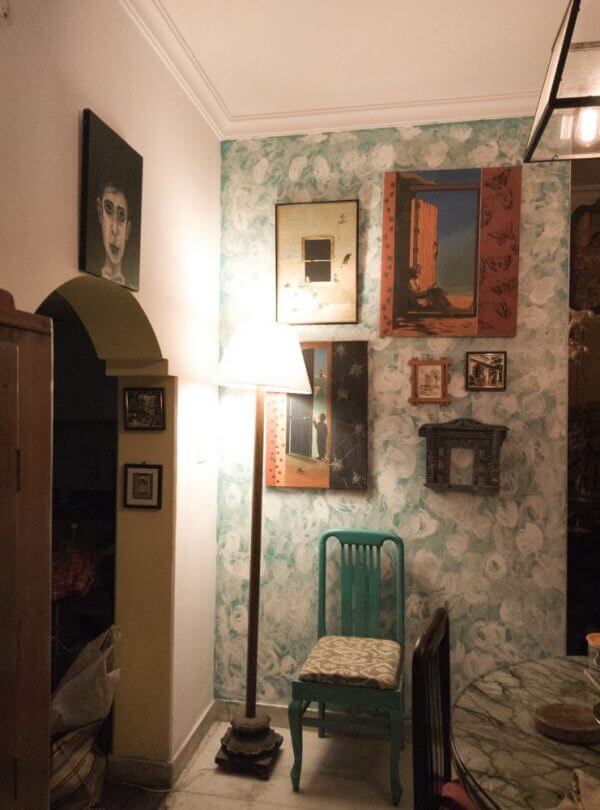 If you are still not getting it right then take a picture and again trust your eye! if you still can't figure it out show it to a friend, or send me your DM on my Instagram. I try and reply to all messages as long as they not the will you friendship me kind.
That's it! Since it is a texture, it doesn't take a long time to dry I just had enough time admire it for a while, wipe all the paintings that I had taken off and hang them back. So I guess it took about 30 minutes for it to dry.
I must admit, I did not expect it to look so good at all!
Would you try it?