Me, along with my two friends painted a theme-based warli mural at Swasthya Organics the new Organic Store in Koramangala, Bangalore. Read on to know more..
So when Gauri Rokkam and Shankar Rokkam ( Founders of Swaasthya Organics) were looking for some Warli murals for their new store, they got in touch with my artist friend Girija Hariharan. Giri, being a free-spirit artist who doesn't like to be bound by rules almost freaked out when I said she should take it up. What I had in mind was roping in the Warli guru, Shruti Bhat, and the dream team was formed.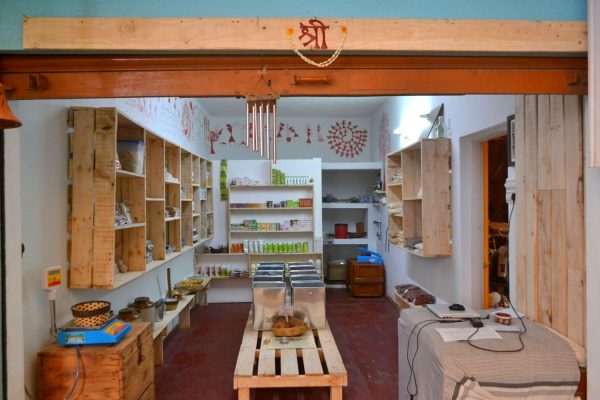 With Shruti's knowledge about warli art, Giri's skills as an artist, and my monkeying skills (read limelight hogger), we got started. Since it was an organic store, we decided to showcase the journey of a grain. So along the wall, we painted the lifecycle of grain from sowing the seeds to the harvest dance.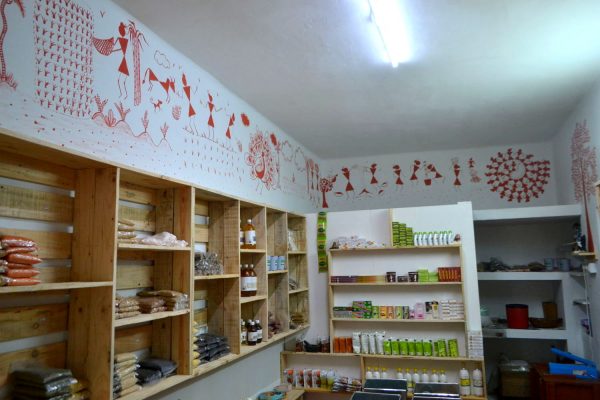 Giri also painted a tree of life freehand, and a small deity sits at the bottom of the tree. We had a lot of fun painting this mural, coz teamwork is always fun. Not to forget the super yummy homemade lunch by Gauri, that we were too busy stuffing our faces and we forgot to take a picture.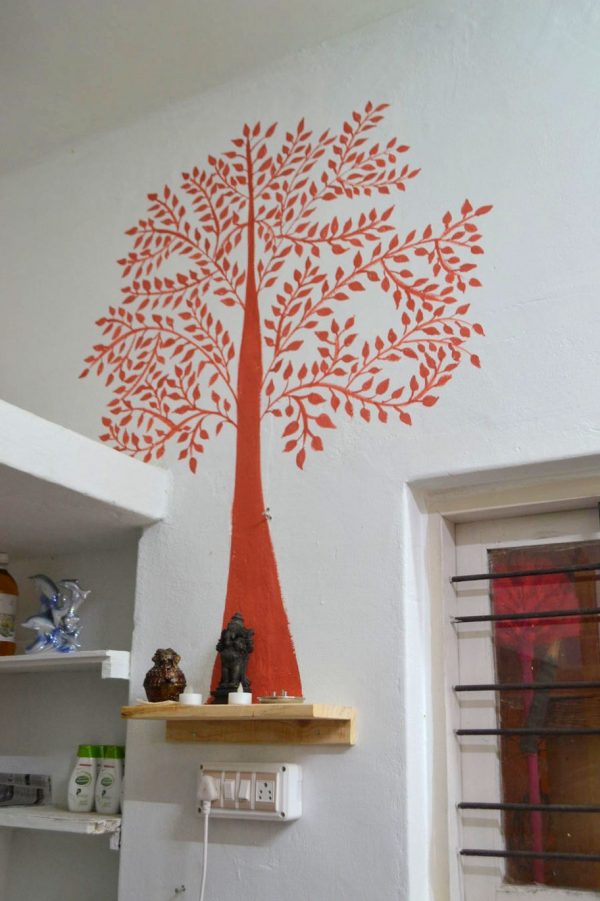 Shruti and I have teamed up earlier to make wall murals, but for Giri, it is her first experience with Warli. When I asked her about her experience, this is what she has to say " When I agreed to do this, I had no idea about Warli Art except for occasional glimpses at stores and in books. But the idea of painting on a white wall was very enticing. I learned so much about the village and their intricate yet simple way of painting their home. Turns out Warli people like walls as much as I do. It was a wonderful learning experience, bonding time, and ended up being one big party".
More about Swaasthya Organics – The New Organic Store in Koramangala?
The founders Gauri and Shankar, live in a beautiful house filled with art and vintage furniture. Their love for who they are and what they do shows in their store. The store has a very earthy feel with raw pine shelves, vintage furniture, and the occasional splash of traditional ware.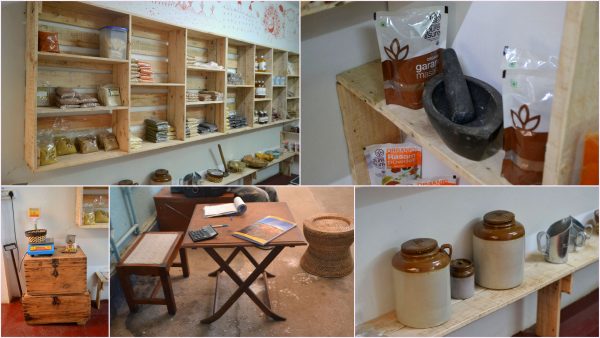 The store currently sells dry organic goods along with organic FMCG and will be adding organic veggies soon. Gauri is also a nutritionist who focuses on natural medicines and methods.
Here is the address
Swaasthya Organics, Maitri, 650, 4th cross, 3rd Block, Koramangala, Bangalore.
Gaurirokkam@gmail.com