Several stakeholders came together to celebrate Open Streets MG Road today. It was a beautiful sight, the celebration of Bangalore in the heart of the city with art, crafts and food.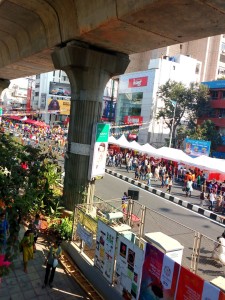 The Department of Tourism, Karnataka along with The Bangalore Metro, The Bangalore Traffic police, Bangalore Police Department and a few others came together to organize the Open Streets MG Road. Its a 9am to 9pm even and the traffic was restricted on MG Road from Anil Kumble Circle to Brigade Road junctions.
Hundreds of artists, creative and food businesses came together to set up stalls on either sides of the road under the metro station. And thousands and thousands of Bangaloreans came from all over the city to take part in the Open Streets MG Road.
Its the art and crafts that get me excited every-time, but I was very excited to see food trucks in Bangalore. Being an avid watcher of the TV channel TLC, I would be amazed at the food trucks abroad. Its the first time I am seeing food trucks in Bangalore, apart from the dosa camps and chat stands of-course, and looked like the Bangalore  junta was also super excited. There were long lines of hungry customers in front of every truck that I was quite impatient to wait in front of any.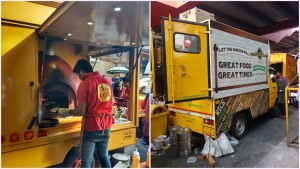 I saw some beautiful art, stunning murals and I consciously did not take pictures of them. It was amazing to see the busy street that has heavy traffic at all times, opened up for the public celebration. In between all the fun there were also some folk performances from different parts of Karnataka.
All in all, it was a fabulous event.