I moved to Bangalore soon after graduating with a bachelor's degree in Electronics & Electrical Engineering. I had a job offer and was due to join even before I had my Graduation Certificate in hand.
After being a paying guest for about a year, I moved into a shared space with two other girls. Wherever I've lived, I always managed to make the space more personal, more inviting, and more home-like. The first home was a very warm one bedroom, living room, and open kitchen with a gorgeous red-oxide floor. While the memories of that home are fresh in my mind, there are no pictures to share. Those were the days of film roll cameras and brick-like cell phones. So here are some pictures taken from the cell phone.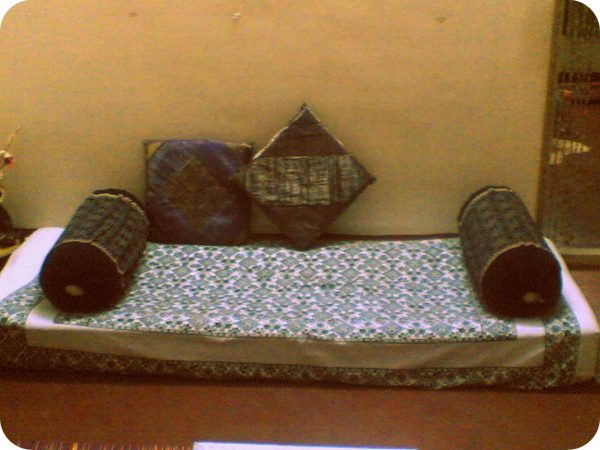 The living room and the kitchen were one unit. As you walked in through the door, you were in the living area and to the left was an open kitchen. Since there was no budget for decorating, I stuck to affordable decor.
The acrylic painting was a gift from a friend and will show up in every home that I have been in. I have a thing for paintings with open doors and windows in them.
The Kitchen was the most fun part of the house. Since my roommate and I both enjoyed cooking, we spent a lot of time in the kitchen, working, gossiping, and just having fun. I printed out some fun posters that I found on the internet and framed them to make them more fun.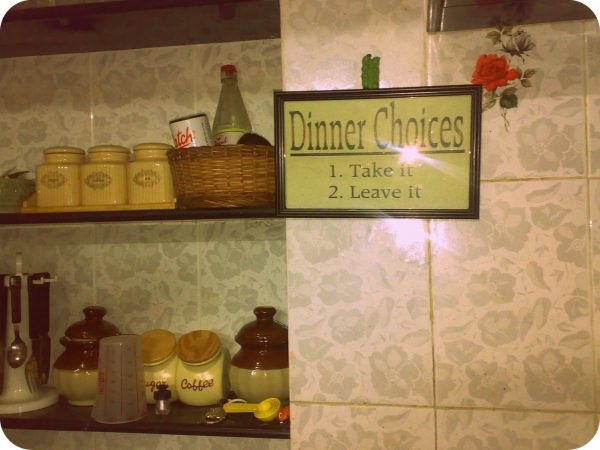 To separate the kitchen from the living room, I found a pair of cheap chairs and a table that became our dining space and fixed a reed pendant light on top. Unfortunately, I don't have a picture of that.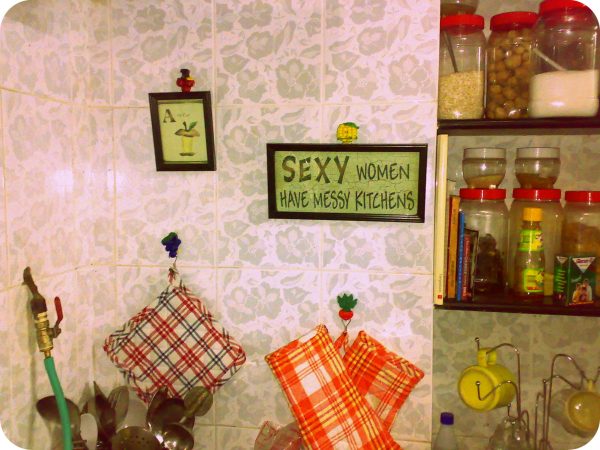 Unfortunately, the kitchen was always clean, this could work well now. *making a mental note to hang this up later today*.
The bedroom was a really large room almost dormitory-style. I remember during a wedding, we had almost 10 women comfortable in the house and there was enough room for a few more. No pictures of the bedroom either.
I moved jobs and my new workplace was an hour away. It was a place that I loved, and it broke my heart to move coz the commute to work was killing me. So I had to wrap my house up and the lovely memories I made here and move.