This post is about the exhibition Shashwat Maharathi – The eternal Seeker happening currently at the National Gallery of Modern Art, Bangalore, and why you should go to see it. On exhibit are the life works of artist Upendra Maharathi, one of the most inspiring individuals in Modern India. Read this blog post first, go visit the exhibit, and thank me later. 
When I feel stuck, mentally or creatively, I've made it a habit to move physically and get myself to a different creative space. Why I say "different Creative space" is coz, of course, I live in a very inspiring and decorated space that I built for myself, but when I need a different perspective or a change in environment, I go seeking. One such space I found myself in is NGMA – the National Gallery of Modern Art. I have a separate blog post talking about it which you can read HERE! NGMA is in the Manikyavelu Mansion which is a heritage property restored to make it into an art gallery. The property has the most beautiful trees surrounding it, which makes it a slice of heaven within the city. Pre-covid, it was a favorite haunt for my friends and me. We would spend time in the library, visit the gallery, sit in the cafe and discuss projects and life. The Gigantic trees in the cafe area are so comforting that we never come back without having a conversation with them.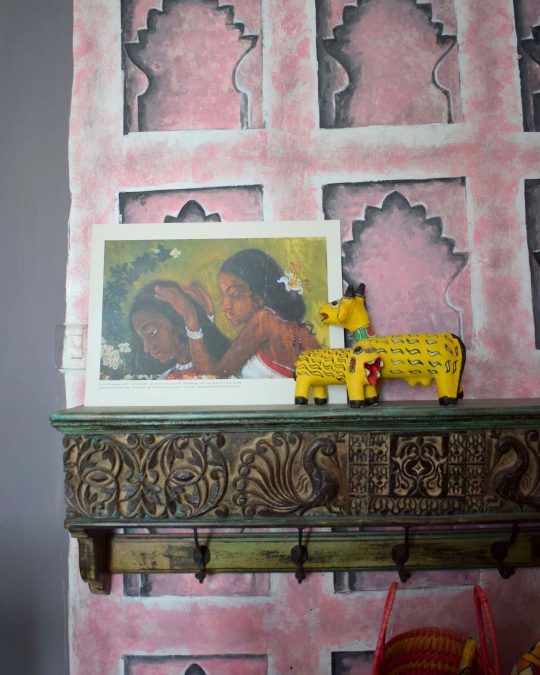 Back to the topic.
Who was Upendra Maharathi?
After India got its independence, there was a call for individuals to join the nation-building team. It had all sorts of people, freedom fighters, industrialists, thought leaders, and also artists, Upendra Maharathi was one among them. He was an artist and designer whose most significant work is in the area of arts and crafts. Upendra Maharathi helped revive 22 craft forms and played a key role in bringing the Madhubani artform from the walls of houses to paper.
He was born in 1908 and died in 1981. The thing that struck me the most is the fact that in his lifetime of seventy-seven years, he did so much. A news piece I read about the exhibition said there were about a thousand pieces of work displayed there. From what was exhibited in NGMA, this is what I concluded he did
Made traditional inspired art
Made modern art
Created portraits
experimented with different paint medium
Designed bamboo accessories
Designed bamboo furniture
Designed wooden furniture
Designed public monuments
Made architectural drawings
Made Japanese pottery
 Helped revive 22 Indian crafts
Designed textile and jute products
Created hundreds and hundreds of sketched
There is a good chance I have missed something, but the reason I am pointing these out is coz the amount of stuff that someone can do during a lifetime. And not just that, his artwork and paintings look professional. A testimony that the artist had invested thousands of hours practicing his craft. You can go through his sketchbooks and his half-done drawings on random pieces of paper. When you see those, you get the picture that he was obsessed with what he did. The installation in NGMA also has his personal belongings exhibited. I have been to many exhibitions but have never been moved so much. It is so inspiring, I recommend it to everyone, you must go, at least once, more times if you can. Because every time you go, you discover something new, not about the artist, about YOURSELF!
Here is a sketch that is on display at the exhibit. The final painting is my favorite of all his works. (You are allowed to take photos of art in NGMA as long as it is up-close. You cannot take photos on the interior of the building, or several paintings in one shot)
It looks like in the final painting, he painted over the third woman at the back. I got myself a poster print of the same.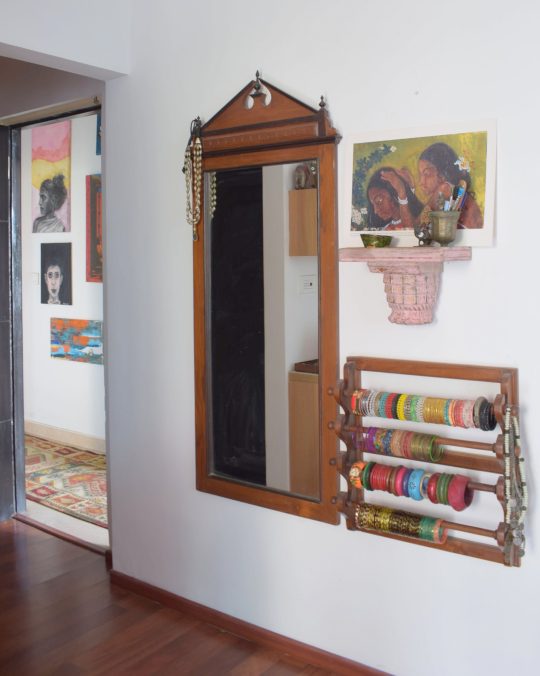 This Painting is also on display and it is titled " A truth seeking man, caught in a whirlpool of temptation".
Here are my key takeaways from the exhibit.
Practice and practice and practice, you can't be good at something in a matter of days.
Do anything and everything that your heart desires. The amount of work that you see that is put up in the exhibit, will blow you away when you realize that it is all in one person's lifetime.
LEARN! Learning should never stop.
Be obsessed with your subject of interest.
NGMA is a very inspiring place and I think everyone should visit whenever they can. The cafe was closed when we went, I am hoping it's open now. You can visit the main gallery which has an entry fee of 20/- for Indian nationals. No entry fee is needed to go to the library, cafe, and museum shop. You can get good-quality art prints of noted artists for very affordable prices. The Upendra Maharathi catalog with five prints cost me 200/- and so did five Ravi Verma prints you see in the picture below.
So go! Get inspired! Create something inspiring for yourself and for the world. And don't forget to write to me about your experience.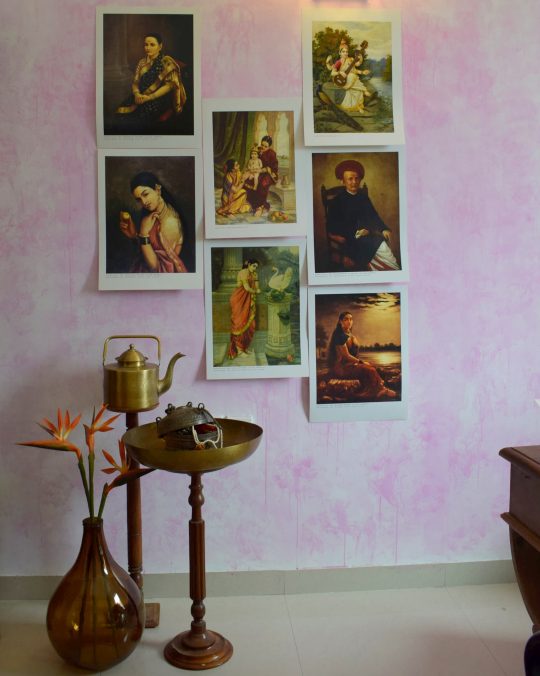 Also, do check out my brand new 40 page ebook 101 Things to know while planning your home Interiors. It is currently priced at 499/- and the response to it has been phenomenal.