This post is about what a prabhavali is, how to use them as frames, where to buy them, and how not to get scammed when buying them. 
What is a Prabhavali?
Prabhavali is an ornamental arch that can be seen behind temple deities in most temples in India. They are representations of the aura of the presiding deity of the temple. The most commonly seen Prabhavalis have a Yaali in the top center and an ornamental pillar-like structure supporting the arch. They are usually made of brass, but some rich temples also have them in silver and plated gold.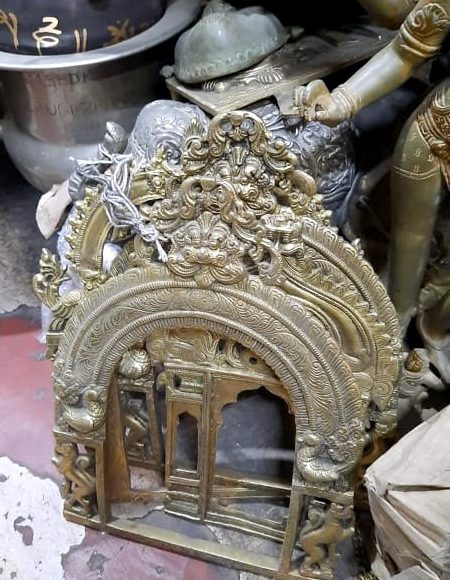 Their beauty is what makes them very popular as home decor accents. I have seen Prabhavali galleries in magazines as a kid. My very first encounter with seeing one in person was in a guest house in Tirupati many many years ago. Since then I have been wanting to create one for myself at home. My quest for home decor started way before social media, so a lot of things I have at home are sourced from stores, travel, or found secondhand. If you have been looking for some, I will also link a few stores that are selling them.
You can display an ornamental Prabhavali as is and it will look beautiful, but if you want to use them as frames, here are 5 ways.
1. Add a mirror at the back
If you are well-versed in cutting glass and mirrors, this will be a breeze. Otherwise, give it to a mirror shop and let them cut out a mirror in the size for you. Since Prabhavalis are not very large, they can easily pick something from their scrap pile and cut it up. Then all it needs is some silicon and stick it to the back of the prabhavali and keep it there till the silicon cures. And then you have it, a prabhavali mirror.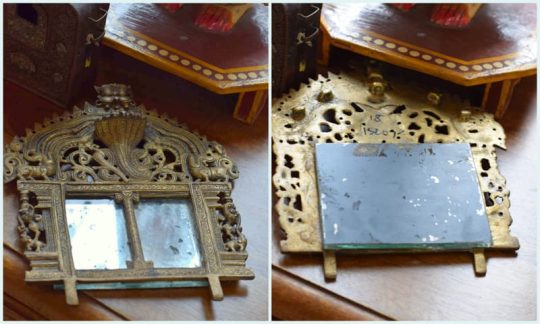 2. Add a canvas painting
Commision an artist to create small artwork on canvas for you. Canvas is more stiff than paper and can be easily cleaned and the acrylic colors used in the painting make the prabhavali pop. Give them the exact dimensions of the prabhavali opening. You can do that by tracing the pattern on a sheet of paper and measuring accordingly. You don't have to be precise with the millimeter, just enough for the artist to get the positioning of the subject correctly.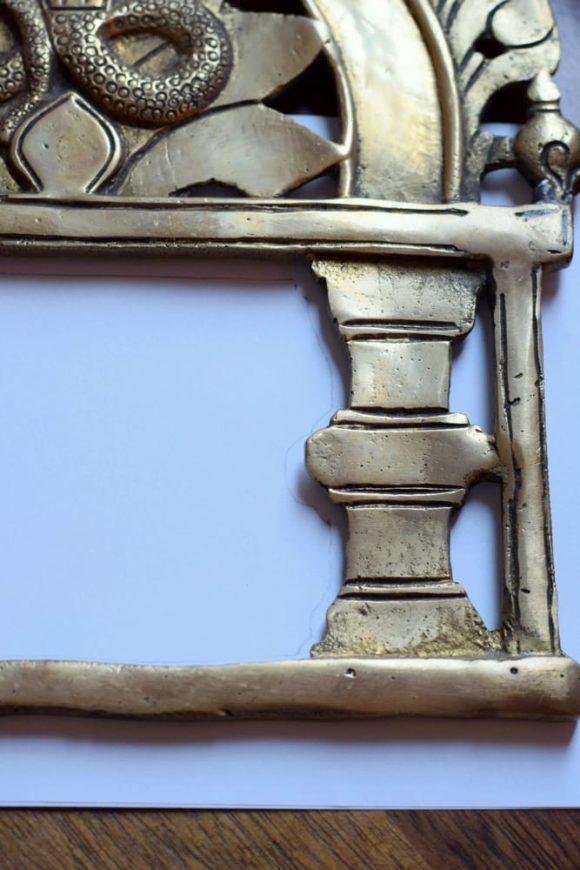 P.s. The painting needs to be a few millimeters outside the size so that it can fill the gap in the frame. Once you receive it, cut it to size and paste it at the back with fevibond glue.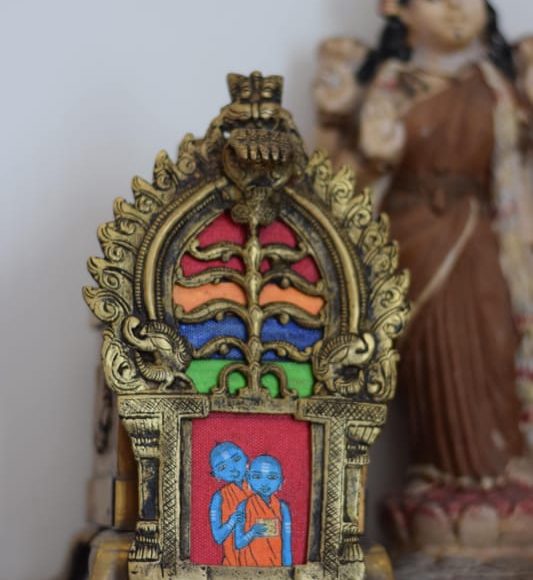 3. Use a postcard
This is a very budget-friendly option. I love collecting postcards and I was quite thrilled when one of my favorite Upendra Maharathi painting postcards fit perfectly into a prabhavali that I got very recently. Again, the trick is the same, position the art correctly, trace out a light line to identify it, then cut a few mm outside that line so you have room to put the glue. Fevibond glue it is and wait till the glue is fully dry and then hang the prabhavali and admire.
4. Frame some fabric
Another budget-friendly option is here. I save fabric scraps from projects because I want to use them when there is an opportunity. Fabric cannot be pasted directly onto prabhavali, it will need a base, like cardstock. Cut a piece of cardstock (thicker gsm than regular paper) and fabric of the same size. Use fevicol MR (white glue and completely cover the cardstock on one side with a thin layer. WAIT! The fevicol needs to dry a little and become tacky, if it's too wet it will seep through the other side of the fabric and make it patchy. Wait for 20 to 30 secs, if the glue doesn't transfer to the finger when touched, it's time to place the fabric and smooth it out. Remove all wrinkles and folds with your finger and let it dry. Then use the same process as the postcard and paste it at the back with all-purpose glue.
Use Fevicol MR to paste the fabric and cardstock, and Fevibond to stick the fabric to the prabhavali. They are two different types of glue, bonding different materials.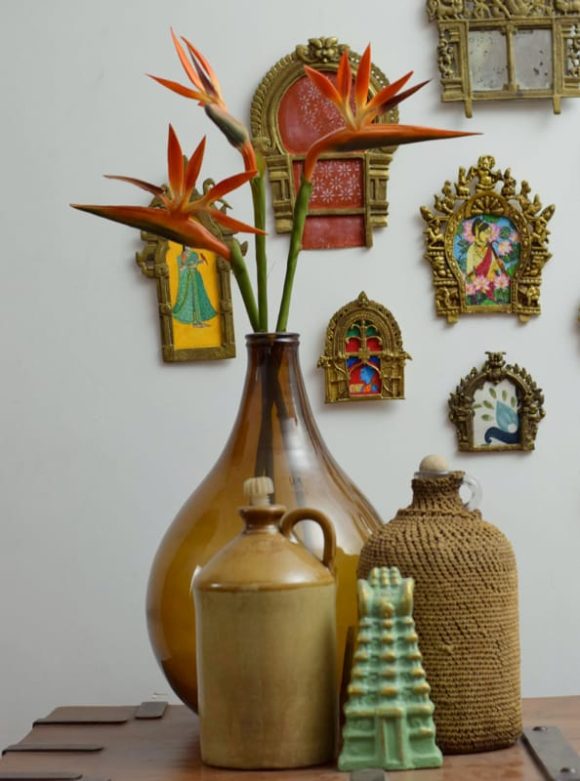 5. Make some abstract art
Another favorite activity of mine that takes less than 10 mins. Cut a piece of canvas to size, and get your acrylic colors out, you can use one or two colors if you are a beginner and some white. Place random dots of paint on the canvas, then place white dots in between them, mist a little water on it, and use a sponge to dab dab dab. Repeat until you get the desired effect. Let it dry and cut and paste behind the prabhavali.
The best part of using all-purpose glue is that you can remove the canvas or paper when you want a change and it easily peels off.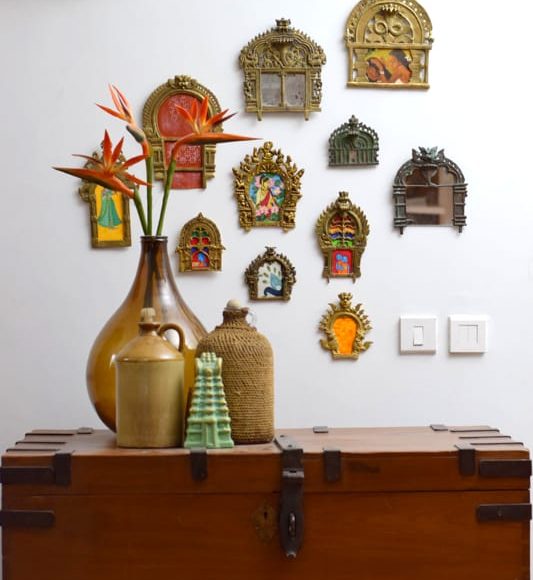 NOTE: 99% of the prabhavalis sold online are new. Not vintage, not antique, they are made new with vintage designs. So if you see exorbitantly priced ones, don't fall for the "vintage" tag.
Here is a real vintage prabhavali from my collection that I found in a store in Bangalore. You can see the patina on it, and the details are far more finer. It is a panchaloha one. An alloy of gold, silver, copper, zinc, and iron. I remember the uncle mentioned that you have to spend 2000/- worth of acid to extract 1000/- worth of gold from it.
It is not very easy to tell a authentic vintage verses vintage finish ones. Buy vintage only from reputed sources.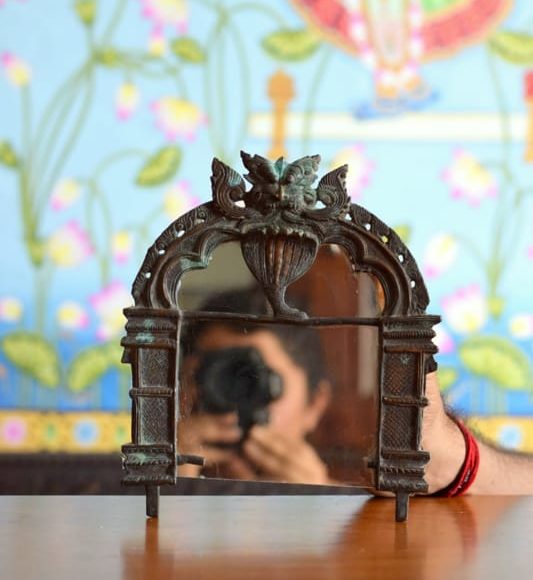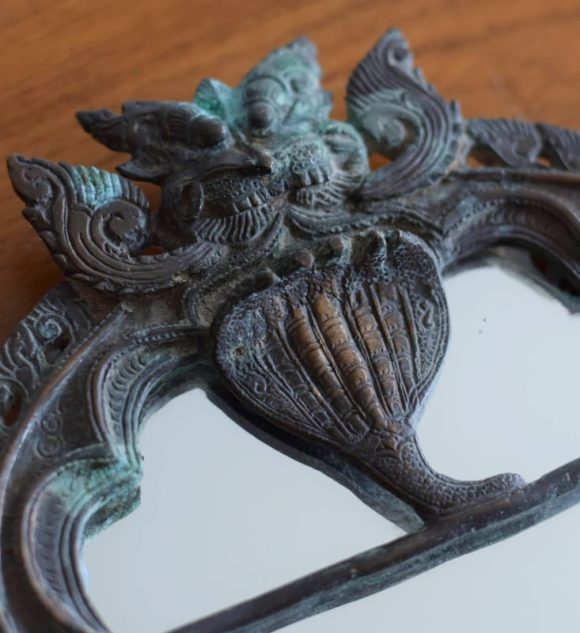 Here is a small list of places you can buy new decorative prabhavalis
Prabhavalis are also available in a lot more sites, but these three sources I am sure of.
Prabhavalis are great in a gallery of their own and also go well as a part of any other gallery wall that you put together. Let me know if you want me to compile a list of ways to style the Prabhavalis.
Also, the HOME STYLING Techniques 101 is currently at an unbelievable discounted price. Click HERE to buy the lifetime access to the prerecorded course.
XOXO
Preethi