I often get told that I have a real talent for DIY and I am gifted that way. The truth is far from it. I am just one of those people who cannot sit still. And I discovered the joy of doing something with my hands and I was hooked. Of course, you will screw up a few projects, and of course, it will look horrible at times. But that's not a reason to stop or not even try. DIY does wonders for your well-being. Activities that involve using your hands, which have tangible results, are seen as preventing emotional disorders like depression. It gives you a sense of accomplishment, you become more self-reliant, and if done together with friends and family, it's a great bonding exercise. Also, anyone who had tasted the benefits of using their own hands will be a lifelong learner of new skills which is also anti-aging.
So, think about it. If you haven't gotten started with your DIY journey yet, and you have always wanted to. Here I have listed five DIY projects that need zero talent.
1. Flat Painting a wall
Anybody can paint a wall. ANYBODY! Gone are the days when you had to worry about getting all the supplies needed from the paint shop, now you can order the supplies online and only buy the paint. Get the self-painting kit from Amazon HERE, it's great for beginners and has the painting tray, roller, brush, and even masking tape. And at the current price point of 499/- you can't go wrong. Clean and maintain them well and you can paint as many accent walls as you want. I also have a blog post with complete details on how to paint a solid color accent wall. Read it here. It's easy and a ten-year-old can do it too.
So if you want to have a beautiful colored accent wall, then get your DIY pants on and get to work.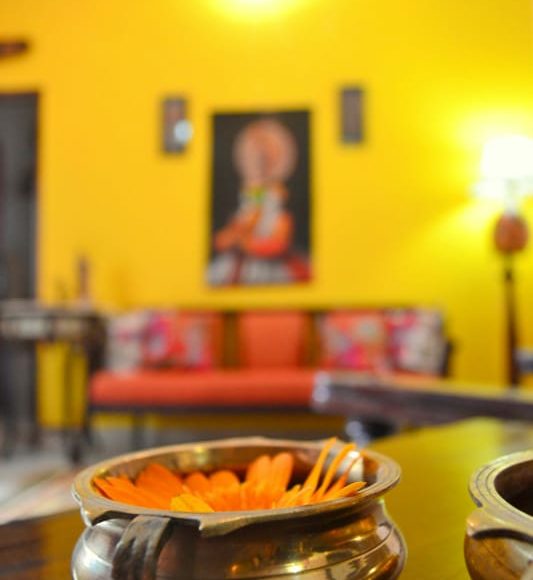 2. Spray painting
Another no-brainer. Spray paint is the answer to all those decor accents that are perfect for your home, but are not available in the color you want. Ordinary objects can be made to look designed, and high-end, just by spray painting. And anyone can do it. Here are a few things you do need to remember while spray painting
Always spray in an airy place, outdoors is best. The balcony with good ventilation is also good.
Spray away from your body. Wear a mask. If you are using the cloth mask, double it so you don't inhale fumes.
The paint will spray outside and around your object, so have a tarp or spread waste newspaper around.
Practice if you are a first-timer. Figuring the distance where you get a smooth spray and no drips is important for the quality of the color. So practice a bit with some random objects.
There are a lot of great automotive quality sprays in the market, go to your hardware store and you will know. They are good quality and very durable. I am not a fan of craft spray paints.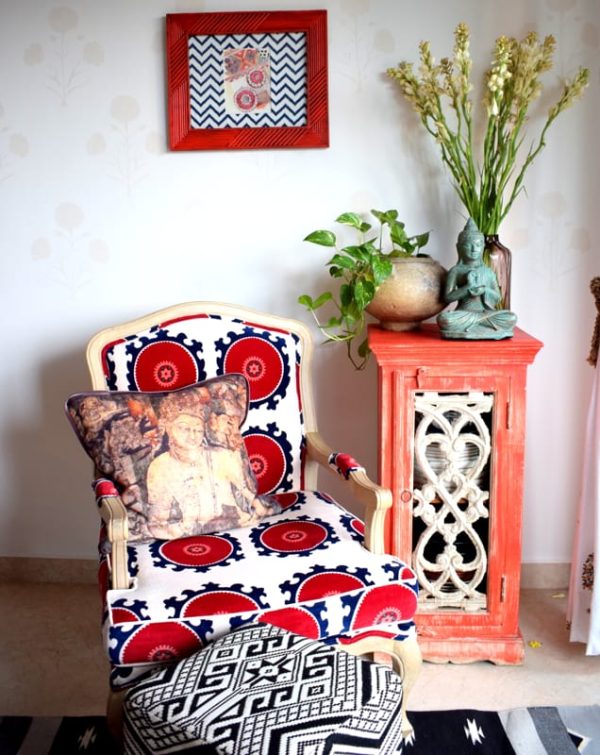 3. Sticking a Decal
I can't believe that this even made it to the list. But yes, no one can screw up sticking a decal and a lot of them are easily available. The effort however needs to be put into finding the good ones. Don't buy the rubbish birds flying, tree branches and birdcage ones. When putting a decal on your wall, it has to start somewhere and cannot be in the middle of anywhere unless it's a typo or a jharokha like the one you see in the photo below. Spend the time to find the ones that are beautiful and timeless. Also, too much contrast between the wall and the decal will not go well all the time.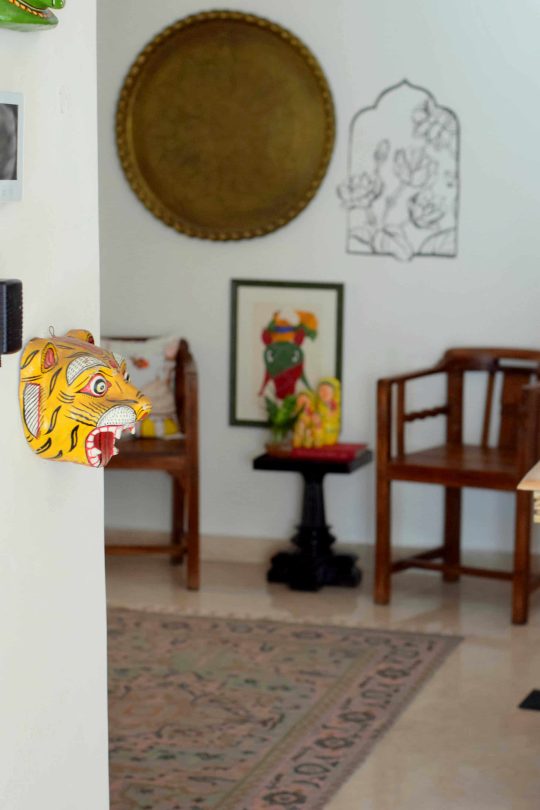 I could not find any good ones on Amazon, when I do I will post the links here. Kalakaarihaat also has some lovely decals, see them here. My dear friend Nayantara of Trove Craft India will be releasing some very beautiful ones soon. They are easy to apply and very good renter-friendly solutions.
4. Making a jar candle
Have all those half-burnt candles been kept aside so you can use the wax someday? Go for it! This is another DIY you cannot mess up, almost. But don't involve kids, please. Hot wax can burn the skin, so it needs to be handled with care. 
Find an old vessel you don't use, put all the wax there, and put it on a double boiler (keep water for boiling, and then place this vessel with wax in it so that the wax is not on the flame directly. This is done because the quick heat can evaporate some of the wax when kept directly on the flame.) You can hot glue the wick to the jar and use a pencil to hold the wick in place. And carefully pour the wax in and let it cool.
I have made candles for events and friends, but never really shot the process. I have been looking at some of the fancy dough bowl candles that have multiple wicks in them. They look very pretty. I have quite a few candles stored for DIY, and I am looking for a small size dough bowl to make my candle. Do you want me to make a post on that? Let me know.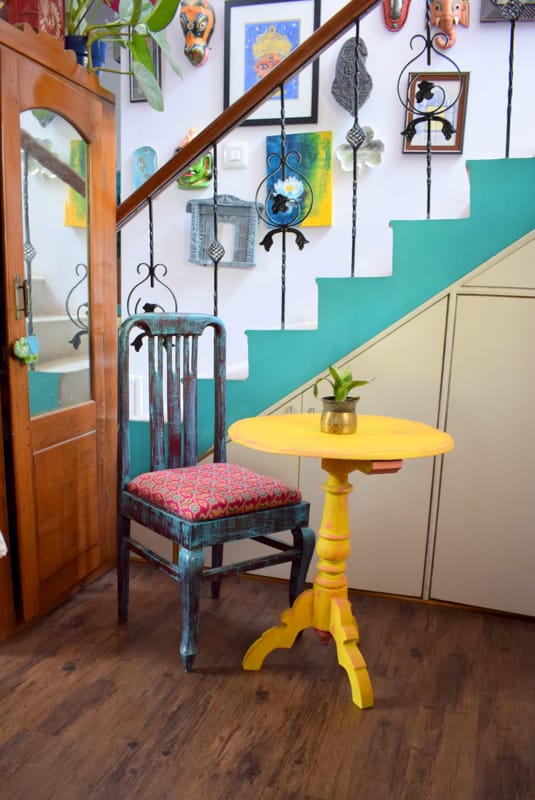 5. Paint Furniture
Another DIY that needs zero talent. Painting furniture. There are thousands and thousands of videos on Youtube on how to paint furniture and you will see that it is not rocket science. But most of those have supplies that are unavailable in India or are way too expensive. That is why I put together the Furniture Painting Course. In the course, I have listed materials that you can get at any hardware store near you, and easy-to-do techniques if you have to do a small repair or fill a crack. Also painting furniture is one of the most therapeutic experiences one can have. That is why you see me change the look of my furniture every few years. I put on an audiobook and get lost in my paint job, it's so so refreshing. I had the best time when I painted my bed and my side tables in the master bedroom.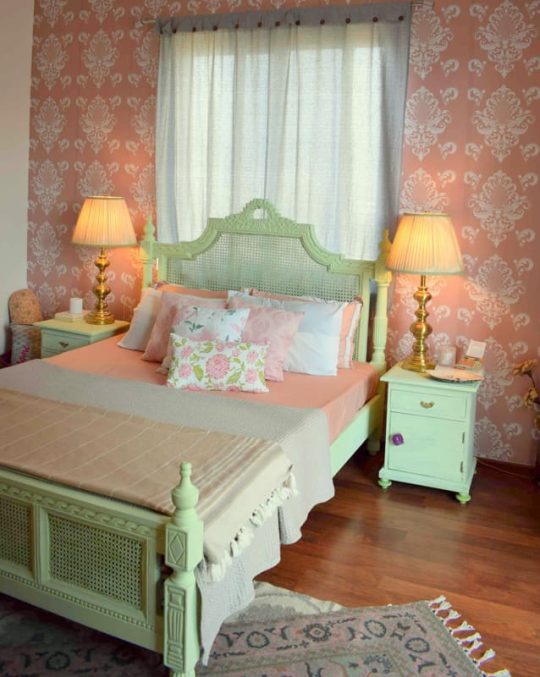 You can buy the Furniture Painting Course HERE. You also get lifetime access with your purchase. And it is pre-recorded, so you can buy it and start watching immediately.
Conclusion
If you have not gotten started on your DIY journey, and have always wanted to do it. DO IT NOW! The benefits far outweigh the cons. Provide room for failed projects, they are part of the deal. There is so much joy in working with your hands and creating something. I want everyone to experience that joy.
XOXO
Preethi