This post is about how you can create a block print wall within an hour, with the supplies you already have at home. This is the quarantine DIY that went viral on Instagram and now is a part of hundreds of homes across the world. It also got me a mention in the Tribune, Rajasthan Patrika, Bhopal Patrika and Dainik Bhasker.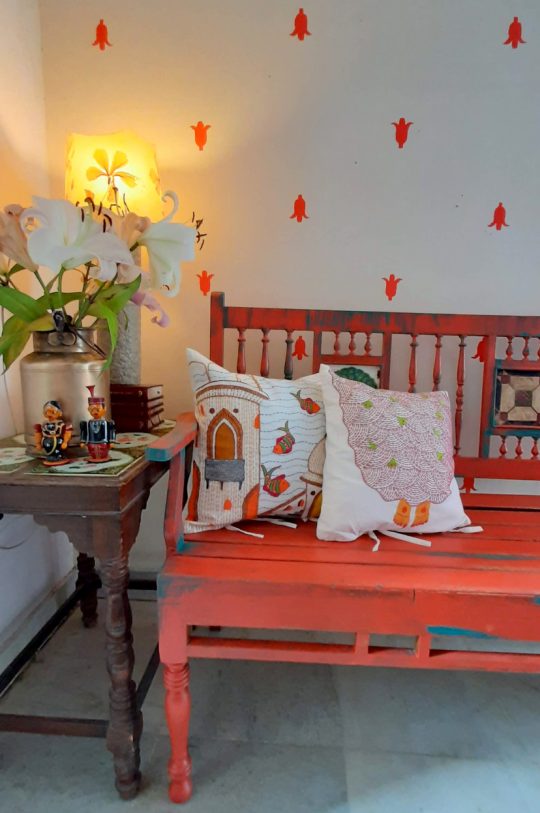 This is most definitely not an original idea, but something that I thought of, and the timing couldn't have been more perfect. It came to me back in 2018 when
Girija
and me were doing the
Yugen space
. It was a project where both of us did not charge for our time. We had the creative freedom to do what we thought was best for the space and I think that is a rare find so we jumped on it. Considering it had some antique Indian furniture, I wanted to create an Indian fantasy kind of huddle room which makes a loud statement yet is subtle.   I wanted to recreate block printed textile on the wall. It was like the spark of the moment, next thing we know we got on the bike, went to Commercial Street and bought supplies.  You can see the entire process.of how we made the stencil
HERE
and how the prints were made
HERE
.
Through the year whenever the pictures were shared on social media, people have asked how they can do it themselves. And since it requires some bit if drawing skills, not many gave it a try. Here is a picture from the home of
Prasanna
who decided to try it and it looks absolutely stunning I think.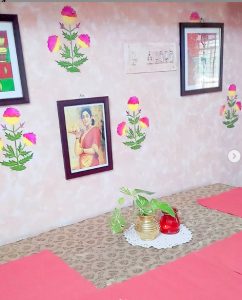 I wanted to make a simpler version of it and when the lock down was announced I was thinking of simple DIYs that can be done with things available in most homes, needs very little material and has a big impact.
I found the one side plastic, brown book binding paper while I was cleaning and knew that would be perfect for my stencil. I put up a poll on Instagram asking if people have this kind of book binding paper in their home, and 70% of them said they did. That was it, after that it was a matter of minutes to get the whole thing done.
.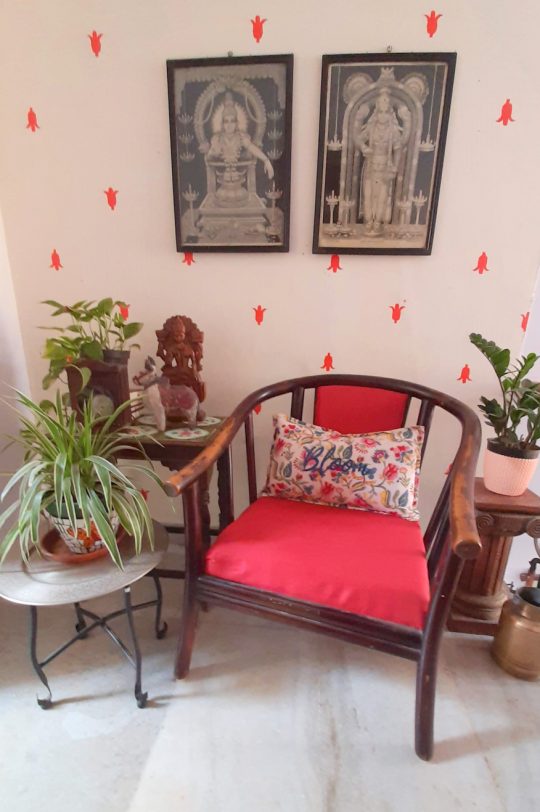 I am linking the IGTV Video in the end of this blog post, but for those who like to read instructions, here they are.
Step 1: Select a motif that you want to use on your wall. If you have a printer you can print it out and trace, else you have to hand draw it, so choose your motif according to your skill level. I am very bad at drawing, so I chose a very easy motif. (after a few failed attempts at ambitious ones of course)
Step 2: Now Take your binding paper, fold it into half so that the non plastic side is on the inside. Stick it together with some fevicol. Now you have a two side plastic coated sheet which will not get soggy when you use water based paint.
Step 3: If you've printed out a motif, you can simply trace it on the binding sheet and cut it with a paper knife. If you are drawing, fold it on half again and draw half the motif (refer image below) and then cut it out to reveal a perfectly symmetric motif.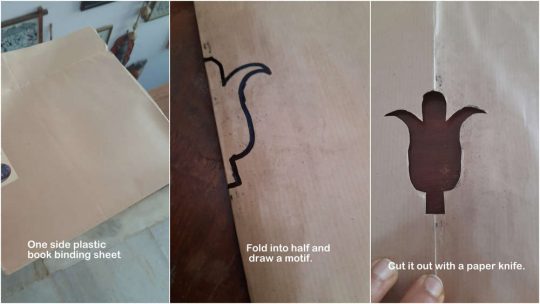 Step 4: Now its time to start stenciling the wall. I had a small foam roller, you can use a sponge (The kitchen scrub that has sponge on one side can also be used) , or use a brush to do your stencil. Even the distance between the stencils can be eyeballed, but if you want to measure it, cut a piece of cardboard or newspaper to the size of the distance you want it to be at.
To watch the original video that I posted on my IGTV channel click HERE.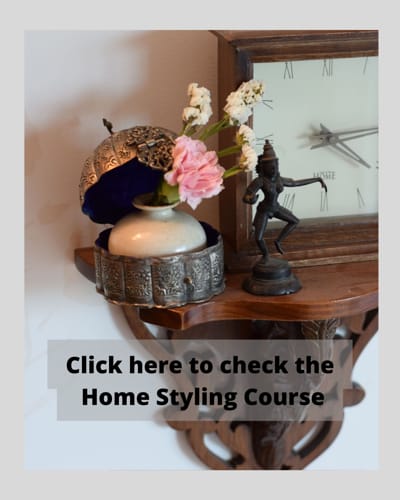 It was an absolute pleasure to see so many people take this idea and make their own. The best part of the DIY was that it became a bonding exercise between mom and kids. It was hard for me to pick favorites, but here are some that stood out (click on the image to go to their Instagram feed). You can also scroll through my Instagram feed and see the other motif inspirations.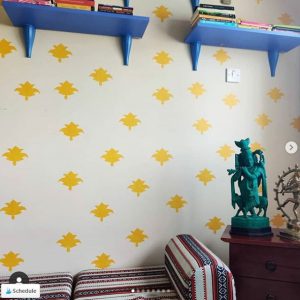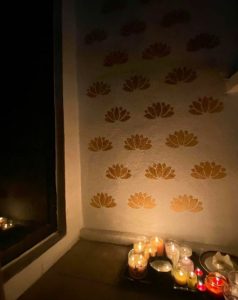 This post has been long pending and I was determined to do this once the DIY has been repeated in a hundred homes at-least. Well, I have lost count on how many people have been sending me pictures of their walls. I cannot tell you how thrilled I am to have a DIY of mine go viral. Not only did people love it, a lot of digital creators recreated the idea in their own styles. A huge shout out for Disha for mentioning me on her channel (See the image below) She had done a stencil wall a couple of years ago with a store bought stencil and she shared my video link with her audience. You can watch how she created her stencil video HERE.
If you want to see what I am working on next, follow me on my Instagram handle @preethiprabhudotcom HERE. If you have not tried this DIY yet but want to, DO IT NOW! and send me a picture so I can feature it on my instagram stories or posts.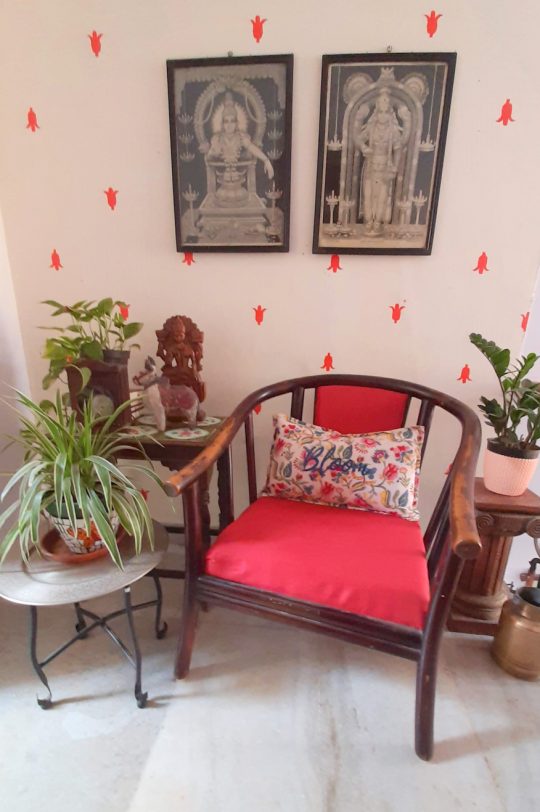 I managed a few more DIYs (kicka** ones) during this quarantine period, will publish them soon.
See you guys next time.