A detailed post on what to expect and what to do while shopping in RC Puram (Ramachandra puram).
Six months ago I had done a post on budget shopping in Okalipuram Bangalore. You guys couldn't get enough of it, and I had to answer so many more quires. Here I am doing a detailed post, on shopping in RC Puram, Okalipuram, some specific stores to look for some specific products and the post includes a video too.
RC Puram is accessible through Namma Metro and is just over a kilometer from the Srirampura metro station. However, you will have to take an auto rickshaw to get there. Get off at the RC puram Circle, if a rickshaw driver agrees to drop you, he knows where. Get off at the circle and you can take any of the 4 roads leading out of that circle and its a fabric haven.
Before you get there!
Make sure you have enough time in hand and its better you do a morning or an early noon so you can get out of there by 4pm. If you are a first timer there, this is highly recommended. Dont be in a hurry, walk around and familiarize yourself before you decide to buy.
Dont get there on an empty stomach. Where there are small bakeries and carts selling tender coconut and stuff like that its always good to get there on a full stomach and carry some snack and water.
Not all vendors take cards, so make sure you have some cash to spend.
Know what you are looking for!
You can get good quality cotton, linen, satin, velvet, plaid, camouflage, denim, etc., all if this is either export surplus or export rejects. When we say rejects, the defect maybe as small as a patch of dirt or a little rip or the print on the fabric going a bit slanted.  I personally have got some great finds at great prices, its not that I am lucky, its just that I went with enough time on hand and looked.
From a home decor perspective, here are a few things you can find
Fabric for sheer curtains in plain or funky prints
Mats and rugs
Towels, hand towels and foot mats.
Thick upholstery material.
Faux fur.
Poufs if you are lucky
cushion covers, chair pads, tea towels
The old post on this place has a detailed Do's and Dont's that you can check. This post is about specifics. On either side of the RC Puram circle, there are carpet shops. They are 250/- to 350/- a kilo. Take time to go through them coz you can find some gems. We found a boho jute rug (Will post pictures after styling), it was right at the bottom of a large stack of rugs, it was a little over 4 kilos. You may have seen the pictures on my instagram stories, I have not yet decided how i want to style it, its going to be for my office. We even saw a nice coral cotton rug that was 6ft x 8ft and was a little over 8 kilos costing around 2k which is a steal for something that size. 
Look for a "Manjunatha Enterprises" he has a good collection of rugs too. The rug you see in the Cage Pendant DIY is from there. It was about 2 kilos. He has a good collection of mats and runnersand very neatly stacked, unlike the rest of the shops that sell mats.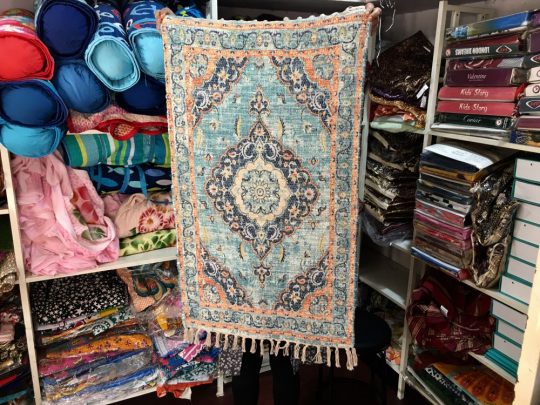 We found some good quality velvet for upholstery. It was again sold by the kilo, 650/- a kilo. You can get about 1 to 1.5 mts in one kilo. I overheard him say 2k per kilo for sheers, you can get a good 15 to 20 mts in a kilo. Look for a store called Tip Top Enterprises for that. 
We found some good faux fur at a store called Venkateshwara Enterprises. They are the ones used to make the plush toys and are very good quality. I was drooling over some hot pink ones, but let it go coz I have no use for it. We bought some off-white though. 
All in all, we had a good shopping trip, and styled images of what we got from there coming soon. Do let me know if you found anything amazing on your trip there. 
You need to add a widget, row, or prebuilt layout before you'll see anything here. 🙂