Want to decorate your home on a budget? This post is about where you can shop if you are budget shopping in Bangalore. Here are Five Places in Bangalore to get some Great deals.
I believe no budget is too small for decorating, the only rule is "have some budget" lol! If you are willing to put in the time and know what kind of look you want to achieve, it can be created. Like some wise person pointed out, you can choose two things of the three. FAST, CHEAP, and QUALITY! So if you want good quality stuff for cheap, you will need to put in some work to look for them and that will cost you some time.
I am here to help with that. Here are 5 places in Bangalore for great deals on home decor stuff.
1. Bamboo Bazaar
Apart from selling bamboo and its products, Bamboo Bazaar is like a treasure hunt in real life. You can find different kinds of timber, old doors and windows, old furniture, and artifacts. Be willing to make friends with dust, heat, and long walks and you shall be suitably rewarded in due time. The thing about shopping on a budget is that you cannot give up after one failed attempt. Keep looking. Go back another day. If you are really lucky you will chance upon some good stuff. You may find an antique pair of chairs, a bed, or an ornamental window.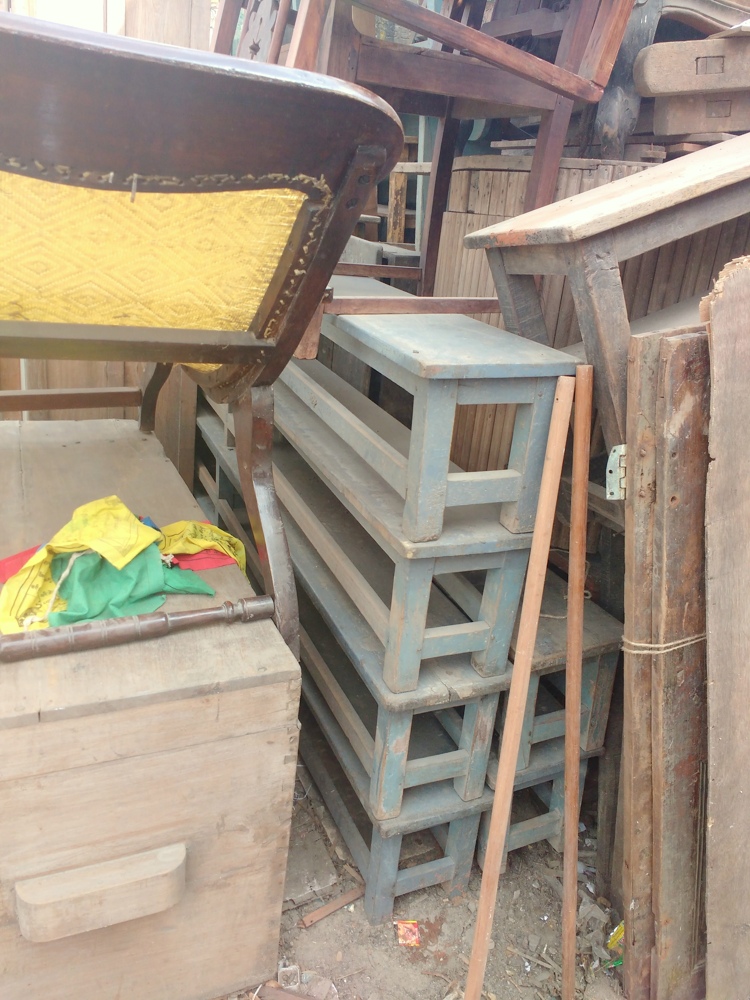 The old furniture pieces come as is and will need restoration, some of the vendors there do some restoration too, but know that it will probably cost as much as the furniture. If you are considering restoring them yourself, pick up pieces that are as per your skill level. Sometimes all it needs is a good clean-up and a lick of paint, speaking of which, you can buy my Furniture Painting Course HERE.
Good tip: Know approximate retail prices and you can negotiate to buy your piece.
2. Pottery Town
A small settlement of potters live here and make a variety of earthenware. They have planters, pots, tandoors, diyas, cookware, serve ware, masks, decorative pieces, etc, The prices are very reasonable and the people are pretty friendly. Pottery Town also caters to the festival's needs. Before Ganesh Chaturthi, you will see the streets getting ready to sell Ganesha idols. During Diwali season, there is a large number of diyas in production. It is a treat to the eyes in every occasion. Also, earthen pots look absolutely gorgeous when they are painted with regular wall emulsion.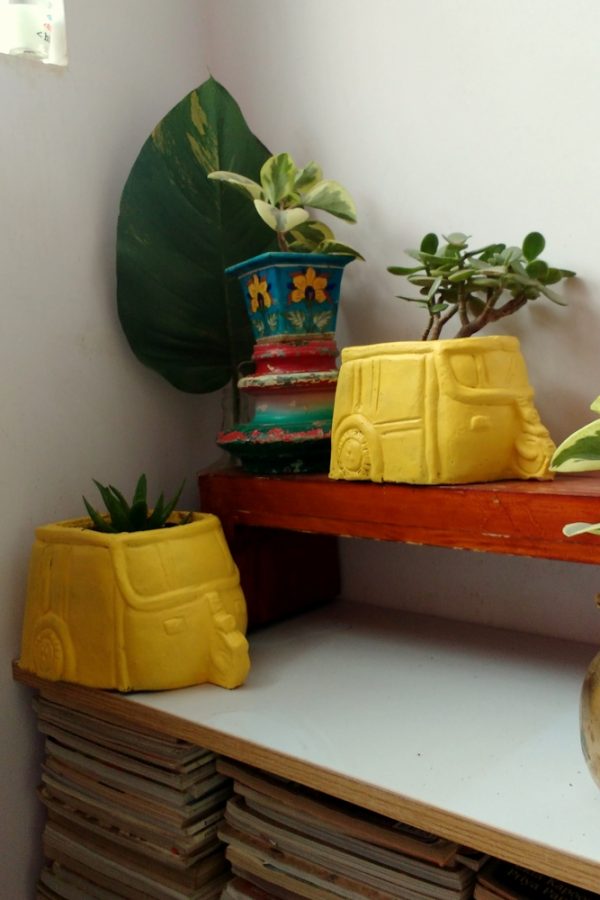 So take your time, look around and peep into every corner and see what you can find. I have painted a tandoor and turned it into a decorative pot on a terrace garden. I have turned terracotta pots into table lamps. The options are unlimited if you are a creative person. Also, terracotta is one of the most earth-friendly materials you can find.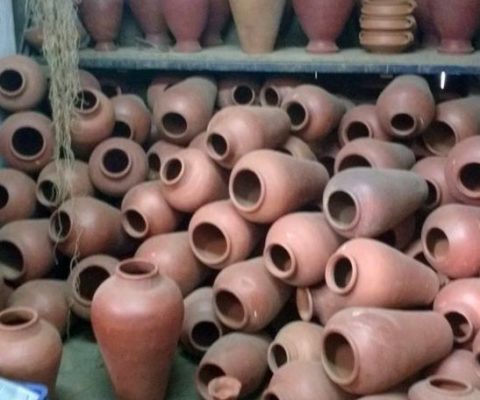 3. Central Street
The street adjacent to the Army Mess leading to the Shivajinagar bus stand is Central Street. You will find several furniture vendors here. Again not being in a hurry is the key. You can get good sturdy metal dining chairs for as low as 800 bucks. If you are a crafty and DIY person, furnishing an apartment on a budget is going to be a piece of cake. You can get sturdy cheap furniture and do some painting, decoupage, or small upgrades to make them look great.
They have locally made solid wood sofa sets, engineered wood tables, wardrobes, garden furniture, etc. Take your time and look through each shop to find what you want.
Good tip: Don't shop on an empty stomach and carry drinking water with you.
4. Ramachandra Puram
This place is a fabric lovers' paradise. Export surplus and rejects are bought by vendors on this street and you will see fabric heaps in every shop in the stretch. You can find traditional, contemporary to very modern fabric designs here. Hundreds of people visit the markets every day. If you like something, pick it up immediately and don't pass it off for next time. There is a good chance that the things you liked will not remain until you visit next.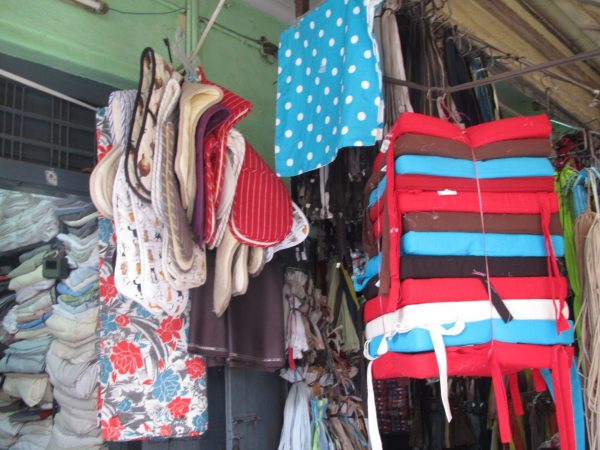 You can even cushion covers, chair pads, table runners, rugs, upholstery fabric, throw blankets, etc., that are sold in the Western market under big brand names at ridiculously low prices. Over the years, this has become a regular shopping place for designers, both in fashion and home.
Good tip: Inspect everything thoroughly before you buy. Since things are a mix of rejects and surplus, you want to be one hundred percent sure of what you buy.
5. Sunday Market
This is one of my favorites because of the mystery surrounding it. You never know what you will find until you get there, its the thrill of the hunt. The Sunday market happens on Sundays, obviously, and starts from BVK Iyengar Road all the way to KR Market and the by-lanes in between. You can get anything here. From Vintage typewriters to maybe someone's old sarees and pants. The possibilities are endless. Look at everything from an upcycle project point of view. I created this chandelier out of fan blades I found at the Sunday market.  The vintage typewriter, you won't believe I found at the Sunday Market.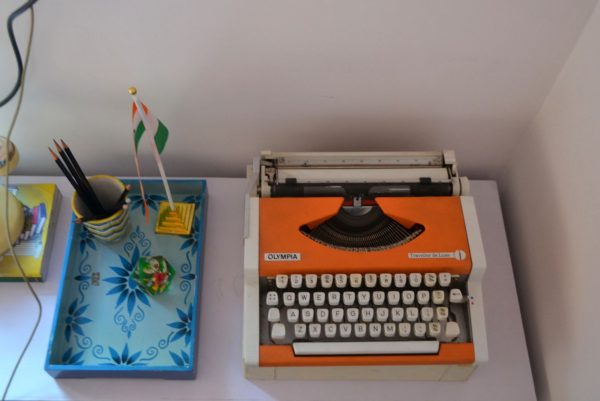 If you enjoyed this post, then you may also be interested in the 101 Places to Shop for Home Decor – Bangalore e-book, click here to buy! The e-book has listed all budget shopping places.
Making your home should be an enjoyable process and hunting for unique things can become an experience on its own. They will be stories to tell your guests who visit you.